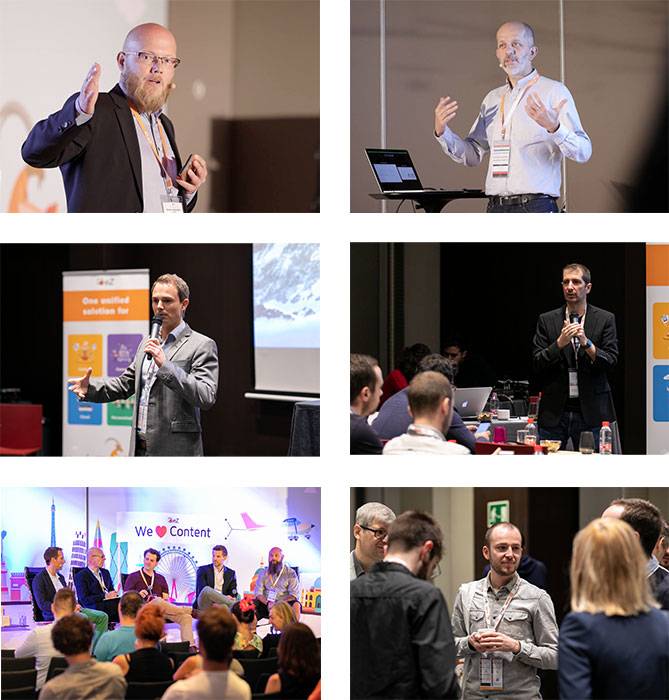 Meet our experts online and learn how our partners and customers deliver great digital experiences!
Our digital experts are online May and June 2020. If you are using Ibexa technology, or are looking to learn more about it, come and join us in dedicated sessions online. Engage is the place you'll get insights in our future roadmap and invaluable updates on eZ Platform as well as get direct access to Ibexa executives.
Discover how our Digital Experience Platform (DXP) - eZ Platform - can help your business in delivering great digital experiences. Dive into our content management, e-commerce and personalization solutions through training courses, workshops and talks from successful projects worldwide.
We will start with our online sessions in French (May 26), then move to German (May 27), Spanish (May 28), English (June 2) and finish our online tour June 3 with a Polish version. Different languages, similar programs, regional touch, one concept: let digital makers, developers, experience designers, digital managers, marketers and innovators learn and be inspired.
Hopefully as the virus becomes less pervasive and we are able to meet in person again, we shall go back to scheduling physical events in a number of key locations across Europe incorporating the DX Academy, which we look forward to making stronger and better than ever.
We hope you are managing to stay healthy and safe in this unpredictable time, and hope that we all get through and beyond this together.
Who Should Attend:
Developers and Tech Leads, Sales & Marketing Executives, Project and Product Managers, Consultants and Analysts from Ibexa's Customers and Partners
All digital makers who want to learn how to deliver great digital experiences.