Accelerate your digital projects with continuous development
Ibexa Cloud is an end-to-end cloud hosting platform for your Ibexa DXP software for more efficient development-to-production processes. With streamlined back-end infrastructure and services, your dev team can work more efficiently and deliver faster at every stage.
Simpler, faster onboarding for new developers
Enjoy better, high-speed testing with agile development
Deploy new features to production faster and easily perform rollbacks
Help dev teams be more innovative as they can build and iterate more effectively.
Focus on creating business value, not everyday operations
Free up developer resources from lower-value operational tasks required to maintain your back-end infrastructure. Ibexa Cloud is fully delivered as a service, being configured and managed within your application code base.
Reduce your hardware infrastructure requirements
We take care of your hosting capacity so you don't need to maintain any hardware, plus you can scale instantly.
Fewer low-value operations tasks
Increase productivity by reducing daily functions for managing databases, queues, search engines and operating systems
Build better applications
Instead of managing back-end infrastructure, dev teams can dedicate more resources to extending business applications with new features.
Optimize QA without slowing down your dev team
Ibexa Cloud provides increased capacity for testing and development environments to better replicate production at scale. This means provides greater agility to build high quality solutions with improved QA testing, faster than ever.
Boost productivity for developers, product managers, product owners and QA engineers.
Easy to spin up new testing instances
Streamline merging and feature deployment
Instant cloning, CI/ CD and Github integration
Testing automation and automated back-ups.
Run and deploy in your choice of cloud provider - build with your favorite tech stack
As a Platform-as-a-Service (PaaS) solution, Ibexa Cloud acts as a layer between your preferred public cloud service and your application. Which means you can retain full control over your end-user delivery, but take full advantage of the flexibility and scalability of modern web development powered by the cloud.
Deploy
Support for AWS, Microsoft Azure, Google Cloud Platform, Orange, or regional services
Data privacy
Comply with data regulations with regional cloud options.
Any technology
Build on Ibexa Cloud using your preferred technology stack, from Symfony, node.js, to Java, and more.
Scale
Easy to increase your infrastructure investment as you grow.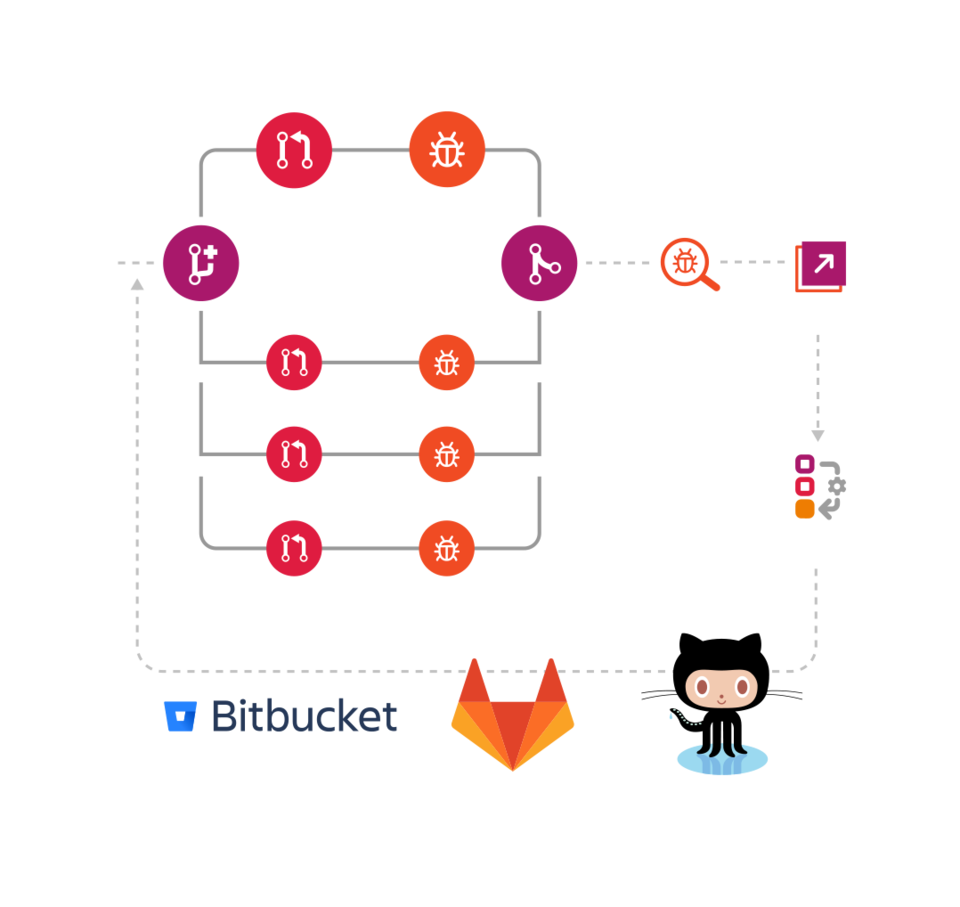 Embrace modern development with Git workflows at the core
Whether they use the command line or the web interface, your developers will love the simplicity of using Ibexa Cloud, with the whole development workflow based around using Git Flow.
Whether your team uses use Github, Gitlab, Bitbucket or another tool, your developers will be up and running on your project in no time with Ibexa Cloud.
High availability
99.9% Uptime
Disaster recovery ready.
Choose fully redundant, shared or dedicated
Software + infrastructure
A single provider to manage
We deliver both your software and your hosting infrastructure in a single package.
Proven results
40% increase in developer productivity
15% faster user acceptance testing
20% more deployments
Build faster than your competitors.
Git-native development
Integrated with: Bitbucket, Github, Gitlab. Instantly clone every branch of both your code and infrastructure
Services snap-in: add services such as MySQL, Kafka, and Elasticsearch with a line of code ​​​​​​
Build for any digital channel: develop with almost any runtime or framework
Build & test
Built-in CI/CD: automate run tests and compiling dependencies for faster time to production
Extend: webhooks to easily integrate with any workflow
Versioning: declarative infrastructure with versioning like your code
Scale: instantly spin up new test instances and add new infrastructure capacity
Package
Streamline operations: fully managed databases, queues, networking, and storage
Migrate: change between service versions with single-line configuration
Services: secured and patched by Ibexa Cloud
Optimized deployment
Grid architecture: automated containerization for your apps and services
Support: stateful or stateless apps, worker processes
DevOps: integrate with your current processes.
Run in your chosen cloud
Multicloud support: AWS, Microsoft Azure, Orange, Google Cloud Platform, and regional partners.
Includes: production cloud hosting, plus additional testing environments
Run: no modifications required between regions and clouds
Security & compliance
Data localization: strict geographic data restrictions available
Data ownership: you retain full ownership of your customer data defining where it's stored
Audit: all updates to your code and infrastructure are fully auditable
Talk to Sales
Get in touch with us about creating digital transformation for your organization.
Ibexa is trusted by

Fill in your contact details below.
Fields marked with * are required.