Build and scale websites and apps with unrivalled speed
Ibexa DXP has been designed to easily extend and integrate new capabilities depending on your needs with the goal of enabling development teams to build and deliver innovative solutions faster than ever before.
Decoupled, modular API-first software architecture
Headless interfaces for faster development compared to a monolithic software solution
Build for multiple digital channels and devices with a single technology stack
Ibexa DXP is a set of functionalities working well together on top of the best PHP Framework: Symfony
Concept › Build › Test › Deploy › Iterate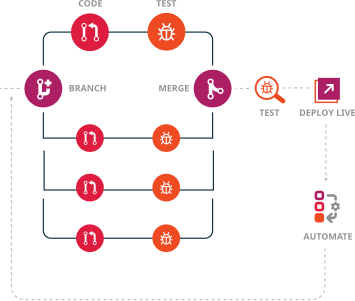 Your development workflows streamlined
Managing infrastructure operations can really hamper your team's ability to ship new features and capabilities to production quickly. They have to focus on maintaining code, not moving it forward. With Ibexa Cloud's flexible deployment options, you can embrace a 'DevOps-as-a-Service' deployment strategy to speed up your operations and performance even more.
Deploy and test together with your CI/CD process
Automate testing, deployment and QA workflows
Faster onboarding for new developers, best time-to-first-win
High-availability production infrastructure with 99.99% uptime guarantee and redundant architecture on leading enterprise clouds, including AWS, MS Azure, Google Cloud Platform, Orange, and more.
Join a global community
Join our global open source community where Innovation drives innovation. Ibexa DXP is built with open source software standards, meaning you'll benefit from a global community of developers and digital experts.
From collaborative roadmapping, to expert integration partners, leverage the power of community knowledge to learn, build, and deliver proven solutions.