Digital Experience Platforms (DXP) Requests for Information (RFI)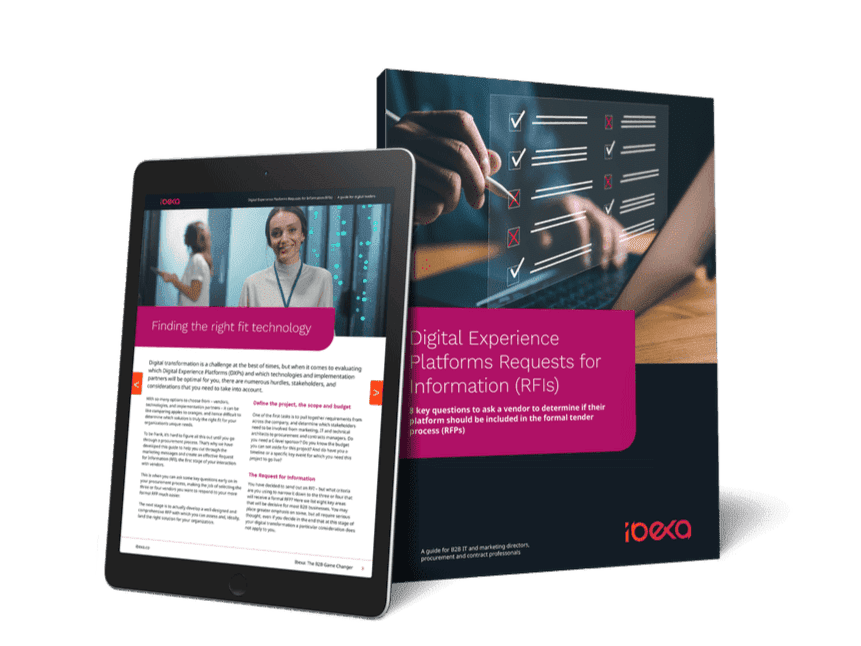 The B2B landscape has shifted significantly over recent times to keep pace with changing trends. As a result, companies of all shapes and sizes are choosing digital experience platforms (DXPs) to accelerate their digital transformation but choosing the right solutions can be a complex process.
In this free and exclusive eBook, we guide you through the process of requesting the right information for your specific needs with a range of useful templates and information to kick start and accelerate your digital transformation strategy.
Identify the best tech solutions and partners
Composable digital experience platforms (DXPs) merge touchpoints, automate flows, and orchestrate sales processes. Using data at every step resulting in a smoother, more effective end-to-end buyer journey which.
This is great; however, business requirements differ significantly meaning a one size solution does not fit all. With numerous providers and an abundant of capabilities, identifying the best solution can be overwhelming.
Who will find this eBook useful?
This eBook is ideal for those who play a role in identifying which tech solutions and implementation partners will best suit your digital transformation needs, likely profiles include (but not limited to):
Marketing professionals
Backend developer profiles
Which topics are covered in this eBook?
Finding the right technology
What is a DXP?
Is a modular platform the right way to go?
Integration
Cloud, on premise or hybrid
Headless capabilities
Training and support
Roadmap
Security and compliance
Ibexa is trusted by