It's a Wrap: Vibrant, Dynamic Ibexa Global Partner Conference
22/01/2021, 07:25
| 8 Min read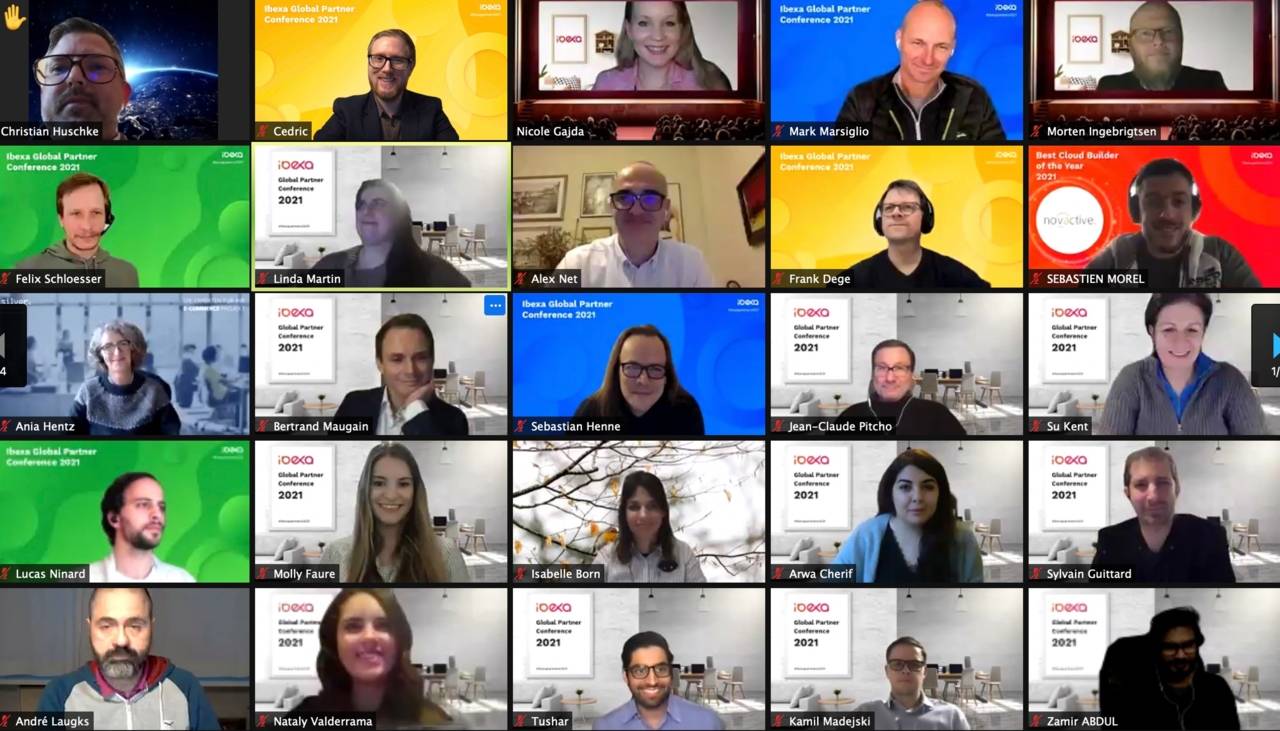 Record attendance
Last week we hosted our Global Partner Conference online with a record number of attendees. The annual event was focused on sales training, hands-on demos, and practice using real-life business cases.
An eventful year with record quarters
The keynote was hosted by Morten Ingebrigtsen, Bertrand Maugain (joint CEOs), Roland Benedetti (SVP Strategy), and Sylvain Guittard (Product Director). Morten gave a retrospective on 2020, which had been the most eventful and remarkable for Ibexa. At the beginning of last year, the company acquired an e-commerce technology, which was the last native component to complete Ibexa DXP and together with Content and Personalization. We repositioned the product as a true DXP when it was still under its former name, eZ Platform.
In April, the company rebranded from eZ Systems to Ibexa, and in May we hosted five Ibexa Engage events in five languages. At the point we launched version 3.2 of the DXP in October, the product was also renamed Ibexa completing the full transition and repositioning of Ibexa as a true DXP vendor.
Sales also saw two record quarters in 2020 plus one of the largest contracts that the company has ever seen in March. Although the pandemic did cause some slow down, the company still experienced growth and during the last quarter of the year the momentum picked up again for the company to undergo its second-best quarter ever in terms of sales.
The B2B digital transformation opportunity
Roland covered the transformation from a general-purpose CMS to a B2B-focused DXP and why 2020 was so pivotal for Ibexa. Thanks to the changes we have made: it is way simpler to market, sell and stand out as a DXP. "The B2B market opportunity," he said, "may surprise some people, when they see that the size of B2B sector is two to five times bigger than B2C."
B2B Digital Business is growing much faster than B2C. On top of everything, the Covid pandemic has changed the world and is accelerating everything even faster. From 30% of B2Bs doing at least 50% of buying online, the figure has grown to 45%. This is now likely to stay, Covid or no-Covid.
The B2B Buyer-Seller gap shows how deals are now more automated, eschewing the typical old mind set of meeting on golf courses or elsewhere in person. People want speed and to use all the digital channels available to them. Ibexa is here to help bridge that gap.
It's the whole value change that has tremendously evolved for the B2B world. No longer linear, more and more as digital breaks down barriers, companies can reach end customers directly enabling them to own and bypass the Distribution layer. Even the Distribution layer has evolved with the rise of online marketplaces. Ibexa helps to address different sectors in different ways.
Ibexa DXP is faster, bringing greater efficiencies
Sylvain Guittard gave a product update on Ibexa DXP which brings content, commerce and personalization with a quick tour of the new interface giving greater efficiencies such as the site factory where new sites can be spun up very quickly based on the master. Page builder also benefits from timeline functionality enabling editors to see exactly what a page will look like in future. Targeting has become easier and an informative dashboard shows the recommendations and trends. The product's imminent 3.3. LTS release will include an Image Editor, incorporate Personalization fully into the product, make Migrations to the latest version simpler and overall the product will be faster.
Bertrand Maugain focused his part of the keynote to re-emphasize the importance of partnership with Ibexa. "100 percent of our sales over the past year involved partners, we depend on our mutual cooperation for Ibexa to succeed," he said.
Collaboration success with co-selling and co-marketing
The Ibexa Sales team working with some partners presenting the sales training specific to partners, with an in-depth session on working collaboratively in co-selling and co-marketing. Partners shared their experience on how co-selling with Ibexa has worked well.
Mathias Hermann CEO comwrap commented "We are selling an elaborate product, which needs huge product knowledge so the client needs to have the relationship with the ones selling both the services and the product. Demos happen together (partner and Ibexa) and the symbiosis works very well. The client really understands the service cut between the partner and the software vendor".
Christian Huschke at adesso SE said "Last year we had our most successful year of our partnership, because transparent collaboration at every stage of the sales with our tech partners brings success.
Elbformat shared its ingredients for successful co-marketing campaigns with Ibexa over the past year. It developed a webinar series that were conversational in style which had a clear focus that resonated with the audiences.
UK Partner Creode showed how it raised awareness of Ibexa with digital marketing and reusing assets to jointly brand them and developed a distinct look and feel to their campaigns. Early results showed that the interest is there, and it is developing a growing pool of prospects.
Announcing the winners of coveted awards
The prestigious Ibexa awards were presented over the two days. The first awards session featured Technical Contributor of the Year; Advocate of the Year; and Most Successful Co-Marketing Activity. The team that contributed the most to any part of our development process was ethinking for its Ibexa DXP Push Connector. Hannes Stelzig, on behalf of the ethinking team, said: "This comes as a big surprise and we are very happy to be given this award. The push connector can be integrated into Ibexa DXP to send push notification to various social channels like Twitter and Facebook as well as Apps and AI devices like Alexa."
Ibexa's 2021 Advocate of the Year is Mathias Herman CEO of comwrap. He was delighted: "Wow this is unexpected, thank you very much! I personally believe that Ibexa DXP is an awesome solution and has some unique selling points, one of the most important is that we can deliver projects on Ibexa DXP very fast with very low risk, which is what we love about it."
Most successful co-marketing activity was awarded to elbformat who was able to drive an efficient Cost per Lead and brought in the most positive ROI for any campaign in 2020. Felix Schloesser was very appreciative: "It was a great overall team effort, and we look forward to launching similar campaigns over the coming year at an even more accelerated pace!"
The second session featured a couple more awards. Best customer project of the year for 2021 is COMECO's TEO app, which only days ago celebrated its first year of existence. This project was brought to life by rocket-media. Accepting the award CEO Peter Passeck said: "Thanks so much for this prize, we've been working hard for the past 18 months to implement Ibexa into COMECO's ecosystem, the TEO app and its new partner portal. We are looking forward to it becoming very successful, it combines all elements of Ibexa's DXP with headless content, personalization and ecommerce."
The next award announced was The Best Cloud Builder of the Year. Awarded to the partner who best leveraged Ibexa Cloud to help its customer accelerate their development and deployment process. The award went to Novactive (who recently changed their brand to Almavia) for improving its expertise in Ibexa Cloud and expanding it usage by customers (such as Carac and Group Atlantic). Sébastian Morel in his acceptance speech said, "Thank you on behalf of the whole Novactive team. Indeed, we did a lot with Ibexa Cloud over the past year and look forward to many more projects on Ibexa Cloud next year. It's always a pleasure to work with this technology behind the scene of our clients' websites."
In the last awards session the three most coveted awards were presented. New Partner of the Year 2021 was awarded to denkwerk, who had only joined the Ibexa partner ecosystem in the past 12 months. This Cologne-based Ibexa partner quickly demonstrated its commitment, as it recently won a new Gold Enterprise client Dörken which has a complete B2B Digital Transformation process starting with customer experience to transform its sales channels, future projects will see deployment of full ecommerce capabilities. Kaan Karaca, Executive Director of Technology at denkwerk said, "We are really honored to win this award. We look forward to 2021 and doing a lot more for our clients with Ibexa."
The coveted Partner of the Year award went to Adesso SE. Christian Huschke, Competence Center Leader remarked: "Many, many thanks for this award. I am very proud of my team and am delighted to win this award for the second time. We look forward to continued success in 2021."
The Honorary Award is given in recognition of outstanding achievements made, demonstrating innovative implementations and a long-term commitment using Ibexa technology. The 2021 recipient of this award is Mark Marsiglio of Contextual Code. Florida-based Contextual Code has actively worked with Ibexa for the past 15 years and has shown strong cloud expertise. "Thank you so much for this. We have been long-term partner of Ibexa and the partnership continues to grow primarily because we believe in the direction that Ibexa has taken the product," commented Mark. "We think that the engineering background is strong and the websites we are able to deliver to our clients using Ibexa technology continues to serve the needs they brings to us and the challenges they present to us and we look forward to doing that for a long time together."
See you soon!
We look forward to seeing our partners attend our Ibexa Engage events in late Spring and then to meet up hopefully in person at next year's Ibexa Global Partner Conference if the virus is kept in check and we are allowed to travel! In the meantime why not register for the public webinar being held in February for the launch of Ibexa DXP (see below).
February 9, 2021 at 15:00 CET
Public Webinar: Introducing Ibexa DXP 3.3: The Unified DXP
Overview of Ibexa's DXP offerings and how we can help you digitally transform your business
Demo of Ibexa DXP v3, including the new features introduced with v3.3
Book your seat here