Introducing Ibexa Connect and Ibexa DXP 4.3
08/12/2022, 09:35
| 9 Min read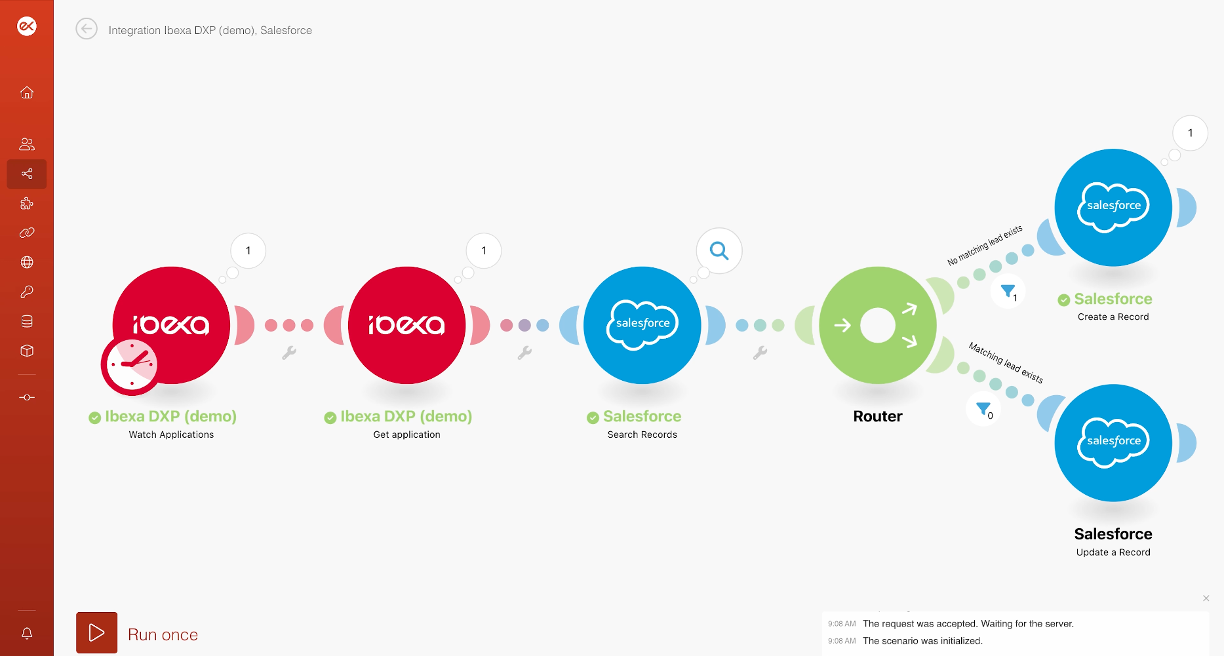 In May 2021, Łukasz Serwatka, our CTO, announced that Ibexa's continuous task is to deliver a future-proof DXP that safeguards its customers' digitalization needs by utilizing new technologies to support business strategies and streamline sales processes. He also announced that we would introduce an iPaaS (Integration Platform as a Service) as part of Ibexa v4 – The Data Driven B2B DXP. The time to fulfill that promise is here, and we are delighted to introduce our new integration Platform as a Service, Ibexa Connect, along with Ibexa DXP v4.3. 
The reason behind the decision to launch an iPaaS solution is to accelerate the digital transformation processes of every Ibexa customer by laying the foundation for business process automation across the integration of business applications. Ibexa DXP integrates with numerous business systems such as CRMs, ERPs, PIMs, and DAMs without heavy development thanks to multiple APIs (REST/GraphQL) and extension points.
However, we recognize the need for more standardization on how applications and tools are integrated; therefore, we decided to transform the integration process into a seamless, highly visual, less time-consuming, and much more accessible approach. So, we are introducing an intelligent and unique iPaaS solution for business organizations that want to connect business applications, automate business processes, and deliver better customer experiences across every team, department, and business unit.
Introducing Ibexa Connect
An automation platform can transform your entire integration strategy by empowering people and teams across the business to automate their business operations by connecting applications, APIs, and databases. From processes and systems to applications, we created the perfect solution for you to connect practically anything with complete oversight in one secure platform.
Ibexa Connect is a robust integration solution built for IT and business users that automates business processes across applications. Our new solution offers advanced transformations, customizations, and orchestration that leverage prebuilt app connectors and integration templates to automate key business processes across an entire business organization, breaking down data silos and allowing information to flow across various applications and systems in real time. With Ibexa Connect's interactive interface, building integrations and automating business processes is intuitive, quick, and highly interactive.
The perfect engine to automate processes and operations
With Ibexa Connect, you can set up interactions between various services like your ERP or CRM to almost any online service you can imagine. It enables you to connect with the platforms you already use, getting them to work together and customize the overall solution according to your business needs with just a few clicks. Its beautiful low-code and drag-and-drop interface makes integrations more accessible. It enables everyone to create and edit workflows in minutes with fewer development costs and liberates business teams to focus on their operational fundamentals and objectives instead of integration complexities.
Ibexa Connect allows you to automate any necessary process, saving and reallocating IT resources to more business-critical activities and tackling simple and complex workflows without losing efficiency, power, or control. It improves efficiency, reduces errors, and increases customer satisfaction, not to mention that how it can seriously optimize the costs of entire business processes by allowing anyone to automate their work.
How Ibexa Connect Makes it all Work
To understand how Ibexa Connect makes integrations happen, let's start by clarifying what an API is. An API is an Application Program Interface that business applications like SalesForce, SAP, HubSpot, Workday, etc., provide so developers can access data within their applications. However, instead of needing the code, Ibexa Connect converts these APIs into simple modules that can be connected with its drag-and-drop. Establishing these visual connections allows you to create a 'Scenario.'
Building a workflow on Ibexa Connect consists of four steps. First, you select a trigger to kick off your automated workflow; then, you'll choose an action, and once the workflow is finished, you can test it and finally activate it. The logic is quite simple; however, let's imagine a simple scenario together.
A scenario where customer data coming from a form on your Ibexa DXP would automatically create a new record on your CRM system.
And in the same scenario, let's imagine that if a customer record already exists, you could keep your CRM records' integrity by completely avoiding record duplication. Once you've finished setting up the Scenario, you can enable and run it.
Ibexa Connect would process the workflow in the background with no maintenance, no help from developers, and no coding on your part. It would launch process automation with just a few clicks and with no coding experience.
Integrations can be as straightforward or complex as you need them; adding more applications to the interface opens the door to even more complex automation processing. However, even at its initial adoption, it is easy to imagine Ibexa Connect's massive potential for removing many error-prone activities such as invoicing, inventory management, customer support, customer onboarding, etc. You just have to define the business logic of your workflow.
Full governance with a single management layer
As your integration infrastructure grows and becomes more complex, you´ll need to scale your connections and manage your automation with a solution that can act as a single source of truth – simplifying data exchange and eliminating complexity between various interfaces, not only inside the organization but also with external partners, vendors, and customers. Ibexa Connect was designed to provide perfect oversight over the entire integration landscape, enabling you to stay competitive and keep growing with a much more efficient way to govern and manage any necessary adjustments agilely.
We made sure that the deployment of automation could be accelerated even more with the use of Templates – a set of blueprints for different business scenarios with specific instructions capable of kickstarting any process automation process with ease. Templates can be created and shared across the organization through a shared repository called Template Gallery. This feature was designed so every business organization could create and share its customized Templates covering the most typical use cases. So, from marketing and sales to IT and development, anyone within your business can accelerate the automation of tasks and operations by adopting a Template.
The embodiment of what an iPaaS should be
Ibexa Connect is a powerful automation tool for everyone in your company to work smarter, not harder, allowing them to automate daily tedious tasks or complex business processes with just a few clicks. A modern cloud-native iPaaS that puts the power of process automation directly in the hands of the ones that know how to automate them by delivering:
Faster Integrations. Ibexa Connect lets you drag and drop to connect apps playfully to connect apps in a few clicks and build scenarios with no coding experience and with as many steps or apps as you need. You can deploy and modify processes in minutes or hours instead of days or weeks.
Reduced costs. A native solution that empowers any team to solve problems without consuming developer resources, creating a marriage between apps like your CRM, ERP system, Marketing Automation, and many others. By automating your workflows, our solution saves time, increases efficiency on both sides, reduces time to market, and lowers the total cost of your integrations.
High Performance. It integrates your core systems and unlocks data easily with prebuilt connectors, quick data mapping, and integration templates. By connecting to systems faster, you will extend access to data with secure APIs to digitize your business and scale processes across channels to deliver connected and consistent customer, partner, and even employee experiences.
Full Governance. A central place for automation, without removing flexibility and with enterprise-grade governance. It allows you to enable business teams to build, manage, and monitor the business process they own while ensuring unified monitorization, best practices, data security, and scalability.
DXP Enhancement. Having Ibexa Connect with Ibexa DXP allows for streamlining more customer operations and gathering more actionable customer insights for new and more personalized customer experiences, increasing its functionality fluidly and with no complexity.
In conclusion, Ibexa Connect is the perfect engine to accelerate processes and operations, boost productivity and reduce operational and development costs with a single source of truth. While also offering the flexibility and scalability to create or modify any integration when required and without coding. So, let's connect all your favorite business apps, automate your work, inspire entire teams, and innovate together.
Ibexa DXP v4.3
Now that we made our big announcement let's talk about the new Ibexa DXP v4.3. Our new product release comes with substantial enhancements, such as introducing self-registration with customization of the approval process on its customer Portal and other enhancements to our Product Information System. We also worked on API improvements to facilitate data synchronization and distribution with third-party applications on Catalogs.
More effective Customer Portals to streamline your business processes
We introduced a new self-registration capability on our Customer Portal to enable prospective buyers to create a company account on a seller's website more intelligently. We designed it, so the application goes through an approval process, where an Admin specifies a customer group and a sales representative for the new account. The process is completed by sending an invitation link back to the buyer to finish the registration process and give them access to the Customer Portal. This approval process can be customized by adding additional steps and options, allowing you to build a process that perfectly meets your business needs.
Enhancements on the Browsing and Findability of Products
Searching and accessing the correct information quickly and effectively is gold for any business, and effective Product Information Management creates new ways to manage products, bundles, and offers. For v4.3, we implemented a new way of querying products using one of two price-related Sort Clauses making the access to pricing information more direct and agile.
We enhance browsing and findability on Product Catalogs by including the new "configure default filters" and defining filter order and group custom filters. We divided Built-in filters and allowed filtering by Color and had several usability improvements in PIM, such as complete information about available Attribute Values or the improved display of Selected attributes. It will enable users to move assets between collections using a drag-and-drop interface and to directly edit the product prices in every configured currency from the Completeness tab.
Other improvements include a new Content Type for private customers registering from the front page and a migration command for existing users to ease their upgrade process. To check out these and other improvements, check out the Ibexa DXP v4.3 Release Notes.
We love your feedback!
We are passionate about building products that help your digital business grow. Do you have a great idea for a feature that should be added to Ibexa DXP? Or just want to give us some feedback on a current feature? Head to our Product Roadmap page to submit your request.
Tuesday, December 13, 15:00 CET/ 14:00 GMT/ 09:00 EST
Introducing Ibexa DXP v4.3 & Ibexa Connect
Join us for The Introduction of Ibexa v4.3 and Ibexa Connect, where we will show you how to:
Automate entire business processes with a beautiful drag-and-drop editor that simplifies your integration experience.
Share data between systems to stop doing repetitive and time-consuming tasks.
Search and use integration templates to accelerate your integration processes.
Monitor and manage the company's integrations in a centralized place with a convenient overview of all your systems.
Ibexa DXP v4.3 major improvements and enhancements.
Register Now