DACH Partners Link Up for Ibexa Conference in Frankfurt
06/06/2023, 17:32
| 9 Min read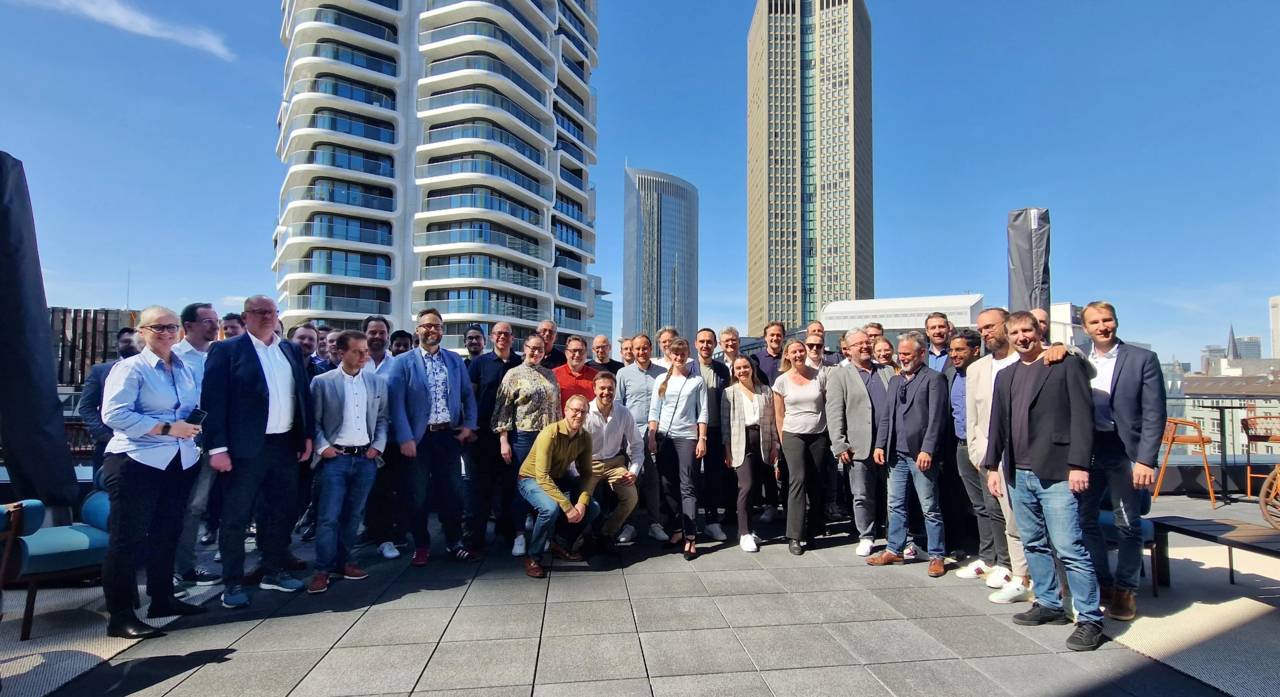 On 30 and 31 May 2023 we hosted the first of our two annual DACH region partner conferences, which took place at the NH Collection Spin Tower, in the business and financial city of Frankfurt. More than 70 of our trusted partners joined us for this thrilling two-day event.
A social gathering to kick things off
On day one, we greeted our guests and together we shared an aperitif, dinner, and drinks, giving attendees and our team the chance to get acquainted and to catch up. It was a pleasure to see so many friendly faces, to welcome our new partners to the Ibexa network, and catch up on the latest updates.
Keynote – a new vision for Ibexa DXP
On day two, the conference got underway with an initial introduction to the Ibexa team and a warm welcome to the attendees. This was followed by a keynote from Ibexa's Commercial Director of the DACH region – Tushar Marwaha.
Tushar analyzed the market over the past 15 years, pointing to the importance of innovation as a long-term investment to drive growth and resilience. The message highlighted the need for digital transformation which has also been acknowledged by the market.
The Forrester's Digital Business Strategy & Teams Survey found that 76% of businesses intend to make greater investments in digital initiatives in the coming months and years. This represents a fantastic opportunity for Ibexa and its partners. Tushar explained that to capitalize on these opportunities, "we need the right balance for a secure future".
He took a moment to reflect on the legacy DXP which, despite its robust functionality and scalability, there were barriers such as the monolithic architecture, difficulty to update, cost to maintain, and its lack of agility. On the other end of the scale is DIY DXP, which is complicated to implement, requires many solutions to achieve feature parity, and in some instances may require the creation of its own interface.
It was explained that for this reason, Ibexa remains focused on delivering the right balance with simple, user-friendly tools, and a product which is open and flexible but anchored on some core solutions.
Significant growth reported in the DACH region
At the Ibexa Global Partner Conference in Marbella earlier this year we heard about the excellent financial results which had been achieved during 2022, driven by our amazing partners. During the DACH regional event in Frankfurt, a continuation of that growth with a strong upward trajectory was reported.
Event participation - a reflection of market strength
We also shared an overview of our participation at the OMR Festival 2023. The world's largest digital marketing and technology event took place in the Hanseatic city of Hamburg on the 9th and 10th of May. Here we exhibited alongside six of our incredible German partners; atlantis dx, Comwrap Reply, denwerk, elbformat, Intentive, and SNK.
If you would like to find out more about this event, then check out our exclusive blog article. Discover what Ibexa CEO Bertrand Maugain had to say as he took to the main stage with OMR Founder Philipp Westermeyer. Discover our CDP masterclass co-presented with Comwrap Reply, and step into the Ibexa Experience World where visitors could enjoy VR racing, sample our delicious artisanal ice creams, and even win a Smart Suitcase. We had it all!
Our next event is DMEXCO – Digital Marketing Exposition & Conference which takes place in Cologne on 20 and 21 September. We're excited to be joined by more of our fantastic partners; Intentive, Logic Joe, OMMAX, and SNK.
From headless to experience driven commerce
In a mid-morning session, Grégory Bécue, Chief Growth Officer at Ibexa was joined on stage by Director of Product Management - Sylvain Guittard.
Before giving a tour of the Ibexa DXP product vision, the pair took a moment to explain the context of the B2B market which is fueling digital acceleration and creating the demand for new commerce features.
But how do we provide an incredible experience? The four key ingredients were revealed: content, data, automation, and transaction. The journey to achieving a unified digital offering which places these four ingredients into the mix can be complex. Although the process is simplified with Ibexa DXP, we must be mindful of the digital maturity of each of our clients.
The overarching message was clear…
"We are here to help our customers shape and bring their digital transformation strategies to life to help them become digital winners!"
Greg went on to highlight the new and exciting opportunities for upselling thanks to Ibexa DXPs composable nature with a range of addons including Product Information Management (PIM), Ibexa CDP (Customer Data Platform), and of course Ibexa Commerce.
"This is a huge opportunity for both Ibexa and its partners to drive growth through upselling, whilst accelerating digital maturity for their clients."
From Ibexa Content to Ibexa Headless
Greg took the opportunity to announce an important change within the product range as he revealed that Ibexa Content is to be rebranded Ibexa Headless with immediate effect.
He explained "Ibexa DXP is already more than credible on the headless topic and that there is a huge market waiting for us. We have a lot of references and great features."
Ibexa Headless brings a wealth of APIs to manage content, product, and business data. Developers can also use Ibexa Headless as a component in a microservices architecture or with the provided server-side rendering layer for maximum flexibility.
Building on the robust Ibexa DXP technology stack, Ibexa Headless delivers improved HTTP APIs, and enhanced authentication compared to its predecessor, Ibexa Content.
Product demo use cases
Sylvain then remained on stage to walk us through a range of demos, showcasing how numerous manufacturers from around Europe are utilizing and benefiting from Ibexa technology:
Demo 01: Digital brand unification: German manufacturer bott, a producer of van racking, workplace storage and workstation systems, is managing 30 sites with a single system. Using multilanguage functionality and editors are localizing content. We learned how tech is crucial not only to deliver on the company's digital strategy, but to future-proof their business.
Demo 02: Digital offerings: BOMAR, a global producer of high-performance polymeric material solutions is benefiting from a multi-repository set up. Their entire product catalog is online, and a product finder allows users to search for a particular item with ease.
This has been achieved through Product Information Management (PIM) which makes the product list accessible from the same global interface for improved productivity. With control over product prices, availability, translations, and much more.
Integration and automation have also been core to BOMAR's digital transformation, and we heard how, thanks to Ibexa Connect it was able to connect custom and bespoke apps, MarTech solutions, and business systems with Ibexa DXP with a simple drag and drop functionality.
Demo 03: Digital selling: DELABIE, the French manufacturer and European leader in water controls and sanitaryware were used as an example of "what used to take a month to update now takes minutes."
They explained that Ibexa has become their source of truth for their product catalog with no additional need for a PIM. Also, product searches and filters are now intuitive and personalized all thanks to the catalog management, portals, and corporate account management tools.
Demo 04: Digital commerce: Atlantic, the leading French manufacturers of thermal comfort solutions are now giving B2B visitors a unified and coherent user experience across all Atlantic-branded products.
"A redesigned site that talks to different target audiences with one voice, yet tailors' content specifically to each."
Sylvain went on to reveal a long list of capabilities linked to Ibexa Commerce under the subcategories of merchandising, order management, and transactional ecommerce.
Want to know more about our B2B digital transformation methodology? Discover how to achieve digital maturity in five steps.
Ibexa 4.5 goes live, what's next?
We were also informed about Ibexa 4.5, the penultimate release in the 4 series is now live! There are a whole host of new features and updates to support and enhance digital transformation projects.
Sylvain explained that the Ibexa 4 series has focused on the data driven B2B DXP, enabling the B2B digital selling shift by bringing customer and product data together onto one platform. In line with this theme Ibexa 4.5 brings enhanced B2B commerce capabilities with three redesigned and restructured features: Payment, Shipping, and Order Management.
There are also new capabilities for marketers, product managers, and developers with updates for Page Builder, Personalization, and Connect.
You can discover more about these exciting new and updated features in our exclusive blog article.
Finally, Sylvain gave details surrounding the Ibexa V5 series which will kick off in 2024. The theme relates to B2B DXP intelligence where automation and interoperability is key to solving complex B2B sales processes. Development work will therefore center around IPaaS, marketplace, and analytics. Moving into 2025 the roadmap goes beyond DXP with an emphasis on sales engagement, procurement, and digital sales rooms.
Partner talks
Before breaking for lunch, we welcomed four of our partners to the stage to introduce their companies, to share their experience of being a trusted partner in the Ibexa network, and to share some of their successes when building projects on Ibexa DXP.
Jan Schöpke - Head of Technology and Development at elio
Jan explained that elio's focus as an Ibexa partner is to change user behavior, and that increasing user expectations have made the topic of user experience a decisive success factor for digital applications.
"For the combination of ecommerce and digital experience, Ibexa is the ideal partner for elio. Through the partnership we can combine the strengths of both worlds to unite content and commerce. Our vision is to offer every customer a suitable solution. We have found the perfect addition to our portfolio to drive the digital transformation of companies, and we believe in the people behind Ibexa."
Markus Saalwächter- Senior Manager at Comwrap Reply
Comwrap Reply gave some intriguing insights into one of their largest and most complex multi-site projects for the Ibexa unit to date.
Markus explained that there were three focal points on this client project, which included the integration of both the front and backend, complex tagging, and the import and preparation of heterogeneous data from third-party systems.
We heard how the German agency overcame numerous challenges including parallel projects being developed at the same time, each with their own stakeholders competing for development time, not to mention the high-risk of side effects when working with shared component libraries.
Yet another example of the fantastic work being achieved by Comwrap Reply, Ibexa's Partner of the Year 2022.
Anton Finko - Technical Lead at ETECTURE
Anton took this opportunity to walk us through a successful client project. He explained that the customer has a presence in 45 countries, and as the project kicked off, they had seven separate subsites each with their own content structure, domain, and editors.
The project requirements included the need for a highly customizable system and workflows, the ability to edit and manage content by a large user group, and a strong focus on cost efficiency.
We learned how the Frankfurt based partner migrated the client website from Sitecore to Ibexa DXP including frontend, content, and user migration in just 10 weeks!
I think we can all agree that this is admirable work which really showcases what can be achieved by our expert partners when building projects on Ibexa DXP.
The next DACH partner conference
DACH partners were reminded to save the date for our next partner event which will take place in Hamburg on 26 October this year. Preparations are already underway to make this another memorable event so be sure to reserve your place. We'll be in touch with more details in due course.
Ibexa Global Partner Program
Partner with Ibexa
In a world all about delivering excellence in digital customer experiences, you can build new revenue opportunities, create memorable experiences and turn your clients into digital champions with Ibexa's trusted and open Digital Experience Platform (DXP).
Read more