eZ Platform v3.1 New Feature Preview: Admin UI Improvements
08/07/2020, 12:00
| 6 Min read

We've made a range of updates to the admin user interface of eZ Platform to improve the efficiency of your editorial experience.
This is the third in our preview blog series offering a sneak peek of new features included in our latest software version, eZ Platform v3.1. You can find part one here, previewing Site Skeleton; find part two here previewing support for Elasticsearch.
eZ Platform v3.1 was released July 2020. You can also find the eZ Platform v3.1 launch blog here.
Digital marketing and editorial teams have a huge volume of content and web pages to maintain, update, or create. This means anything that can help save valuable time when carrying out day-to-day tasks is a welcome boost to productivity.
Improving the Admin UI for More Seamless Content Creation
For each release, as well as building new features, we always work to improve the usability of existing features to enhance the overall user experience. With v3.1, we spotted an opportunity to enhance parts of the admin experience and to help you execute some common daily tasks more easily. Here's a quick round-up of the changes we've made to the admin UI:
Refined text search for content blocks
Adding new content blocks with the Page Builder tool is really simple. Simply find the content block you want to use in the *Elements* menu and drag it onto the page.
However, with large web projects, many of our customers find over time that they have a very long list of content block options for web editors to choose from
We've introduced filtered search to the *Elements* menu to help editors search to locate the right content block option much quicker
Users can now refine the list via text input without having to manually to sort through all the options.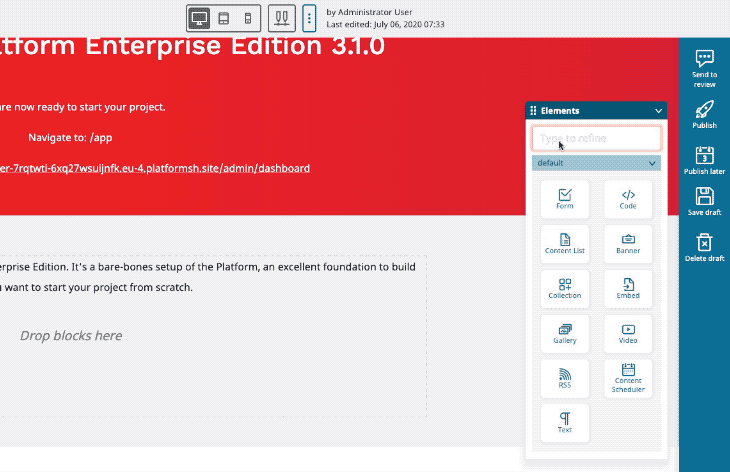 New field groups with user permissions for better content management workflows:
We've increasingly seen that eZ Platform customers are implementing custom content types comprised of a large number of field types, for example, when managing a product page. Typically, a product page might consist of fields for product descriptions, multiple product images or videos, different product documentation, page metadata, and more.
With v3.1, Field Groups are now visible in the *Edit* interface. This lets you group similar field types together to display them under separate tab views when editing a content item.
Each field group can be implemented with individual user permissions to control access to that specific field group
You can create as many field groups as you need
This provides increased flexibility to configure workflows for content collaboration and publishing, based on which field groups a user role has permissions for, rather than access to the content type itself
Going back to to the example of the new product page your working on, you can create three basic field groups and specify user permissions for each group in the following way:
*Metadata*

Field group includes: Page title, Meta description, URL, Sharing image

SEO user roles can access and update; they cannot edit the content or product details groups

*Content*

Field group includes: Title, Short description, Long description

Marketing/editor user roles can access and update; they cannot edit the SEO or product details groups
*Product details*

Field group includes: Image gallery, Category, Color, SKU, Datasheet

E-commerce user roles can access and update the product details group; they cannot edit the Content or SEO groups
Save an incomplete draft:
You're working on a new product page ahead of your next product launch. It's ground-breaking and you know it's going to shake up the market. You've crafted compelling web copy ready to go, but you don't have any product images or a product brochure ready. The e-commerce team is still working their magic to incorporate last minutes tweaks before launch. But the product page content type has *Image Gallery* and *Brochure* as required fields.
In previous versions of eZ Platform, you weren't able to save a draft of a content item that still had any required fields empty. You'd have to fill in any required fields before you could save as a draft
With v3.1, users can now save incomplete content as a draft without having to add something to every required field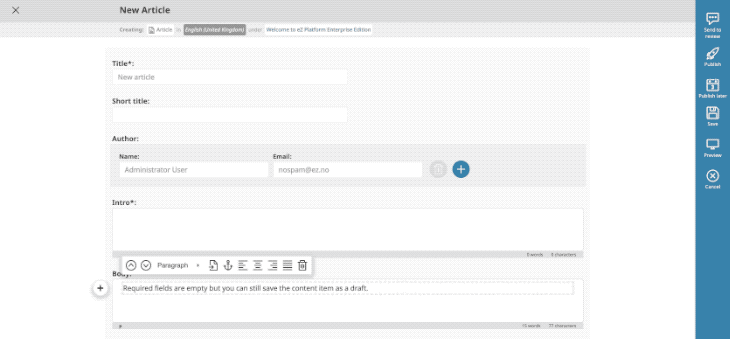 Content validation is still required before publication in order to prevent an incomplete draft with missing required fields from being pushed live.
Together with Field Groups, this is super flexible in configuring editorial workflows with multiple stages and collaboration across user role
For the new product page, the marketing user can create the page as a draft with only the copy ready and then send it for review by an editor.

The copy is then approved
The next stage of the workflow sends it to the e-commerce team to add the required product images and brochure
The final page is only published live once all the required fields are completed, with the product images and brochure added for the launch.
Easily create and manage URL wildcards:
From enforcing a consistent and clear URL structure for your content to help search engines understand your site architecture, to creating a better user experience with shorter, meaningful URLs instead of long, hard-to-use strings of letters and numbers, URL management is one of the most important daily tasks for digital marketing teams.
If your eZ Platform instance is configured to enable URL wildcards, with this latest update, we've created a totally new URL Management interface:
From the main menu navigate to Admin>URL Management
You now have two tab views:

*Link manager*
*URL wildcards*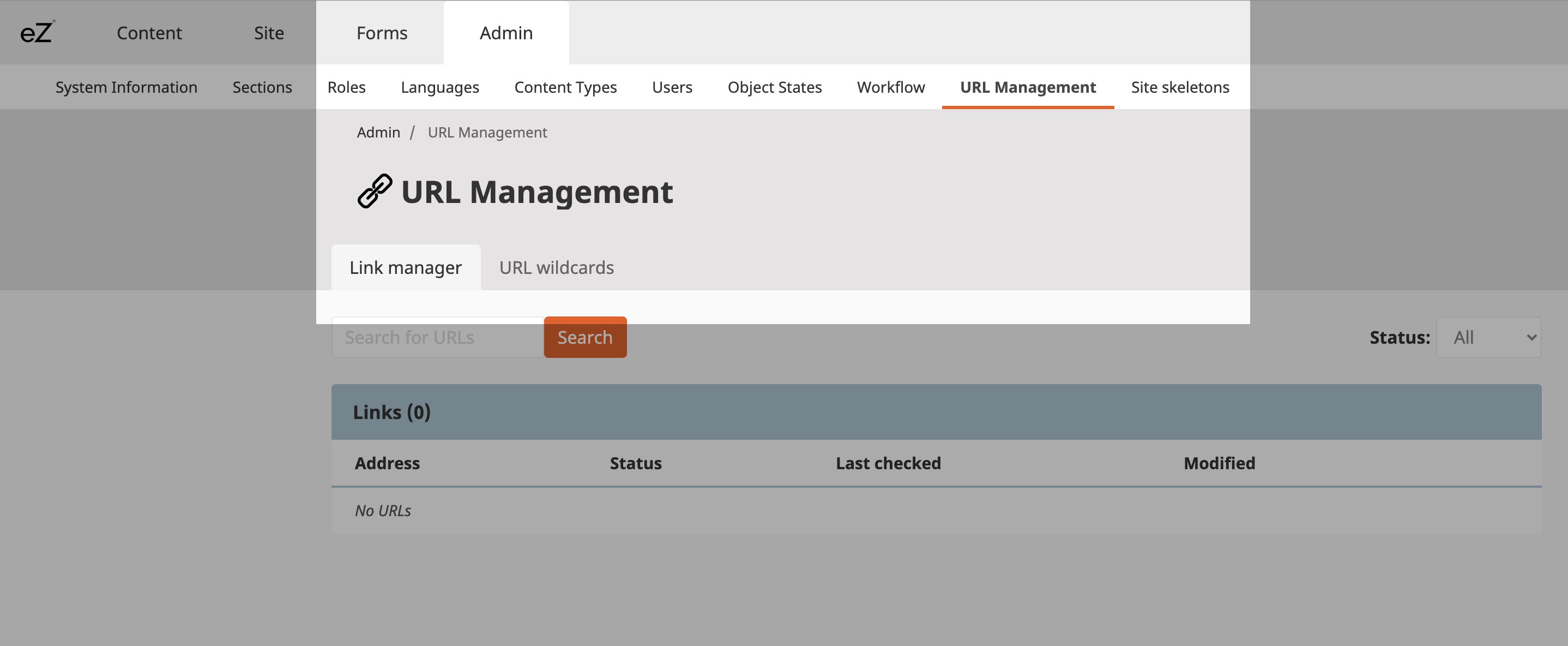 Editors can use the *URL wildcards* tab to create or update wildcard rules without needing a developer to implement the changes for them
If you don't have URL wildcards configured yet, editors and SEO can still create wildcard rules. When a developer then configures the, the rules will be immediately supported. You can learn more about configuring and using URL wildcards with eZ Platform here.
Find content in Trash
With lots of marketers and editors collaborating on multiple campaigns and websites at the same time occasionally, something gets sent to the trash folder by mistake.
In v3.1, we've reorganized the Trash view to help you find content items more easily
Previously, content items in the trash folder were sorted alphabetically
We've now added a *Sent to trash date* column.
This column sorts the content items in the trash folder chronologically instead to help you find items that were recently moved
You can also filter the view by content type or section, as well as the user who published the content.
We Love Your feedback
We're passionate about building products that help your digital business grow. Do you have a great idea for a feature that should be added to eZ Platform? Or just want to give us some feedback on a current feature? Head to our Product Roadmap page here to submit your request.