New Ibexa Partner: Discover Niji's Onboarding
New Ibexa Partner: Cédric Porte, Chief Technical Officer at Niji, reflects on his and his team's onboarding experience when the digital agency joined the Ibexa partner ecosystem.
29/08/2023, 07:13
| 2 Min read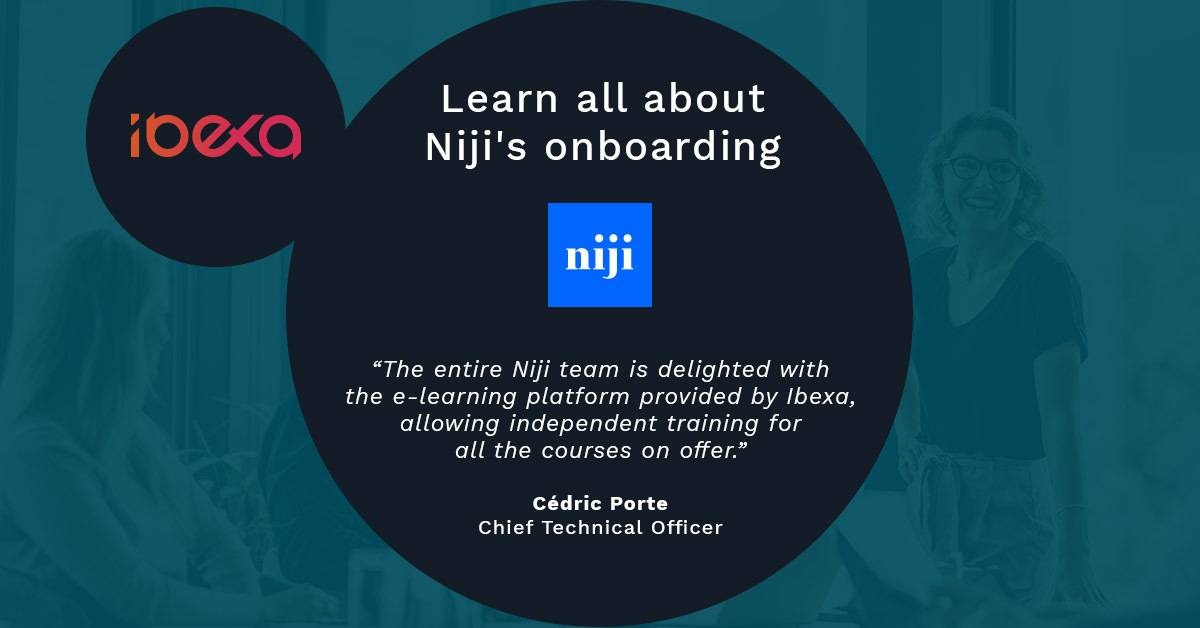 Niji is a digital agency that has been supporting companies with their digital transformation for over 22 years. The French company recently joined the Ibexa partner ecosystem. Cédric Porte, Chief Technical Officer at Niji, shares his onboarding experience as a new Ibexa partner.
The initial feedback has been positive from Cédric Porte. Indeed, Ibexa provided a training platform and test environments for Niji's teams in less than two days. Niji greatly appreciated the responsiveness of the Digital Experience Platform (DXP) Publisher.
Before involving his teams, Cédric Porte had completed the training curriculum offered by the e-learning platform. "This way, I could ensure that everything was complete and in place before my team began the training schedule."
Niji organized a two-week session in Paris to train its teams. "Around ten people were invited, and it was the first time Niji had organized such a training session in Paris with so many people in such a short time. A common core brought together tech-teams and some Project Managers and Business Analyst profiles for a week, then the technical profiles continued for the second week," explained Cédric Porte.
Cédric and his teams were able to train on the following criteria:
Ibexa Connect: Allow two hours to gain competence.
Ibexa Infrastructure: Allow four hours if not familiar with platform.sh and two hours if familiar with cloud hosting.
Ibexa Developer: Allow eight hours.
Ibexa Advanced Developer: Allow six hours.
Certifications: Certifications last between 30 and 60 minutes per topic, assuming that they are passed on the first attempt.
The days were organized as follows: theory in the morning and practice in the afternoon. For longer training sessions like Ibexa Developer (eight hours), Niji's on-site training in Paris was spread over three days to allow developers to familiarize themselves with the solution.
Cédric explained that "the entire Niji team is delighted with the e-learning platform offered by Ibexa, allowing autonomous training in all the courses offered. The available documentation from the platform is also an asset that complements the e-learning platform offered by Ibexa."
Since then, several people have been training overtime. Approximately five additional people are currently in the process of completing certifications. Niji does not exclude replicating this training model in a similarly short period at another Niji site.
Training was, of course, essential for Niji, and the benefits are significant, as Cédric points out. "It accelerates the initiation of Niji & Ibexa projects; it is easier to sell Ibexa DXP, especially since the certifications are at an advanced level, allowing for a true familiarization with the solution by the teams."
Finally, Cédric highlights "the quality of the e-learning platform, the documentation, and the responsiveness of the Ibexa teams allow Niji to further increase its confidence in Ibexa."
In summary, Cédric testified to his satisfaction with the onboarding offered. Ibexa are always ready to guide our partners so that they fully understand our solutions and we are delighted to enable all our partners to quickly enhance their skills in relation to the features and products offered by Ibexa DXP.
Ibexa Global Partner Program
Partner with Ibexa
In a world all about delivering excellence in digital customer experiences, you can build new revenue opportunities, create memorable experiences and turn your clients into digital champions with Ibexa's trusted and open Digital Experience Platform (DXP).
Read more