B2B Marketing Automation - Examples, Tools & Strategies
06/12/2022, 11:15
| 10 Min read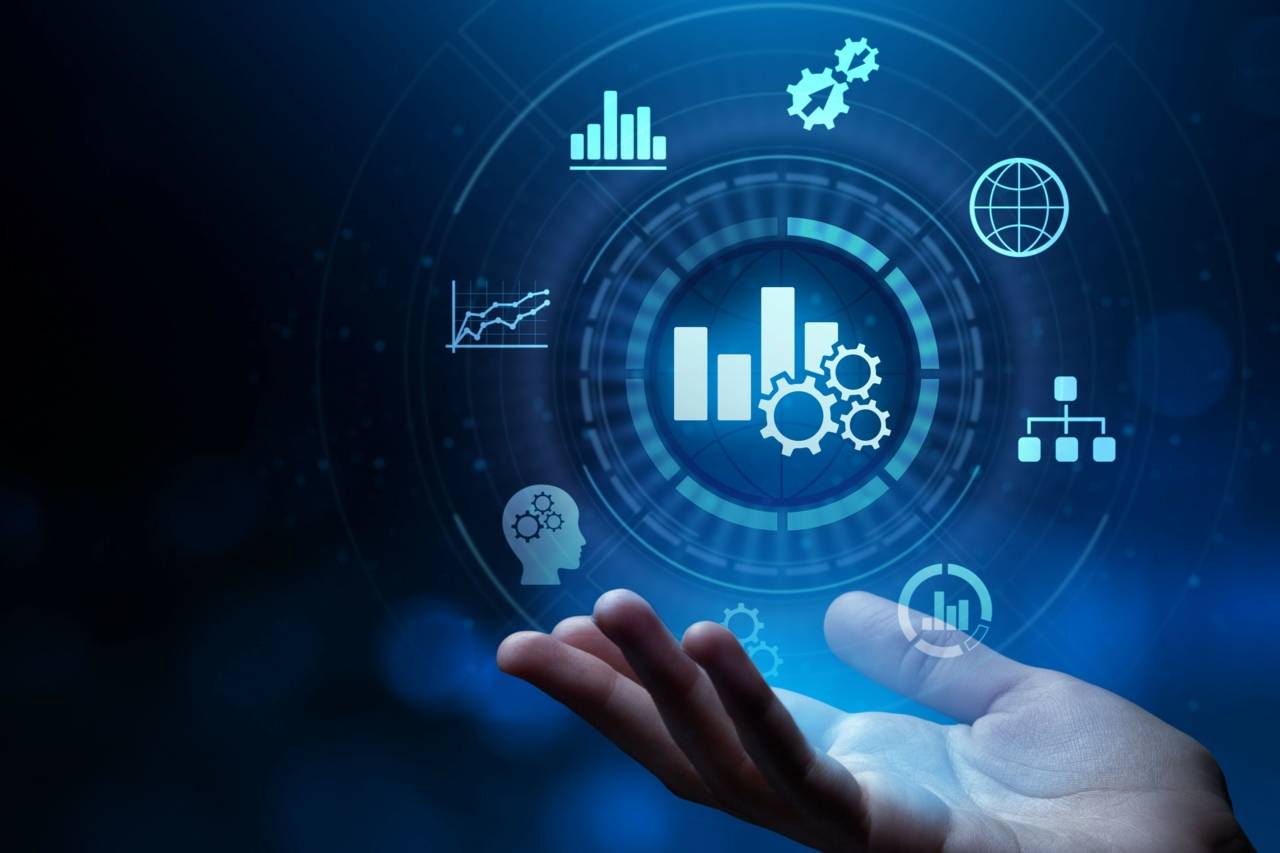 In the modern digital marketplace, automation is critical to B2B business success. Nowhere is this more true than in B2B marketing. The sheer amount of data required to create engaging and personalized digital experiences means that B2B marketing automation is the only way to develop powerful and cost-effective marketing campaigns.
In this article, we explore every aspect of B2B marketing automation, covering what marketing automation encompasses, how B2B compares to B2C, why it is so important and how you can make the most of automation technologies.
What is B2B marketing automation?
B2B marketing automation is the process of outsourcing workflows and processes to digital systems. Rather than spending considerable money, time, and human labor on completing relatively routine marketing tasks, we utilize software to perform them. This allows B2B organizations to dedicate more time to work that generates real value for the company.
Automation is used throughout a B2B organization, with tools such as Microsoft's Power Platform allowing greater interoperability and automation between all apps inside of Microsoft 365 (the new name for the Microsoft Office suite). However, it is particularly prevalent in B2B marketing due to the complexity of modern marketing operations. For B2B companies, the marketing and sales processes typically involve significant data and many relatively simple, routine tasks. Manually analyzing this data and performing those tasks would be prohibitively expensive and time-consuming.
How does B2B marketing automation compare to B2C?
Like many aspects of B2B digital transformation, the B2C sector has been a guiding light, showing how automation can be put to excellent use in the B2B sector. That said, B2B organizations have adapted B2C automation techniques and strategies to the sector's own needs, and there are considerable differences between the two.
These include:
Channels - B2C companies tend to reach out to customers over a remarkable number of channels. B2B organizations still use several, but email plays a more prominent role.
Customer - B2C companies target individual consumers who are more influenced by emotion than their B2B equivalents. B2B buying teams often consist of ten or more decision-makers, and the purchase process is more research-driven.
Content - B2C and B2B content differ substantially. As the B2B buying journey is longer and more complex, B2B content tends to be more varied and specifically targeted at specific moments in the customer journey.
Why is marketing automation so important?
There are numerous benefits associated with implementing marketing automation. However, we think you can usually group them within three broad categories:
Cost - Automated processes are far more cost-effective than manual processes. Though automation may require an upfront investment, the savings make commercial sense in the long run.
Speed/ efficiency - Marketing automation streamlines workflows and makes you more efficient. Considering the amount of data required by modern B2B marketing operations, it is almost impossible to conceive of a B2B organization running a successful marketing campaign without some form of automation.
Accuracy - In the majority of cases, digital solutions are more accurate than humans. Marketing automation solutions enable you to trust your data and processes without worrying about employees forgetting information, making data input errors, or simply misunderstanding a process.
Examples of B2B marketing automation in action
Now we have a brief overview of how B2B marketing automation works in general, let's examine a few examples of how it is applied in practice.
1. CRM automation
Your marketing efforts do not stop when you make a sale. They are only just beginning. If your business is to maintain a healthy relationship with its key customers, you must stay attentive and foster a strong working relationship. This is Customer Relationship Management.
You can automate many CRM processes in systems such as Microsoft Dynamics, Salesforce, HubSpot and Sugar CRM to streamline customer care and keep on top of your relationships. You save a considerable amount of time and energy by automating everything from follow-up emails to data collection.
2. Email marketing automation
B2B companies send out emails for all kinds of reasons. When a customer abandons their cart, signs up for your newsletter, or submits feedback, for instance. Many of the emails you send in these situations are simple acknowledgments. The "thanks for signing up for our weekly newsletter" or "thanks for your feedback, we will be in touch" kind of emails.
Employing someone to send these simple messages makes no sense. That is what automation is for. Make the most of it.
3. Marketing and sales collaboration
Marketing and sales teams are now almost indistinguishable. In many organizations, they have merged. That is because the overlap between marketing and sales means there is little benefit in keeping them separate. You want them to collaborate closely, so make them the same team.
Automation has played a significant role in this merger. Digital technologies can analyze leads and rank them according to quality, placing the leads that demonstrate the most potential at the top. This enables the sales team to prioritize leads they are most likely to convert.
4. Landing page automation
Alongside automation, personalization is another big trend sweeping the B2B sector. Buyers want personalized experiences. And they want them now. But what if you could automate personalization?
A great example of this is landing pages. Ibexa DXP empowers businesses to create powerful landing pages you can personalize to different customer segments and markets. Check out the Essilor success story for a fantastic example of how a highly successful global B2B company put this into practice.
5. Social media
Social media is fast-paced, and users often have high expectations regarding your response speed. Without B2B marketing automation, meeting these expectations is not always possible.
Ibexa DXP can help you automate various social media tasks, including content publication and inquiry responses. Its headless architecture means you can easily publish content from a wide range of sources.
6. Online form automation
If you use inquiry or feedback forms, you need a way of collecting and storing the data and ensuring the information gets seen by the right people. While you could have your staff process every form submission, there are much more valuable ways to use their time. Automation is the solution.
An automated online form system can also help provide first-rate customer service. For instance, you can implement a callback request form that allows customers to ask for a callback at a specific time. The automation technology will process that request and assign it to a customer service agent to follow up at the arranged time.
7. Re-engaging customers
B2B customers often need a little nudge to remind them their stocks may be running low, or they are nearing the time of year they traditionally re-order. Relying on employees to remember when to send those reminders can result in missed opportunities. It is easy to forget to chase up a customer you have not spoken to in a while.
With B2B marketing automation, you can simplify the process by automating re-engagement communications. Most of the time, this will involve sending out personalized emails to customers after a certain amount of time has passed since their last interaction. However, you can also set the emails to send when triggered by other important actions, such as website visits.
8. Analytics automation
Some people love scrolling through figures, comparing graphs, and analyzing data. Most of us do not. Fortunately, many B2B marketing automation platforms feature reporting modules or can integrate with tools such as PowerBI that handle the analysis for us. Even if you do enjoy the data side of things, there is no way you can analyze the amount of data required to make informed marketing decisions.
Best B2B marketing automation platforms
There are several leading marketing automation platforms in the B2B space. This means selecting the best can be a challenge. For B2B organizations, Salesforce, Marketo, Eloqua, Paro and Hubspot are the big names. Each has their distinct advantages and disadvantages, so taking the time to work out which solution is best suited to your business goals and needs is essential.
We recommend basing your decision on the following factors:
The user interface - Ensure the platform benefits from an intuitive and easy-to-use interface.
Integrations - Check that the platform can integrate with all your existing software and will fit well within your system.
Pricing - Establish whether the software provides a healthy ROI by calculating the cost-per-lead and factoring in the subscription fees you will pay.
Features - If you are considering a marketing automation platform, you should have a good idea what you want to achieve with it. Make sure the solution boasts the features you need to accomplish those goals.
Support - At some point or another, you will need assistance making the most of the solution or fixing issues with the platform. If the provider has a reputation for poor customer service, this could be an issue.
Top B2B marketing automation tactics
1. Lead scoring
We briefly touched on lead scoring earlier in this article, but it is worth returning to the topic for a deeper look. Lead scoring is the process of attributing a score to each lead your marketing team generates. This score is a reflection of the lead's value. Or, to put it another way, the interest they have shown in your product and, consequently, the likelihood of you converting them.
Lead scoring systems operate and are weighted in different ways. However, they essentially work by designating customer actions a numerical score. For instance, downloading your lead magnet is worth five points, while making an inquiry or visiting your pricing page is worth 15.
This allows you to rank leads and prioritize your sales efforts accordingly. You can focus on those leads that show the most potential. A good marketing automation platform such as Marketo or HubSpot will automate lead scoring for you, streamlining the sales cycle in the process.
2. Lead nurturing
Lead nurturing is the process of warming up a lead so that they are ready when your sales team makes content. In the B2B sector, buyers require a lot of information before they commit to a purchase. This information has to educate, engage, and convince. And you have to deliver it at the right moment.
The easiest and most efficient way to achieve this is by automating an email chain. Typically, a B2B supplier will send a series of emails to leads containing valuable resources and information regarding the product. The structure of the sequence is determined by how the lead responds to these emails.
If they click and open a resource, you can assume they are interested in the product and would benefit from more information. If they do not open the email attachment, you may have to alter your approach. This approach to lead nurturing is almost impossible with a B2B marketing automation solution.
3. Chatbot signposting
Chatbots are a powerful automation technology that many B2B organizations are yet to use to their full potential. In the B2B context, they are particularly useful in the research stage when buyers have questions about products and services but do not yet want to contact your sales team directly.
One of Chatbots' primary responsibilities is signposting. When a lead makes an inquiry, the Chatbot can direct them to the relevant resource and provide the information without any need for human intervention.
4. Trigger marketing
Our final B2B marketing automation tactic is trigger marketing. This is where B2B companies use marketing automation platforms to automate responses to certain actions. The beauty of this tactic is that you can customize marketing around an endless array of triggers. Almost anything that your CRM measures can be a trigger.
You can trigger a marketing communication when a lead visits a particular page, when they view a certain number of pages, or when they spend a specific amount of time on a page. You can trigger a communication when leads click on a link.
Trigger marketing empowers you to personalize your marketing efforts, too. As marketing materials are communicated as the result of specific actions, you can tailor the material to that particular action. If a lead visits one of your product pages but not the others, you can send them an article relating to the relevant product. It makes for more satisfying, customer-driven digital experiences.
Ibexa DXP and B2B marketing automation
We designed Ibexa DXP to integrate with a wide range of marketing automation platforms, helping to deliver a smoother, more streamlined, and more satisfying user experience. Ibexa DXP empowers you to connect your channels and create rewarding omnichannel experiences. It helps you make the most of marketing automation by providing you with all the tools you need to segment your audience, create new landing pages, and manage content via a headless architecture.
If you want to learn more about what Ibexa DXP can do for your business, take a look at our dedicated DXP product page, check out our success stories, or get in touch with a member of our expert team.
Covid has been a moment of truth for B2B. Lanching digital channels is the way forward.
How B2B Companies Can Diversify Their Digital Sales Channels
Are you concerned about losing your current strong sales relationships if you move to digital, and how do you position yourself within the complex dynamic between the products that you sell and the digital channels that best serve your purpose: to sell more?
This eBook addresses how B2B businesses can evaluate their options, and to focus minds on the implications of diversifying their digital sales channels.
Download eBook