B2B commerce trends – 2021, the Year of e-Business
14/12/2020, 17:32
| 7 Min read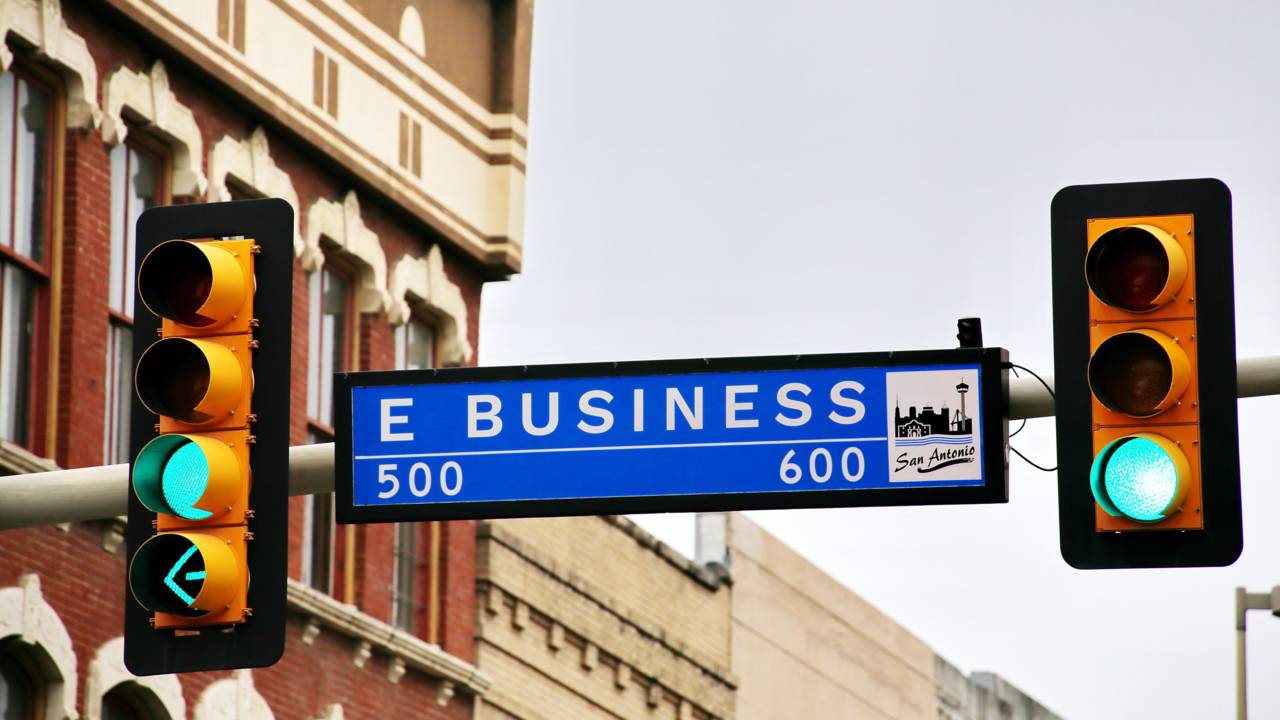 Remove 20 years, and this headline would not feel like anything approaching visionary. As we approached the dawn of the new millennium it would have already felt dull and boring. I'm sure those who are old enough to remember that period would agree. IBM coined the term during the second half of the nineties. And yes, the term has aged and is dated, there's no doubt about it. And if it felt boring twenty years ago, it might feel rather "has been" now.
But well, I'm talking about what e-Business is, not the term itself. And it wouldn't be the first time where the ebb and flow of technology brings back old concepts (Application Service Providers, Service Oriented Architectures, Client-based programming...ring a bell anyone?). Trends come and go and then get recycled all over again.
The truth is, what e-Business is and means has never been as relevant and necessary as it has become today. When asking CEOs and executives from Enterprise B2B companies from all sectors, it is very obvious that how to succeed with e-Business is their core challenge now. E-Business is actually the essence of a digital transformation. It's about conducting businesses and business processes of all sorts through the Internet, leveraging digital tech to build better business. It encompasses the entire commercial relationship whereas e-Commerce focuses primarily on the online purchase.
Focusing too much on B2B e-Commerce not enough on B2B e-Business?
"E-Commerce" is another term which arose from the same era, but has not aged in a similar way. It has been shaped into its own market category, grown steadily and is very much alive today, with its proven promise to transform. Furthermore, with the tremendous acceleration of digitalization during the Covid pandemic, e-Commerce has been seen as the rising star in the Enterprise Software space.
Indeed, Techcrunch with data from IBM's 2020 Retail Index states: the pandemic accelerated the shift to e-Commerce by five years and the growth of a company like Shopify is surely a testament to this.
This is the tree that hides the forest. E-Commerce typically blossomed in consumer business (B2C), where the commercial processes are often very short, counted in hours or may be even minutes, involving few individuals – most of the time only one – and deal with very simple products that have simple pricing and specifications. It also exists for B2B companies in many ways, indeed, B2B companies also now must embrace the option of directly serving end customers and consumers (D2C), and this is where e-Commerce is crucial. And, don't get me wrong, B2B buyers do want to purchase online.
That said, the vast majority of business-to-business buyers' journeys are way more complex and take much longer than a simple browse in a shopping catalogue followed by a check-out process. The act of purchase is almost a formality that may not be the most critical to digitalize in the overall customer lifecycle.
One of the keys of digital transformation, for businesses, is to digitalize their entire sales strategy to better respond to the modern buyer journey. As Gartner says, the B2B customers buying journey is hard.
And for this, for the vast majority of the B2B players, e-Commerce will not cut it by itself. In fact, the overall ROI of e-Commerce alone in the broad sector of B2B is far from easy to prove.
What does the commercial relationship between manufacturers buying industrial printing machines look like? Is it a simple purchase that can fit within the frame of e-Commerce? No. Is it something that can be significantly digitalized? Yes.
How do Pharma product and drug manufacturers deal with highly regulated distribution channels for new drugs (or vaccines) to bring onto the market? Can they deal and buy the same way as a retailer would buy low-consideration products on Amazon Business market place? No. Can it be significantly digitalized? Yes.
How do major retailers deal with providers? Surely, once a relationship is established, there's a buyer sourcing inventory for the retailer – this looks like e-Commerce, and it is – but it's just a tiny fraction of the overall relationship. How do they agree on a long-term commercial relationship and how is it managed along its lifecycle, when it comes to things like special deals, long term commitments and such? Offline processes that can partly, or even entirely be digitalized.
There are many more examples that show that many interactions, many touchpoints and many journeys all along the B2B customer lifecycle can benefit from being digitalized. That's probably why the once-visionary article from Forrester, the Death of a (B2B) Salesman never really materialized with many salespeople keeping their jobs. In contrast, the shift between buyers and sellers kept increasing, because companies failed to digitalize very complex process.
Predictions for 2021
The market will realize that the imperative for Digital Transformation requires much more than E-commerce. E-Business will come back in fashion, under a new name. And at this point, I won't risk any further predictions, except if, just like in consumer products where brands such as Stan Smith or Air Jordans are the new trend, we can create a new hit with an old name?
As part of this, and beyond the unification of content, experience and commerce technologies, two specific areas important for e-Business will be in the spotlight and accelerate the transformation of the e-Business agenda.
Integration and Automation Platforms become the agile glue between customer experiences and the plethora of systems
Enterprises are dealing with an ever-increasing number of applications, either as a choice (embracing a composable approach to system architectures) or by force (through mergers, acquisitions, silos…). These applications are more and more cloud-based, often SaaS based, and their number in a given organization is growing by about 30% year over year. This trend has led Integration Platforms-as-a-Service (iPaaS) to become one of the fastest growing categories in Enterprise Software, going way beyond ETL, BPM and EAI and putting the Business in control. Solutions in this category are more "Automation Platform" than "Integration Platforms", they enable the automation of processes involving many different systems.
As Enterprises are transforming into truly customer-driven organizations, it's only natural that these automation platforms will move closer to Digital Experience Platforms (DXP), becoming their complement to build processes, for and around customer experiences and not the other way round.
Digitalizing hybrid sales channels with buyer/seller enablement functions
As mentioned above, not every sector will be able to achieve their holy grail of digital transformation: a 100% digital and automated sales cycle. In fact, many sectors, if not the majority, will still require sales people to be involved in the journey, counting on digitalization to take care of what can be digitalized, and on humans for what cannot. The still burgeoning category of sales enablement software will evolve significantly and will accelerate as it will be instrumental in ensuring salespeople focus on high-value activities.
Just like iPaaS, its position on the game board will also move closer to the DXP, if not fully integrated, to deliver value, it will need to be very tightly integrated as fueled by customer behaviors, interactions and content on all digital channels. A DXP will naturally provide ways to enable and accelerate Sales team activity with tools that are interconnected, on one side to the customer portals and to customer interactions, and, on the other to the Sales "cockpit", be it within a CRM, in a Sales portal or in custom applications.
At Ibexa, our mission is to provide digital experience (DXP) technology for B2B companies willing to digitalize their sales strategy , all along the customer lifecycle. Naturally, as we research, analyze and anticipate what can really make a difference for our customers, we've been actively looking into providing solutions that they can implement such emerging architectures and approaches.
And when asking the question: What are or should be the preoccupations of Enterprise B2B companies' CEOs? We very clearly conclude that a modern DXP for businesses should go beyond the pure buying/ customer experience question. DXP vendors have to help these B2B decision makers to deliver smooth buying experience as a result of more automated and digitalized sales processes while giving them a way to make their existing sales team more digitally enabled as well as follow the pulse of their customers' or prospects' digital behaviors.
If you are interested in our vision on that part of the digital transformation, have a read of my colleague Bertrand Maugain's piece on several strategies to transform how you sell. Discover our game-changing B2B e-commerce platform that helps you provide for your customers every step of the way. From first contact to post-purchase support, Ibexa Commerce ensures you're in control.
Businesses need DXPs to respond to change, and to invent the disruption of tomorrow
The Three Pillars of Successful B2B Digital Transformation
B2Bs have to be bold and inventive to disrupt their own business models, read how to be successful in our eBook. If you are struggling with your B2B digital transformation efforts, why not reach out to us to discuss your project.
Download eBook