10 Step Guide to Create an Effective B2B Content Marketing Strategy – PT.1
24/04/2023, 07:44
| 10 Min read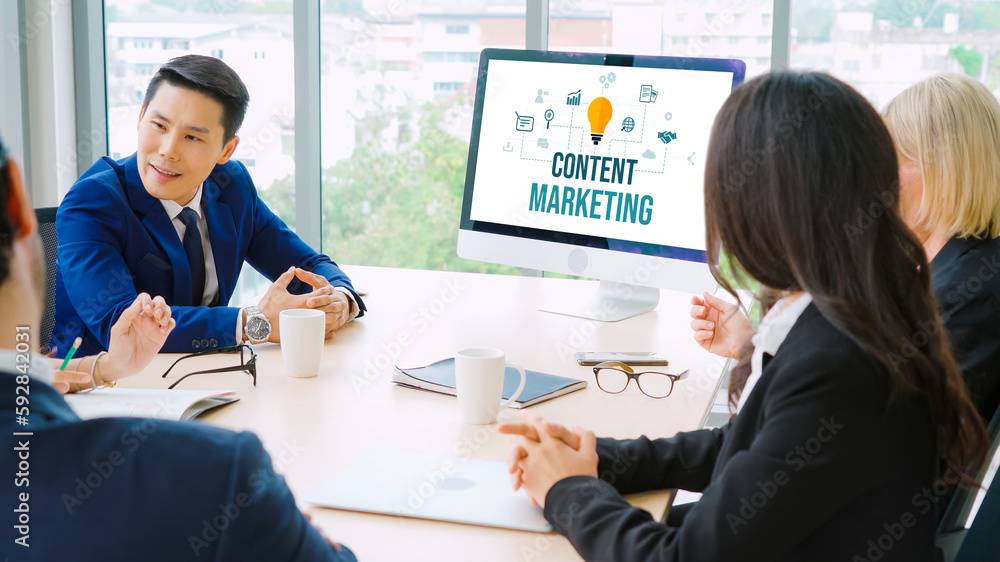 Bill Gates' famous essay entitled "Content is King" was published on the Microsoft website in 1996 where he predicted that "content is where much of the real money will be made on the Internet." Fastforward a quarter of a century and we see that B2B content marketing plays a pivotal role in building brand awareness, educating audiences, and guiding users through each stage of the often-complex B2B decision-making process. And as Mr. Gates predicted, increasing sales and revenue.
Today's marketing professionals are prioritizing content marketing, setting out clear, detailed strategies to achieve their goals. In this article we look at ten steps to creating an effective content strategy for 2023 and beyond.
Step 1: Understanding B2B content marketing
Today, effective B2B content marketing is far more aligned to B2C than ever before. Gone are the days when B2B buyers accepted substandard, one size fit all experiences. These new demands have seen personalization and data driven content at the forefront, yet some clear differences between B2B and B2C content marketing remain.
The B2C buying process follows clear steps as shoppers advance through each stage of the decision-making process, considering demographics, behaviors, and trends. Content and messaging generally focus on emotional appeal with a single buyer persona in mind and the decision-making process from the attention stage through to action is short and methodical with few obstacles in the way. Content that supports these more predictable behaviors is therefore easier to plan, create, and distribute to the right person, in the right place, at the right time.
(The AIDA model, invented by Elmo Lewis in 1898 is an advertising effect model that identifies the stages that an individual goes through during the process of purchasing a product or service).
Effective B2B content marketing strategies on the other hand go far deeper in understanding the pain points of each buyer persona who tend to be more rational and require significantly more detailed information before choosing to make a purchase... or not!
Unlike the B2C process, it is likely to involve a lengthy, nonlinear purchase funnel due to the nature of B2B products and services. Moreover, there are multiple buyer personas and influencers who play a role in the decision-making process, and the average order value is much higher.
For this reason, B2B content marketing flows are inherently more complex and successful strategies must address the various needs and challenges of each individual or group, try to make meaningful yet agile journeys, whilst promoting the expertise and authority to build trust with prospects and existing customers alike.
Therefore, businesses operating within the B2B industry are migrating from basic CMS (Content Management System) solutions to Digital Experience Platforms (DXPs) which are far more capable of merging digital touchpoints and interactions into a unified digital experience.
Despite the differences mentioned between B2C and B2B content marketing strategies, the underlying ethos of the two remain the same, to support individuals and predefined audiences through the buyer journey using great, engaging content to achieve marketing and sales objectives.
Step 2: Conduct an existing content audit
Before going too deep into creating an updated content marketing strategy it is important to review your starting position. Unless you are a startup, it is likely that you already own a wealth of content which can be categorized into the various intent stages:
Low intent (the user is at the beginning of the journey and require high level information): blog articles, eBooks, whitepapers, infographics
Medium intent (the user is aware that they have a problem(s) to solve and need to know how you can help them): product information, product videos, product demos, success stories, sales presentations
High intent (the user is ready to make a purchase): pricing pages
Mapping this content by purchase intent will help you to recognize at which stages you have sufficient content to support the user, identify where you should focus your efforts, and help you to link content to create journeys to convert leads to Marketing Qualified Leads (MQLs) to Sales Qualified Leads (SQLs) to opportunities to sales.
It may be that the content doesn't exactly fit your new strategy, however based on the quantity of content needed to feed these unpredictable, lengthy buyer journeys, it is easier to review and update existing content than to begin from scratch.
Step 3: Identify or refresh your buyer personas
It's critical to understand who you are writing for, and it will come as little surprise that B2B buyer personas and influences are not always simple to isolate and define.
The buyer: depending on industry and company size, is likely to be a middle or upper management profile whose pain points can be addressed or nullified with one or more of your products or service. Typically, in the B2B buying process there is more than one buyer persona, and it's important to recognize that other profiles will have a significant interest or influence throughout the decision-making process.
The user: despite not having the final say or control of the budget, will undoubtedly be looking to find solutions to their unique pain points which may differ from those of the buyer persona. The user is likely to be consulted throughout the buying process, with a considerable influence on the final decision.
Once your buyers and users have been identified, it's time to populate each buyer persona with accurate information including:
Basic demographics: sex, age, job title, company size, location, industry, salary, interests, education, information sources
Job related info: pain points, challenges, goals, objectives, KPIs (Key Performance Indicators), budget
How we can help: benefits, solutions
The information to populate these profiles should come from a range of sources. We recommend that you set up focus groups and include customer facing profiles within your organization such as customer success managers, customer service reps, your sales team, and account managers. The information you have on your database can also be collated and put to effective use.
These persona profiles should be considered a working document revised and updated at least annually to ensure that your content addresses their specific needs.
Step 4: Revise your tone of voice and targeted messaging
Now that you have identified your buyer personas, and detailed information has been collated, the next step is to review or define your company's Tone of Voice (ToV). This document defines who you are as a brand and outlines the rules and characteristics when communicating with your audience.
If you haven't yet defined the distinct personality traits of your brand, begin by reviewing the 12 Brand Archetypes. Select a primary and a secondary archetype which best reflects your brand. Certain behaviors or personalities expose specific desires; therefore, some will naturally appeal to us more than others.
Next, map out your brand personality and list things that you are, and things that you are not, for example: We are knowledgeable, transparent, trustworthy, friendly, and helpful. We are not arrogant, aggressive, rigid, jokey, or pushovers.
Identify general tone of voice rules such as:
Thought leadership – all communications regardless of the channel, market, or author/creator must strive to position the company as a leader within the B2B DXP space.
Reflect our values – the content we create must reflect our values, professionalism, and expertise but avoid coming across as arrogant or elite. When creating content, we must always consider for whom it is intended and select vocabulary which they can understand.
Use appropriate language – whilst we recognize that our target audience have varying levels of knowledge our products and the other solutions we offer, we must select language we use carefully in each communication and never talk down or come across a superior or condescending. We must find a balance between positioning ourselves as experts, and creating content which our less knowledgeable reader can understand.  
Remain objective – we do not speak negatively of our competitors or other products on the market. Our focus is on our Unique Selling Points (USPs) and presenting how our offering can help organizations within the B2B industry.
Create rules for spelling and punctuation and list the scenario, the rule, and supply examples. Where will you use capitals? Are exclamation marks acceptable? How do you use numbers within your copy? What are the character count and word limits for headers and CTAs? This must all be defined for brand consistency throughout each communication channel.
Now that you have defined your buyer and user personas, you can also build a list of vocabulary which they use in their day-to-day. For example, a marketing persona will be familiar with terms like ROI (Return on Investment), automation, leas, MQLs, strategy, statistics etc. mapping a list of these words and terms and referring to it when creating content will ensure that your communications are speaking their language. These terms will differ significantly from those which are familiar to a legal, or technical persona.
You can now create meaningful claims based on their individual pain points and the stage in which they are at within the sales funnel/buyer journey. Once again, we can use the AIDA model, or the buyer intent stages to map these claims.
At the attention stage we must address the challenges and pain points which the different personas are experiencing in their jobs, and at these early stage's focus should center around building brand awareness. As we move further down the funnel or model, you can begin to introduce your products and services which can alleviate these pains.
By building out a range of claims which can be altered to work for various channels you are sure to tell a coherent story that reinforces your core messages, with a consistent tone of voice.
Step 5: Develop your SEO (Search Engine Optimization) strategy
In order develop an SEO strategy which will play a key role in the successfulness of your owned content you must first identify a tool which can provide you with key metrics and insights to review the status of your website and landing pages, but also highlight any more technical issues in the backend which might be hindering the performance of you content. There are a range of tools on the market.
Once you have chosen a tool, you can conduct Keyword (KW) research to find the most powerful terms to include in your existing and latest content. When including these KWs it is important to follow best practices to ensure that your pages rank as high as possible on SERPs, the aim should be to appear within the top 10 (on the first page). When you research KWs you will be presented with two metrics:
Search volume: this shows how many searches are conducted using this keyword monthly. This search volume can be filtered to see search volumes geographically to suit your specific markets.
Keyword difficulty: this keyword difficulty gives us an indication of how hard it is to rank for each specific keyword. Depending on your domain authority, it might be advisable to focus on KWs which have lower difficulty levels to achieve a better ranking.
It is also worth testing longtail keywords which have lower search volumes, but often indicate that the user is much clearer about what they are looking for and the lead quality/conversion rates are often significantly better.
Each piece of content which exists on your website including landing pages, pillar pages, and blog posts are given a value from 0 to 100 by a search engine which is known as Page Authority (PA), the higher your PA, the better your page will be ranked within Search Engine Results Pages (SERPs) when someone searches the related KW.
This score is calculated based on three criteria:
When the page was last updated - it is good practice to frequently update your content to boost your score. Pages which are considered "out of date" will be attributed to a lower score.
Page trust worthiness – the quality of your content and links (both internal and backlinks) plays a key role in your PA score.
Link relevance – it is critical to adhere to best practices when including keywords and links in your content. Keyword or link stuffing will be detected and negatively affect your score. Aim to obtain backlinks from pages and domains with high authority and from sources which are related to your content.
The authority of each of your page's feeds into your overall Domain Authority (DA). These scores can be used as a comparative metric to analyze how your pages and domain are performing against your competitors.
Now that you have the foundations in place for your B2B content marketing strategy, discover how to bring it to life in part two of our 10 Step Guide to Create an Effective Content Strategy for B2B Marketing Professionals.
Businesses need DXPs to respond to change, and to invent the disruption of tomorrow
The Three Pillars of Successful B2B Digital Transformation
B2Bs have to be bold and inventive to disrupt their own business models, read how to be successful in our eBook. If you are struggling with your B2B digital transformation efforts, why not reach out to us to discuss your project.
Download eBook