Ibexa DXP v4.2 Preview: Introducing Corporate Accounts
30/08/2022, 14:26
| 3 Min read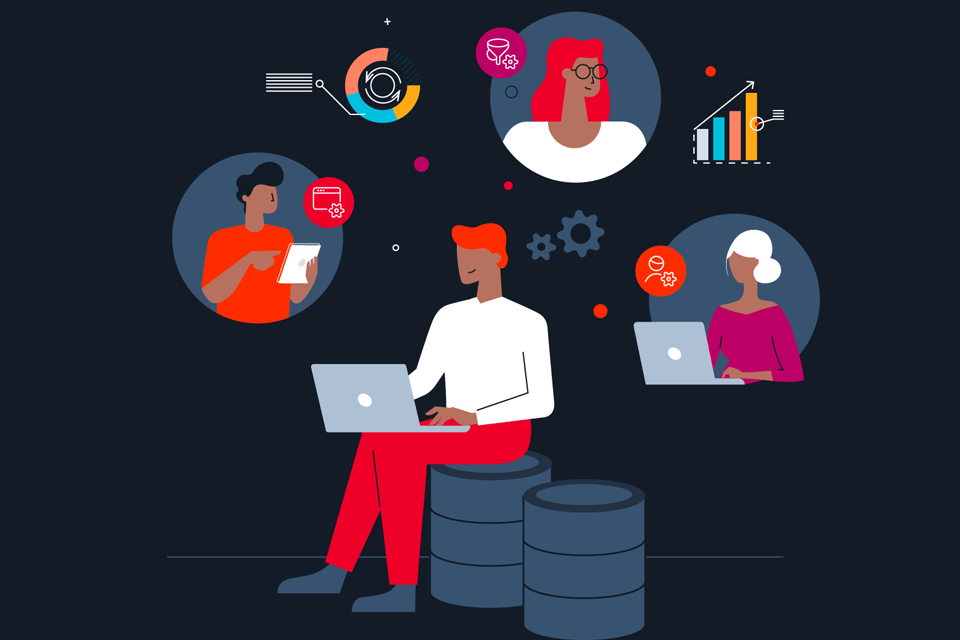 Today, corporate buyers and users demand a B2B purchase experience as easy and frictionless as they find in the B2C world. Yet, most B2B organizations support much more extensive and far more complex buying processes than B2C organizations. In fact, according to research from World Business Review (WBR), only 34% of the B2B businesses have fully fledged e-commerce capabilities, proving that for most B2B companies matching this expectation is extremely difficult.
At Ibexa we love complexity, so we decided to tackle this issue head on in our 4.2 release. By enabling users to build and manage a flexible, hierarchical, configurable, and granular account management structure with a brand-new feature. 
We recognize that account structures in B2B businesses involve multiple business units, individuals, and unique requirements. Decision-making is systematic, and purchasing is someone's job. So, even though B2B users may be regarded collectively as a business, our top priority for account management in 4.2 was the convenience and satisfaction of corporate individuals. After all, business interactions happen between people, and prioritizing user management allowed us to kill two birds with one stone: improve the customer experience and strengthen customer relationships between buyers and sellers).
 Account Management on B2B
In most cases, users are individuals who can access our platform and create a corporate account, this corporate account may not belong to a specific individual but may contain multiple users and serve an entire company. Being managed by multiple people with several different roles, registered and participating under the same corporate entity and under the same customer information. Still, the primary focus of account management on B2B should be on the individual management of users within business accounts. 
For most users the registration process is mandatory and requires additional vetting. The roles of these users are granular and can be restricted with specific permissions and responsibilities. The complexity of this entire procurement process usually involves multiple parties, several stages and varies according to a company's corporate structure.
To tackle this complexity, B2B organizations often need to manage their users by delegating some of the account management functions and even grouping them together into different business groups. Good account management involves accommodating customers and partners according to their business needs and the impact of this process can be dramatic on their user experience, satisfaction and on business growth. With this in mind we would like to introduce you to, Ibexa Corporate Accounts.
Introducing Corporate Accounts
We know that there are many ways of organizing business accounts, depending on a company's selling process and business strategy. With Ibexa DXP v4.2, we will be giving users the option of categorizing their customers into a new type of account called Corporate Accounts. 
Corporate Accounts are designed to make B2B account management simpler, efficient, and adaptable to greater and more complex company structures. The main difference from Individual Accounts is that Corporate Accounts can host multiple users, with different roles, permissions, and responsibilities. And they also allow users to view and manage members according to their needs and functions.
A New Customer Portal
The introduction of Corporate Accounts has given us the opportunity to provide a new, robust, and out-of-the-box Customer Portal where end users can create and manage their Corporate Account. The new Customer Portal allows users to create and remove entire accounts. As well as managing orders, invite new team members and designate different roles and permissions for each member. Such as company buyers or approvers.
Users can add new account members by selecting Invite Members, filling out email addresses, or by uploading an entire file with a list of business email addresses.
The Invitations window also allows users to send emails with a registration link directly to new account members, also it has the option to send invitations reminders.
Ibexa v4.2 also comes with the introduction of Ibexa CDP, our new Customer Data Platform. With the introduction of this new product, we will be able to tap the power of customer data and open the door to new and exciting business opportunities. One of these opportunities is to allow Ibexa users to target each account with unique and personalized product catalogs based on customer profiles and behavior, using specific pricing and payment conditions, geographical regulations, availability, and many others.
Arming account managers and sales reps with more customer insights and control over their accounts creates the best environment for them to be successful, improving their ability to close sales and make customers happy.
Originally broadcast September 14, 2022: Discover Ibexa DXP 4.2
New customer data management capabilites
Get insight into the new features and updates included in Ibexa DXP v4.2:
New features introduced on Product Information Management with Ibexa DXP v4.2.
How Ibexa CDP enhances Ibexa Experience by delivering new customer intelligence founded on unified and accurate customer data.
Ibexa's DXP product offering and how we help businesses succeed with digital transformation.
Watch now