Ibexa DXP 4.4: A New Dawn for B2B Ecommerce
20/02/2023, 10:05
| 5 Min read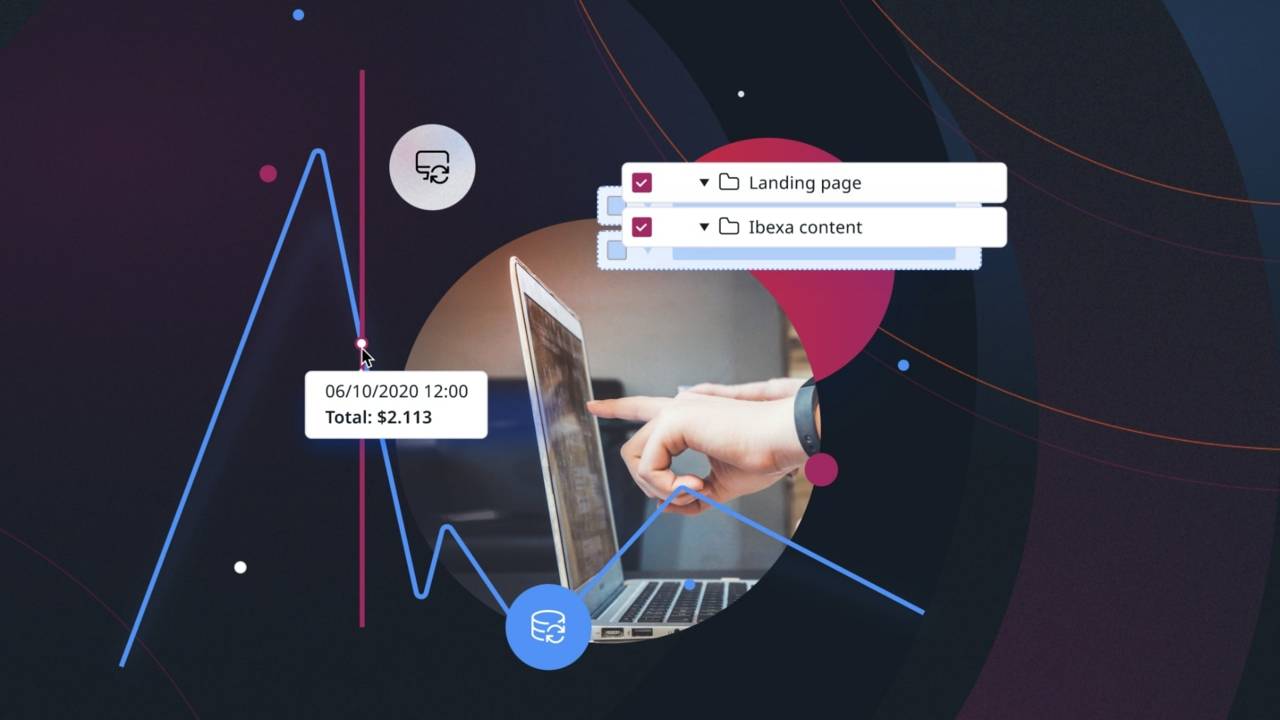 Today we are announcing the availability of Ibexa DXP 4.4. This iteration of our Digital Experience Platform continues to bring improvements to end users and developers. It also represents a significant step in futureproofing our e-commerce capabilities.
We continue to execute on our strategy to build the best tools to support companies in the B2B space succeed as per our digital transformation methodology.
In recent years we've invested heavily in experience building capabilities, data management and integrations with features such as Personalization, Product Information Management, Ibexa CDP and Ibexa Connect.
Building on our product information management (PIM) we can already model complex products and processes. The next area we focus our efforts on is to improve on our commerce features to produce an unparalleled commerce platform for B2B.
With Ibexa DXP 4.4 we start renewing our transactional commerce capabilities, starting with a completely rebuilt core for our commerce engine. We believe this technical effort is necessary for us to fulfil our vision. The effort is also visible in a modern default design of commerce interfaces like the shopping cart management:
With the new storefront package it is also faster to implement flows like checkouts:
We also care about the experience of the sales and marketing people who work hands on with our products. With Ibexa DXP 4.0 we introduced a reimagined back office interface that we continue to fine tune based on the feedback from our users. For those of you who are just getting started with Ibexa DXP the most visually striking improvement is the new default view on a pristine Ibexa DXP installation.
This new design makes the out-of-the-box experience more aesthetically pleasing and sets a tone for creating powerful and easy-to-use services for your visitors:
More capabilities for experience builders
For marketers and editors we bring some new capabilities to experience building. With the new blocks for the page builder you've now got more options to build compelling landing pages, right out of the box:
In addition to the new blocks for personalization, we've also got some interesting new capabilities for the personalization service. First off we're streamlining the service sign up by further automating the process on our end, making it faster and easier for customers to get access to Ibexa Personalization.
Personalization also gets some new recommendation models; predictive and recurring purchase. These two new models, based on a mathematical approach, bring even better recommendations for visitors to your site. We've also added the option to set the age of items for the Recently added model to make it even more flexible.
Late last year we announced our iPaaS solution Ibexa Connect to make creating integrations fast and efficient. With the release of Ibexa DXP 4.4 we are making Ibexa Connect and documentation available to our customers and partners.
We would like to take this opportunity for our customers and partners to discover Ibexa Connect for themselves; No strings attached as every subscription of Ibexa DXP includes five scenarios. A great way to get started is to watch this presentation from Sylvain Guittard and Hajo Grossmann who demonstrate the capabilities of Ibexa Connect:
New technical foundations for commerce and other improvements under the hood
For our developer audience there are a lot of new things for every day use coming with Ibexa DXP 4.4. First of all we've done a major overhaul of our binary storage system with the upgrade to a new version of the Flysystem package. This is a low-level upgrade that ensures we are robust for years to come on the storage layer front.
We are also making some quality of life improvements by enabling updates of the Fastly VCL configurations directly from the comfort of your command line. This is an essential feature for partners working with Ibexa Cloud as it streamlines the process of deploying changes to the CDN used to serve customers at a global scale.
Those using Fastly will also benefit from the Fastly Image Optimizer. We have integrated the Ibexa DXP image backend to allow using Fastly for image conversion and optimization. It allows cropping, resizing, and trimming images before delivering them to the customers. This will enable your customers to have a better experience as well as enhance your SEO by improving load times for pages.
Finally we're excited to tell you about our re-engineering of Ibexa Commerce. Version 4.4 adds a number of new commerce bundles and deprecates the older ones. For developers this means that starting development of new commerce-heavy projects will be a better experience than ever before. For existing projects you can continue to use the legacy components as per our product lifecycle commitments.
The new commerce components we are shipping with Ibexa Commerce 4.4 are:
Are you an Ibexa partner and want to learn more about these new commerce components? Check out our presentation from Director of Engineering Adam Wójs in our Partner Portal where you can also find a range of additional and exclusive content.
Ibexa Global Partner Program
Partner with Ibexa
In a world all about delivering excellence in digital customer experiences, you can build new revenue opportunities, create memorable experiences and turn your clients into digital champions with Ibexa's trusted and open Digital Experience Platform (DXP).
Read more