Digital relaunch puts essential religious resources at the fingertips of users and editors
29/10/2020, 10:17
| 4 min read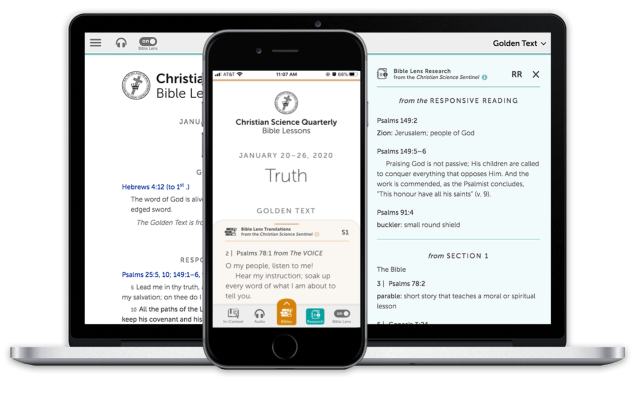 For members of the First Church of Christ, Scientist, study of selected Bible texts and correlative passages from Science and Health with Key to the Scriptures, written by the Church's founder, Mary Baker Eddy, is a core component of individual and collective ministry. These study resources, referred to as "Bible Lessons," are distributed to the Church's membership and constitute the weekly sermon delivered in Christian Science churches worldwide. Improving the user experience with digital formats of the Bible Lessons has been a top priority of the Church's broad-ranging multichannel publication strategy.
The Quarterly.ChristianScience.com mobile-first design presents additional study materials complete with cross-referenced and multimedia resources, all accessible via the UX's persistent footer.
This digital-first vision took a giant step forward this year when The Christian Science Publishing Society (CSPS) launched Quarterly.ChristianScience.com, a comprehensive study experience optimized for use on mobile devices. This included a completely reimagined presentation and a phased replacement of the legacy sites, resulting in a unified subscription and user experience. The new site also includes integration of research databases and links to other CSPS products.
CSPS worked closely with its Ibexa platform development partner, Mugo Web, to create an intuitive mobile-first UX for users that would support an immersive experience for CSPS's broad range of subscribers. Regarding Mugo Web's support on the project, Bible Lesson Product Manager Eli Reynolds stated, "They did a great job of helping us realize our vision for the new design in an effective, efficient, and maintainable way. It was amazing to watch the ideas turn into reality."
Mobile-first design
Like all of CSPS's new development efforts, Quarterly.ChristianScience.com is designed for mobile devices first, then scaled up for desktop presentation. Mobile is crucial for CSPS because in many global communities where CSPS delivers content, mobile is the primary access method for the internet. Tony Veidelis, Vendor Relationship Manager for CSPS, said the publisher has explored mobile apps but has found smart responsive design is more sustainable and cost effective.
Mugo Web partner Doug Plant added that designing mobile-first has allowed the team to build an online experience with much more of an "app" feel than a classic web page. "When we first looked at the design concepts, we were a bit nervous about how it was going to work. The designs were done in some static design tool that really wasn't giving us the confidence we needed; so we built a prototype and kicked that around for a couple weeks. We actually iterated on the prototype itself until we were totally confident. The prototype rolled smoothly into the production code."
Accessibility is important for all CSPS projects and was identified early as a critical requirement for Quarterly.ChristianScience.com. Mugo has an established practice for building Web Content Accessibility Guidelines (WCAG)-compliant sites involving several audit steps and user testing. Quarterly.ChristianScience.com was also tested by sight-impared users whose input proved especially useful. It took some ingenuity to find a satisfactory accessibility model for the application, but having the programming team in direct contact with the testers allowed for brainstorming and quick iterations.
Bible Lessons are anchored on a "Golden Text," a short scriptural selection that conveys a core concept related to that week's topic. These ideas are then expanded over the course of multiple sections through related passages from the Bible and Science and Health with Key to the Scriptures, Mary Baker Eddy's foundational text. An "In Context" view presents each passage in its original context from the Bible or Science and Health via links out to Concord, the Church's scripture research database service.
Users can also access additional translations of particular Bible passages, historical research and definitions via a "Bible Lens" view, which can be toggled on and off in the UX. Users can elect to listen to the Bible Lesson via rich media, as well as to access various print and download materials.
A complex, integrated workflow
The Ibexa DXP's granular permissions system supports a complex workflow of annotation and quality control.
Following editorial preparation, the content for each lesson is then pushed as complex XML and parsed into a very granular content structure within the Ibexa DXP. Auxiliary content editors then add supplemental commentary via a custom editorial UI. There are three main types of annotations — Translations, Research, and Definitions — which are also fitted into the content structure. Next, proofreaders use a special access role in Ibexa to review and approve the content package for the lesson. Finally, the lesson and annotations are automatically promoted to being publicly available according to a predetermined schedule.
What's next?
With the successful consolidation of legacy products, flexible repository of Bible Lessons and supplemental content, and emphasis on the end user experience that's now in place, Quarterly.ChristianScience.com is carrying on to additional goals. These include more user-testing to improve the experience, integrating a CSPS-wide authentication and fulfilment platform, and exploring the import and integration of previous annotation data.
Mugo Web continues to be the key strategy and development partner on the overall structure for this essential content resource. If you'd like to read the success story in full, please click here or if you want to get in touch and discover how Mugo Web can help you achieve your digital experience goals, don't hesitate in reaching out.
Considerations for Creating Rich Customer Experiences
DXP eBook
If you are struggling with your B2B digital transformation efforts, why not reach out to us to discuss your project. Feel free to download and read Ibexa's eBook on Digital Experience Platforms and the four considerations for creating exceptional customer experiences.
Download DXP eBook