03/09/2020, 07:27
| 4 Min read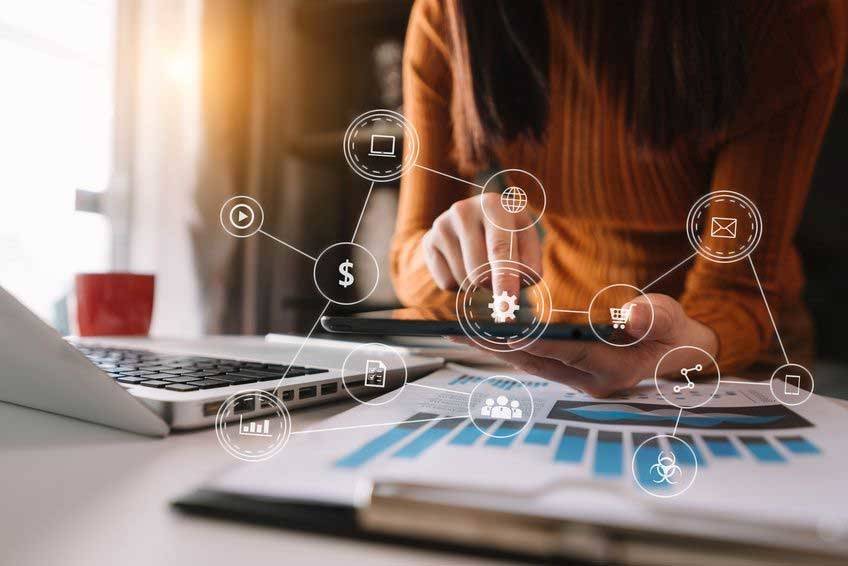 "One for all and all for one" takes careful planning and the right tools
In addition content management, businesses now need digital platforms to give them more functionality and even better integration possibilities. Welcome to the era of the Digital Experience Platform (DXP). The classic Content Management Systems (CMS) we have been using for the past two decades is still primarily responsible for the preparation and delivery of content – the heart of digital experiences – but what DXPs bring to the table is the automated and personalized delivery of content to all channels – websites, stores, portals, apps and IoT devices. There are overlaps between the two technologies. Workflow management is perhaps the most significant, as the complexity of editing and approval processes escalates. When choosing a system, it is therefore very advisable to pay particular attention to configurability and granularity with regard to authorizations and workflows.
Different types of workflow
The content life cycle describes the core of the workflow and so that workflow must be mapped.
There are different types of workflow, starting with manual processes, where users can decide on approvals and publication themselves – and are solely responsible. Static workflows are defined as release scenarios that are permanently implemented in the system (e.g. the 4- or 6-eyes principle). A tailor-made approach is to integrate a full-fledged workflow management system into the DXP, enabling individual and segmented workflows. Only then can the modeling, implementation and monitoring of complex workflows be carried out by defined groups or individuals – and be adapted to the specific needs of every company. This is a more efficient way of working, but also one that secures compliance – in establishing clear content audit trails for example.
Define workflows
In the first phase of workflow management, concrete workflows are examined and identified. The following criteria help to define the workflow type:
the sequence of the individual activities (create, edit, archive, delete)
the corresponding role assignments: who is allowed to do what under which conditions?
the time planning and calculation of the individual steps
the protocols for handling time delays
criteria and triggers for condition changes
The required roles emerge from the workflow steps you define in the first phase. The roles describe which different tasks may be processed, controlled, enriched, released or archived by which groups of people.
An example scenario
To take a look at a somewhat more extensive editorial team and its challenges, here is an example scenario:
A fintech company has a large decentralized and international editorial staff. Editors come from different organizational areas (marketing, events, personnel, product management), with different qualifications, authorizations and tasks. For all of them, the system must be easy to use and with an appropriate content role assigned to each.
Frederik is group leader of the editorial staff. He has to supervise and support the work of his team, and he himself has to work a lot in the system. Above all, he plans the distribution of the articles to the target groups and coordinates the publication with other marketing activities. He belongs to the group "group leader".
Daniela is editor-in-chief and looks after the system on a daily basis. She must have access to all functionalities to be able to work efficiently. She also needs access to all forms of content (text, images, downloads, moving images, etc.) in order to support the work of the various editors and to monitor the quality of their work. She belongs to the group "editors-in-chief".
Susanne is a member of Frederik's team and is mainly engaged in research and the creation of articles and contributions in the system. She needs to be able to quickly upload new articles and provide them with all assets, but also needs constant feedback from the relevant departments. Susanne belongs to the group "editors".
Ellen works in an external agency for Frederik's organization and is assigned with her team to create additional content, graphics etc. as needed. She imports these directly into the system. Ellen and her colleagues belong to the group "agency".
Viktor is the managing director of Frederik's organization and must be involved from time to time if particularly sensitive content is about to be published. He doesn't work in the system himself, but every now and then he gets articles submitted for approval. Viktor belongs to the group "decision makers".
Together, dozens of editors with different tasks continuously produce new content for the system. The system distributes this to the individual users according to the targeting parameters stored in the content.
Model your processes in a structured manner and implement them reliably
The more complex and multi-layered digital processes become, the more important it is that the technical basis is solid. The tasks of modern Digital Experience Platforms are multi-layered: websites (in international markets usually have many more than one) with language versions, intra- or extranets, landing pages, native apps, e-commerce applications, configurators, smart TV applications, content delivery for IoT applications and much more. In addition, there are interface topics to PIM, CRM or ERP, as well as personalization and automation.
To make sure that high-quality content always goes online on time and with the right authorizations for each task, it is important to model these processes in a structured manner and to implement them reliably. No one knows what the future holds, but one thing is as certain as anything: businesses will be required to deliver digital experiences and applications that are even more diverse and complex than they are now – and do so even more rapidly! Only with the right tools will we be able to meet these challenges.
Together with COMECO GmbH & Co KG, rocket-media has recently built the lifestyle banking platform TEO. eZ Platform delivers personalized content headless to different TEO frontends such as smartphone apps or the web portal.
The quality and security of the editorial workflows was and is of central importance to COMECO, and Ibexa's eZ Platform excels in this area with its highly customizable roles and rights model.
If you would like to get to know the possibilities and capabilities of eZ Platform for your company, do not hesitate to arrange a personal consultation and demo appointment with us. We look forward to hearing from you.