Three Ibexa Partners Have Struck Gold
29/03/2022, 11:30
| 6 Min read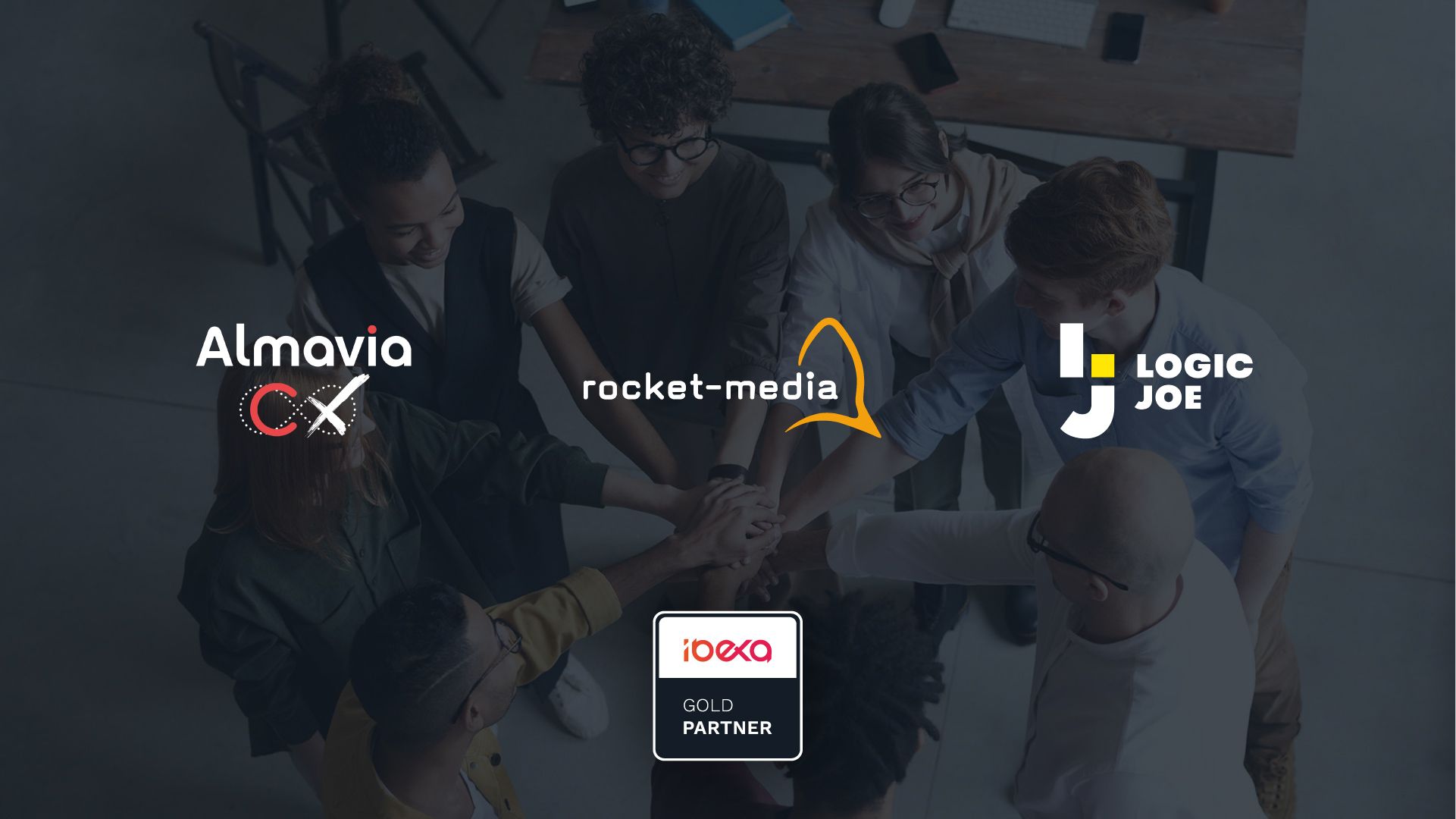 We love progress, especially when it's on an upward trajectory. This blog post features three Ibexa partners who have recently transitioned from Silver to Gold status in our partner program, Almavia CX, rocket-media and Logic Joe. I've interviewed each to discover what's unique about them, how they have generated solid sales – even despite, or perhaps because of the pandemic which has forced companies to try out new digital sales strategies, change their business models and reassess how they conduct business online.
Almavia CX
First, I took some time out to talk to Aurore Dubuisson, the Director of the Web and Mobile Department at Almavia CX, who had recently won two Ibexa awards at the recent Partner conference as National Partner of the Year (for France) and for the best customer project of the year (in France) for the work they have done with Groupe Atlantic. "We were very pleasantly surprised to win these two awards," she says, "and of course immensely proud."
"Winning these confirms our desire to strengthen our partnership even further with Ibexa, and work on more joint customer projects together not to mention to increase our co-marketing activities. Over the past year we have participated in a several webinars and customer success stories."
Dubuisson continues, "We have strong ambitions in 2022 to get more Ibexa certifications in our company. We have four whom are sales certified and we'd like all our Ibexa developers – around a dozen – to be certified on Ibexa 3.3 (three got certified in 2021) and then of course, in due course on Ibexa v4. We are very much looking forward to Ibexa's online learning tool as we are in the middle of recruiting new Symfony developers and want them to get up to speed on Ibexa as soon as possible."
When it comes to client projects, over the past year, the team at Almavia CX has mainly worked on migration projects from eZ Platform to the latest long-term-supported (LTS) version of Ibexa DXP – v3.3. Dubuisson asserts that they will continue to work on similar projects and support their customers in the migration to v4 when the LTS version is released later this year.
In the summer of 2021, Almavia CX debuted its first project with Ibexa Commerce for Groupe Atlantic: boutique.atlantic.fr and plans to assis the group in other Commerce projects during 2022 .
This June, the Almavia CX team will begin the redesign of a digital ecosystem in Ibexa Experience for a new client in the field of Culture, seduced by the modularity of the DXP Ibexa.
Last year, Almavia CX and its parent company, Nextedia Group, reached their objective and recorded growth of 19.3% (year on year). "It's been a good year with very strong growth. In 2022 we have the challenge of expanding the team with more than 100 additional people, of which 30 will be in the web and mobile team," declares Dubuisson. "Our ambition is to continue our double-digit growth by supporting public bodies and B2B companies in their digital transformation. The partnership with Ibexa is therefore important for us and we plan to carry out more co-marketing activities."
Logic Joe
A relatively new partner to join the Ibexa ecosystem, Logic Joe is already going places with Ibexa. Jan Ditze, founder and managing director says, "Our partnership with Ibexa came into being about a year ago. We brought a project to the partnership and now it's in production."
With offices in Hamburg, Stuttgart and Reutlingen, Logic Joe is just over a hundred strong, with experts – five of whom are Ibexa certified - in strategy development, consulting, user experience design and software development. The agency 'builds digital' and works across all digital disciplines. websites, e-commerce, intranets and platform solutions for its clients. Its main customer base is the formidable "Mittelstand", the small and medium-sized companies and family businesses that are the backbone of the German economy.
The positioning of Ibexa as a DXP for B2B companies appeals to Logic Joe's customer bases. "Our typically customer are solid, highly successful B2B companies, and they have been relatively slow in their digital transformation. Many are now talking about testing and adopting e-commerce models," says Ditze. "The COVID pandemic has accelerated the need for them to meet their customers' demands for better and more frequent digital interactions."
The active partnership between Logic Joe and Ibexa means that customers such as Getzner, for whom they are creating B2B portals for a number of different target audiences, can establish a firm content strategy and communicate a consistent brand identity.
"We see a bright future, with many more projects like this that will follow."
rocket-media
Dinkelsbühl-based (south Germany) digital agency rocket-media has many years of experience in developing online marketing and software solutions for internationally operating B2B and B2C companies. With its tag line: 'We make complex processes simple' rocket-media supports its clients with their digitalization projects, from concept and development to implementation and operation.
Peter Passeck, owner and founder of rocket-media, talks about companies that want more from their digital presence: "Over the past few years we have concentrated our business on DXP projects and at the same time we have seen far less CMS requests from our customers. It's a timely coincidence that Ibexa changed its name from eZ Systems and evolved from a CMS to a DXP. We too have altered our business goals to reflect these changes in the market."
He continues: "Since the pandemic we have been working on many more e-commerce projects – in particular we've seen a growing trend of B2B companies making these requests – as many businesses have had to move their sales models online."
Another change rocket-media experienced is that its longtime partners, i.e. brand and marketing agencies used to build CMS-websites with their own, smaller web teams in the last few years. "It's come full circle however," says Passeck, "their customers no longer want just CMSs, they want to offer a fuller digital experience to their audiences, one which they can achieve with a DXP, with personalization, e-commerce and more. So we have begun to hear from them again."
Another Ibexa client that the agency has been working on is D-TACK GmbH. The Aalen-based company wants to present personalized product recommendations for the various building professionals that they sell to and they selected Ibexa for this project. Another new client is Optima Packaging. Here rocket-media and a design partner will enable and help with the major update of corporate design and brand identity by rolling out a new website for the company. A second stage in the overall project will be to add e-commerce with a high likelihood of personalization being part of the project too. Ibexa DXP is an ideal choice as, being modular, it enables this customer to progressively invest as it wants to increase the functionality of their online presence.
Well done!
We heartily congratulate all three partners on their promotion to gold status. For each, the evolution of Ibexa into a fully-formed DXP and its emphasis on resolving the digital challenges that many B2B companies face has given them greater opportunities and the ability to better respond and deliver to their own customers' requirements. Bertrand Maugain, Co-CEO sums it up perfectly: "Reaching Gold status shows a high commitment level from both sides and great execution of our co-selling and co-marketing approaches. Long may it continue!"
Ibexa Global Partner Program
Partner with Ibexa
In a world all about delivering excellence in digital customer experiences, you can build new revenue opportunities, create memorable experiences and turn your clients into digital champions with Ibexa's trusted and open Digital Experience Platform (DXP).
Read more