Meet the Ibexa Crew: Spotlight on Maciej Kobus
03/08/2022, 08:39
| 4 Min read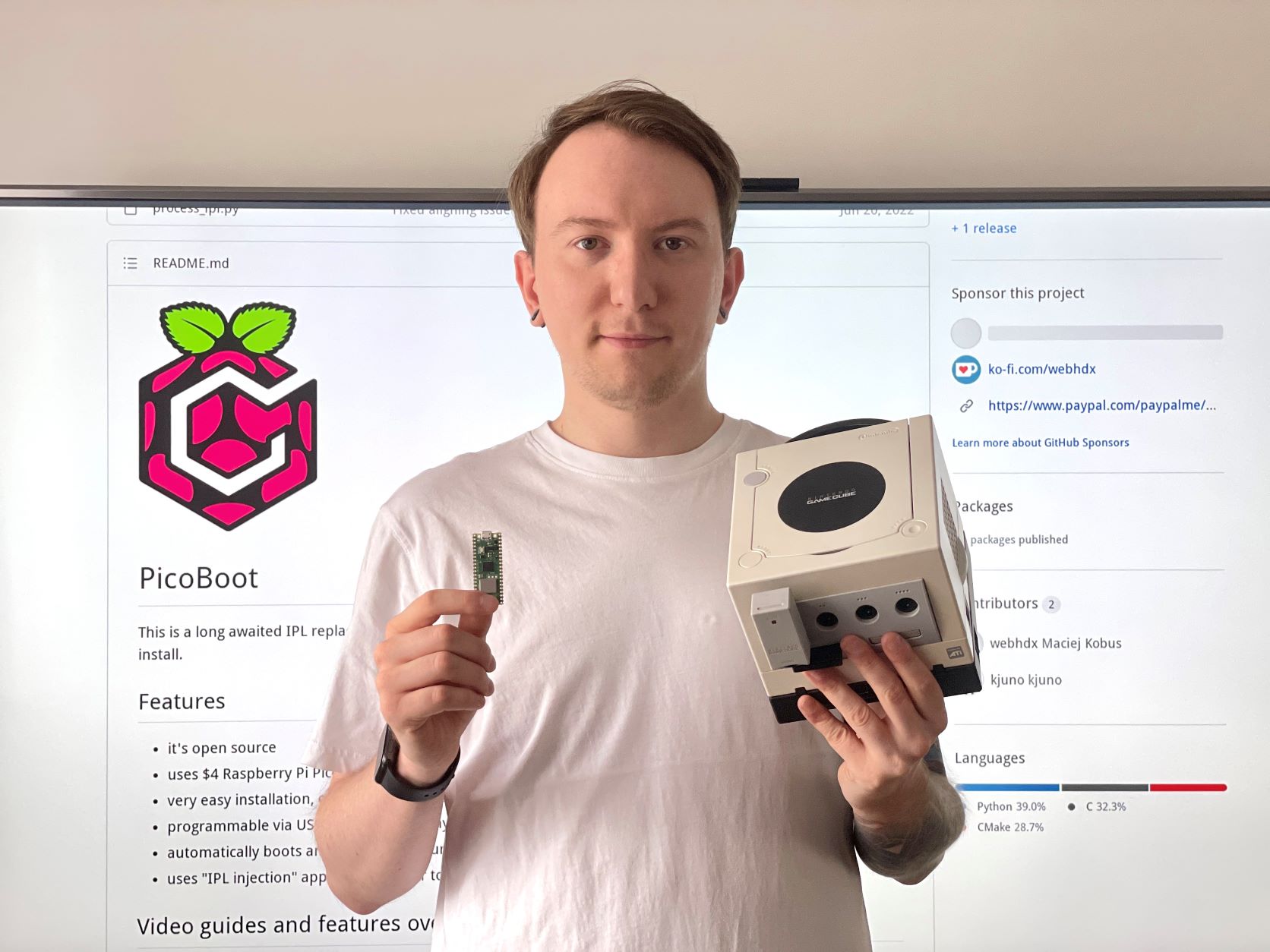 Kicking off a new, occasional series of blog posts which highlight Ibexa crew members, is an interview with Maciej Kobus who is working in Ibexa's Engineering team as Technical Release Coordinator and Senior Software Engineer. Maciej also has recently been in the news about a personal project which we ask him to enlighten us on where he has developed a Raspberry Pi Pico-powered modchip for the Nintendo GameCube game console known as PicoBoot.
How long have you worked at Ibexa, and what is your role at here?
I've been at Ibexa since 2017 and over the past five years I have been developing many of the features integral to Ibexa DXP such as Page Builder, Workflow, Segmentation API and most recently on the Taxonomy.
We are intrigued to hear that you've been working on an interesting Open Source project that is quite independent of the work you've been doing at Ibexa, can you tell us about it?
Sure! My first interest in electrical engineering came through my love of gaming. In fact, as a teenager, my brother and I had lots of games and consoles.
It turns out though that I was less interested in playing than he was. I became more fascinated in the consoles rather than the games and started to collect Nintendo GameCube consoles. You could even say it was love at first sight! I don't have a huge collection, but I guess I own around 15 of them. Some really great games were developed for it, of which I have a few dozen.
And it's this passion of mine that led me to developing a Raspberry Pi Pico-powered modchip for the GameCube called the PicoBoot in my spare time. My aim is to be able to preserve the Nintendo GameCube for future generations and reignite the GameCube's fanbase's ability to continue to play with them for years to come.
How did you go about it?
Old consoles and games have become collectables. What I realized is that although the consoles are quite robust, the lasers on many of them no longer work - they just weren't built to last.
It set me thinking that although I could buy a replacement part today, at some point say, in the next 10 years, they'll probably stop manufacturing them and then what? How can I keep playing the games? Even if you have a huge collection of games there will be a point where it just won't be possible to play them on the GameCube any longer.
So I embarked on a project that would inject a new lease of life into the Nintendo GameCube hardware. I decided I wanted the project to be open source - I felt strongly that I'd like to contribute to future-proofing the GameCube and it's genuinely important to me that people continue their interest in it.
Also, I intentionally used the Raspberry Pi Pico board as it's inexpensive and readily available. The only other thing people need to buy is an SD card (which is where all the games are stored) and an SDGecko or an SD2SP2 adapter - all of which are also very easy to obtain and affordable.
What are its main features?
It's Open source
It uses $4 Raspberry Pi Pico board
It's very easy to install -- only five wires to solder
It's programmable via USB cable, without any drivers and programs
It automatically boots any DOL app of your choice
It uses "IPL injection" approach superior to mods like XenoGC
It's easily upgradable for any firmware updates through the USB port on the Pico board.
How does it work?
I created a modchip add-on to run some code built around a Raspberry Pi Pico microcontroller board. It's a decoupled project where the low-cost hardware modifies your console so that you can basically run your own code (commonly called homebrew) on it without the need of a special boot disc.
The PicoBoot is easy to install, you just need to solder five wires between the GameCube's motherboard and the modchip. I've supplied an installation video and diagrams to make it easy for gamers to do the procedure themselves.
The SD card is great for preserving the games. I tend to buy games and immediately back them up as they can wear out from being overhandled and getting scratches and so one.
What does the Gaming community think of the project?
It's been very warmly reviewed as unleashing new life into the Nintendo GameCube. I can see from a number of discussion boards, review sites and messages I've received via Twitter (https://twitter.com/webhdx) that people think it's a pretty cool solution. It turns out I'm not the only one to be such a GameCube enthusiast!
What's your next project?
I'm working on a quick solder ribbon for the PicoBoot, to make the process of soldering and installing it in the GameCube console much easier.
I'm also working on another GameCube mod which will allow users to hook up an M.2 SSD for the GameCube via plug and play but unfortunately with a worldwide shortage of chips I've only got a prototype working and can't get it into commercial production just yet. But watch the space…it's only a matter of time!
Are you dedicated? Energetic? Talented? Come and work with us at Ibexa. We have a number of positions open in our commercial and engineering teams. Check out the open positions.