ERP, CRM and PIM Integrations strengthen B2B Commerce stores
10/07/2019, 13:06
| 9 Min read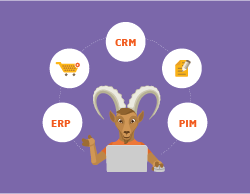 The integration between e-commerce sites and business systems (e.g. ERP & CRM) and product information systems (PIM) are crucial for business success. Seamless integration can create many benefits for an organization. It can reduce costs, increase operational scalability as well as improve the overall customer experience. Thankfully, eZ Commerce can connect to multiple ERP, PIM and CRM services. Currently, eZ Commerce supports multiple ERP systems such as: Microsoft Dynamics NAV and Microsoft AX. eZ also supports many more services with accelerated custom integration through the business integration layers.
What is ERP integration? Why does it matter that B2B & B2C e-commerce stores integrate with ERP?
ERP integration enables an organization to easily connect, coordinate, manage and automate many back-office functions that relate to products, services, accounting services, and human resources.
For companies that sell Business-to-Business, it can aid in operating sophisticated commercial relations and transactions online in a seamless manner for their online stores. A successful ERP integration can be beneficial both in the short- and long-term. The integration can improve productivity by reducing manual entries which can lead to entry errors for orders, inventory, and customer data. Secondly, it enables you to better monitor your inventory and accurately inform your customers of your stock availability in real time. As this process is automated you will not need to hire additional employees to manage these tasks. Instead, the organization will issue automatic notifications to customers when orders have been shipped and fulfilled. Lastly, it enables you to easily manage price and product information changes in your inventory.
eZ Commerce comes with ERP integration
With eZ Commerce, businesses can ensure their processes run efficiently while providing better visibility. eZ Commerce enables information to flow more smoothly between departments in your business while improving organizational communication. Although eZ Commerce currently offers connectors to three ERPs, your store has the flexibility to easily integrate with many other ERP systems.
Once you select your preferred ERP, you can configure your store to easily fetch real-time and up-to-date information. Your staff, store visitors and customers will always be able to access real-time inventory and pricing information. Secondly, your sales channels will operate more efficiently as all the data that is processed will be exchanged between your store and the ERP. All customer data, product data, order information and documents can be fetched directly from the ERP. Unlike regular consumer business, B2B often requires specific pricing per customer. This pricing is usually defined in ERP and CRM systems. eZ Commerce lets you dynamically rely on such processes and offer custom prices driven by your sales organization directly on your website.
Supported Process with ERP integration



Data/Process






What is exchanged






When






Customer data






Data about the customer such as




Invoice and buyer address
List of delivery addresses
Status
Customer group
Credit limit
contact data






The data for a customer will be fetched from the ERP when the user logs in and has a customer number






Product data






Products and product groups






During the import. The import will be initiated e.g. every night or even more often. This data is usually provided using an export (XML, CSV, Json).






Prices






List price and volume prices




Individual prices






List prices will be exchanged during the product import.




Individual prices will be fetched from the ERP when a customer is logged in an has a customer number. In that case, the shop requests prices in real-time from the ERP. It can be defined by a project in which cases prices are requested from the ERP (e.g. product detail page, basket, and checkout).






Orders






Address data, Delivery address, products, and customer number






When the customer has ordered the order will be sent immediately to the ERP system. If an electronic payment is involved the order will be placed when the payment provider has acknowledged the payment transaction.






Documents






Invoices, orders, delivery notes, credit memos






The addon order history requests such documents in real time from the ERP. This ensures that the customer will see all documents even if an order has been placed by phone or fax.



What happens if ERP connection is not available:
In the digital world, systems can experience some glitches or operational failures. However, in case that the connection to the ERP is not available your online store can still be up and running. eZ Commerce supports a fallback scenario for your store's most important processes. The fallback scenario ensures that:
The latest customer data is cached after login and used if the ERP is not available after login
A fallback price engine is used in case the ERP is unavailable (customers are informed that the prices and stock are not up-to-date).
A stored order will be automatically transmitted to the ERP when it is available again.
How to monitor interface performance between the e-commerce shop and the ERP system.
eZ Commerce admin interface is shipped with a monitoring service which checks all messages exchanged between itself and the ERP. This enables the store administrator to monitor the performance of the ERP within specified dates. The user can analyze what requests have been made to the ERP. This can be handy when trying to determine system errors and what type of requests are made in high volumes during certain time periods.
What are the different options to connect ERP to an e-Commerce store?
There are different protocols to connect to an ERP system. You can either use Web-services (SOAP) or Rest API. eZ Commerce includes an integrated mapping system that provides a powerful feature to map the data provided by an ERP to the internal data structure used by eZ Commerce.
At the front end, the store uses standard format UBL (universal business language) for the most used entities such as: address data, orders and invoices. It is used also for representing data in the shop like price calculation.
Interested to know better about integrating eZ Platform and your ERP thanks to eZ Commerce?
We are very excited about the new features now available in eZ Commerce v2.5. Without a doubt it provides a lot of benefits both for B2B and B2C stores. eZ Commerce helps businesses simplify and accelerate their digital operations by using a single system for editorial content management and e-commerce management as well as provide strong ERP integration capabilities. If you'd like to learn more or have any questions, please feel free contact us at productmanagement@ez.no or leave a comment on this blog post below. Alternatively, you can provide feedback on our community forum at www.discuss.ezplatform.com or http://www.portal.productboard.com/ezproduct.