A great start to 2020: two intense, inspiring and immersive days in Malaga for eZ Global Partner Conference.
29/01/2020, 08:59
| 4 Min read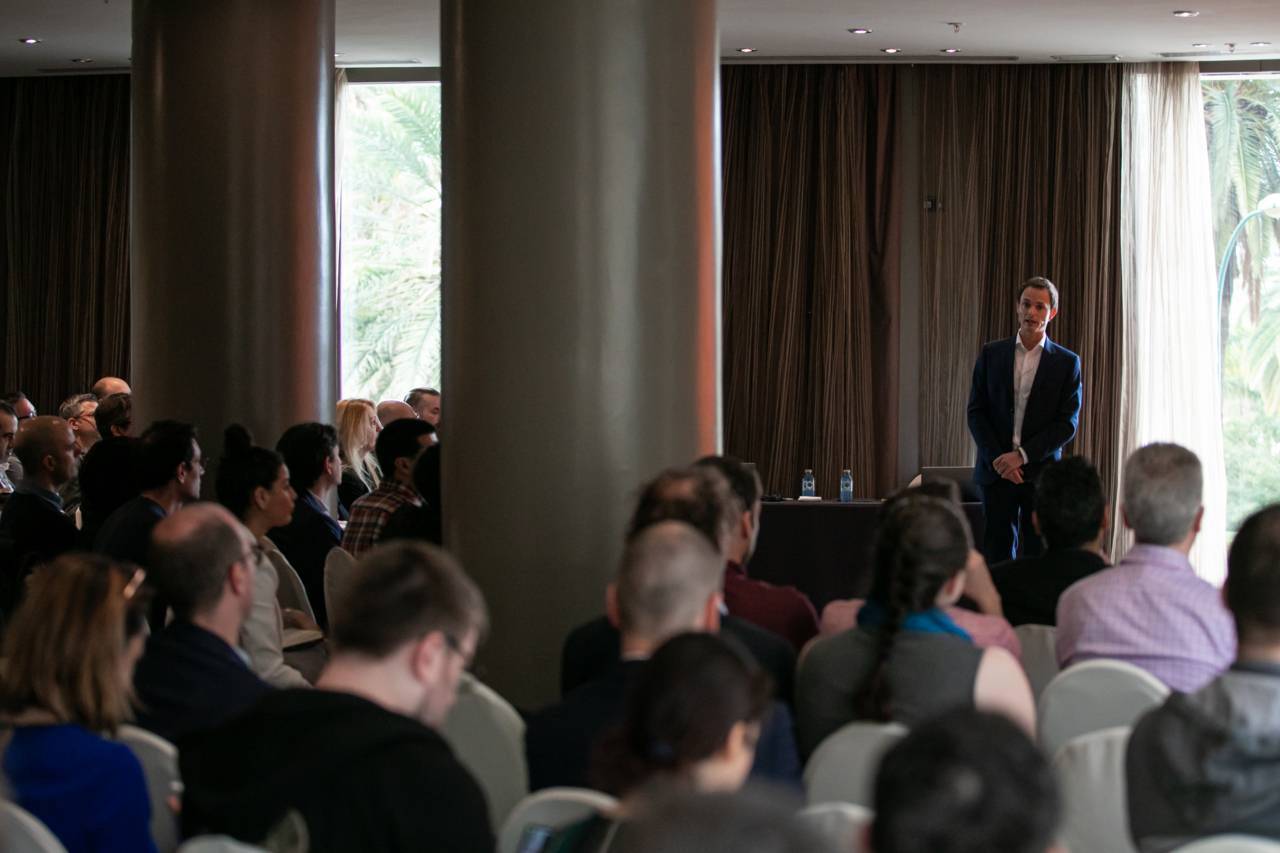 It's a wrap: an overview of last week's 2020 eZ Global Partner Conference
Last week saw an exceptional hailstorm in Malaga, making the headlines as it created disruption and treacherous conditions for cars and pedestrians. It also saw the city host the eZ Partner Conference, an annual event for sales and techies from digital agencies and consultancies who are all working with similar goals of delivering memorable digital experiences for their clients.
In the keynote, Bertrand Maugain, Morten Ingebrigtsen (Co-CEOs), and Roland Benedetti Chief Product Officer, shared insight and results, vision and future developments of eZ. 2019 represented the best year for eZ in its 20-year history with sales and customer retention high. And, as the market is evolving so is eZ on its way to become a fully-fledged Digital Experience Platform (DXP) in a world where customers come first and experience is everything. eZ's capabilities of interoperability, Content Management, personalization and e-commerce all contribute to ensuring digital leaders can build the best and most effective digital experiences.
The group divided into two tracks with focus on sales and product. Developers got update training or an introduction to eZ Platform, whereas the sales track covered product capabilities, value propositions and pricing. During the afternoon, the sales track became less theory and more practical with a heated sales competition pitching to two live customers. There were also technical talks from partners to partners.
The evening saw the Awards Dinner with the winners of the eZ awards announced. Hearty congratulations go to: Serhey Dolgushev, Contextual Code, winner of the Technical Contributor of the year for the outstanding work extending the alloy editing interface, the online editor contributions in the product and OE extensions provided as bundles, the contribution to future parity and making upgrading from legacy a realistic option. Alex Net of Microblau won Advocate of the Year for his contributions to advocacy and the ecosystem in Spain.
The next award for most successful co-marketing activity of the year deservedly went to Novactive and its activities and projects with Groupe Atlantic, MCC (Ministère de la Culture et de la Communication), Café Royal Pro and Hibu. This was followed by Best Customer Project of the Year, won by Arithnea with an international grocery retailer - where the project included two career portals, a recipe portal, corporate website, real estate portal, rollouts in 27 countries, high internationalization, cross-client content pools, and a high-traffic decoupled architecture.
Best Cloud Builder of the Year was won by the UK's Bluetel Solutions for the work they have done in developing the Nikkei Asian Review website on Platform.sh. New Partner of the Year was awarded to eblformat content solutions in Germany.
The last two prestigious awards, Partner of the Year and the Honorary Award were given to comwrap and Felipe Jaramillo, CEO, Aplyca respectively. Both agencies have shown great commitment to eZ, been great advocates of eZ technology, provided product feedback and continually serve their clients with excellence.
There was an insightful presentation on DXPs for the mid-Enterprise market from Brian Carlson at CMS Wire kicking off day two. He also hosted a robust panel discussion on different vendors' approaches, strengths and weaknesses.
Some hangovers and sore heads didn't stopped participants gaining their sales and technical certifications that day, record numbers passed the tests and with one, namely Robert Pérez of Microblau gaining a perfect score of 100% on the technical certification.
A number of partners voiced their appreciation of the event. Daniel Pala of Ixis tweeted: Great week and some awe-some new features to help keep your website updated," Guy Weston of Creode posted: "Fantastic day at the eZ Systems conference in Malaga, learning more about a great DXP product and meeting new people."
Murielle Couden of Sword added her voice to the social channels saying, "Yessssssss! Great eZ team (as always), good partner meetings and [a good opportunity] to exchange on products and customer issues. Thanks for Malaga 2020." Angélique Daudé Tavaud posted: A great meeting and great moments! And Samuel Payen at Digital curious added: An exceptional session! And I'm not just talking about the hail that Malaga hadn't experienced in over 30 years!
eZ Product Café, an open forum for the technical teams to discover the future of eZ Platform was well attended. The technical team at comwrap enthusiastically commented: "We really liked to product café, it was awesome to hear your new features and discuss with the developers from other companies! We'd be very happy to see this feature again."
The only thing we all wish for is that the weather doesn't repeat itself. Hail, rain and blustery winds, we are already crossing fingers for more sunshine and warmer temperatures for next year's eZ Global Partner Conference. In the meantime we hope to see many of partners come along to our 2020 roadshow, eZ Engage, you can already save the dates: London, May 13; Cologne, June 4; Warsaw, June 10; Paris, June 16; Barcelona, June 18 and Madrid, June 23.