Reflections from DMEXCO 19 – it's all about Trust
12/09/2019, 09:42
| 6 Min read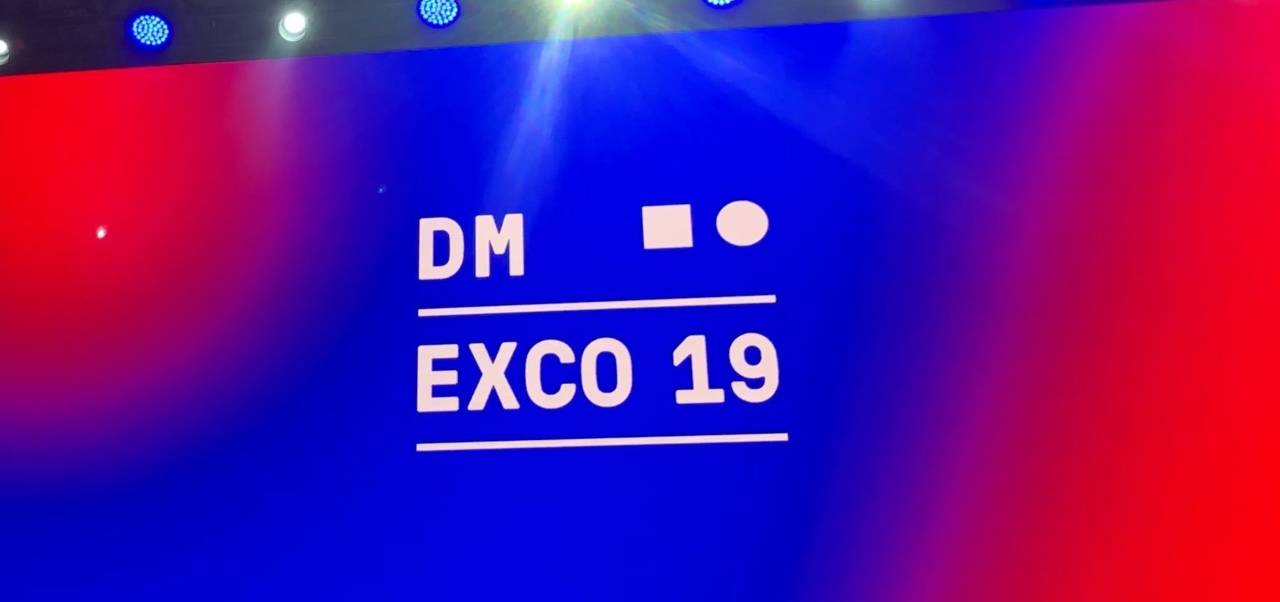 Forty thousand attendees, hundreds of presentations and vendors at the largest trade fair on digital marketing and advertising make for an interesting, varied DMEXCO. I'm here to see the latest trends, new innovations and network with my peers. Here's a few snippets and takeaways from my attendance at the mega digital marketing event in Cologne.
Trust in You was launched as the theme of DMEXCO 19 in moderator Louise Houghton's opening remarks, expounded upon by Dominick Matyka, Chief Advisor who officially opened the two-day jamboree and reinforced this by saying "Trust is the fundamental foundation for any business or personal relationship. We need trust between users, consumers, business and across society."
"Trust is the fundamental foundation for any business or personal relationship." Dominick Matyka, Chief Advisor
In her presentation of the Trust Revolution, discussing that despite living in the most technically advanced era of humankind we also live in an era in which there is a crisis in trust, Stephanie Buscemi CMO, Salesforce said, "Values are bedrock of our decision making, creating the foundation of trust. Every touchpoint across a customer journey can make or break trust."
Brands have always been built on a foundation of trust, but what's changing today is how they're building it with consumers in an always-on world. She said we need to give full transparency in the products we build with our customers and let them know what is to come. "We have to drive value through the organization through the culture we build, the community we build and the content we create."
It's about culture. Are we walking the walk? One of the biggest dangers is to Talk the Talk but not Walk the Walk. We have to find the values and actions in our business to walk the walk. It's not enough to market values but you have to "live" the values. We have to make the tone feel right, consider context and ensue we pay respect rather than trivialise. We have to be intentional with language - words matter and mean different things to different people. Avoid appropriation - stay sensitive and pay the right respect, ensure representation - use real people and reflect the diversity of customers and employees - people want to see themselves in the brands work with. Lastly don't foster stereotypes and reflect how customers and partners as well as employees reflect the brand.
Every touchpoint across a customer journey can make or break trust. Stephanie Buscemi CMO, Salesforce
Stephanie summarized that product and services are not enough. As marketers we need to make connected customer experiences through actions and programs. Embrace the values in the organisation and make them expressed throughout.
Ed Williams (Edelman UK) hosted the DMEXCO opening panel on the theme of Trust in You in discussion with Rob Tarkoff (Oracle), Michael Rubenstein (AppNexus) and Philipp Justus (Google) Jolanda Schwirtz (Nestle).
Here we learned that businesses should be run for stakeholders not just for shareholders. Today we are upending the shareholder value model to move to stakeholder economy.

The expectation of consumers and employees has changed. They want more, they have a voice. Belief driven buying is the dominant trend everywhere, where brands can show positive societal impact, doing good leads to loyalty, advocacy and purchasing.
More than half believe societal issues are 'woke' issues. We have to earn that trust over time and by walking the walk. The panel agreed. Rob Tarkoff said: "It's a welcome change, we focus on providing trusted solutions and offer more than just shareholder interests, it's about how we build our products and the way we treat our employees. Jolanda Schwirtz was asked how Nestlé has seen consumer attitudes changed. She said "It's about being more open. Already in communities we have programs in place for sustainable products (coffee, chocolate etc.). Now we have to translate and communicate it to customers."
Diversity and inclusion was recognized as 'work in progress' by the panel. There's a need to provide the right development opportunities enabling people across organizations to have a voice. Ultimately stakeholder capital is good business. Giving them purpose and meaning leads to a more productive workforce and better business decisions.
I then sat in the seminar 10 best practices for how NOT to build a commerce project in 2019 from Boris Lokschin at Spryker Systems where we need to become fast and lean. He advises, "Speed can equal complexity. The more people in a project the greater the number of communications. Keep the team lean and remove people who aren't pivotal in the decision-making process."
We have to focus on what we can change - not the what but the how. Taking the example of Amazon: it's all about price and delivery. No one wants to pay more or have delivery that's slower. Customers trust Amazon to deliver on its promises so the giant retailer works on the how, exploring how to deliver on the promise of fast delivery experimenting with drones and automated deliveries.
When thinking about the product, weigh up whether to go MVP or RfP? Is minimum viable product enough to validate the product you need to bring to market. Check whether your assumptions are right. Start with discovery questions (see what customers want, get feedback from those that know in customer support for example.) Think a step ahead. Embrace trial and error - drop what's not working. With ROI, customers' expectations get shorter and shorter. Therefore, make long term differentiation, work smarter and use resources optimally. This was you will engender more trust.
The hero of the story is the customer not the brand. Dave King CEO, Asana
On the debate stage, Dave King CEO, Asana said the hero of the story is the customer not the brand. When asked about the future of marketing, he responded, "The profession is evolving, there's never been a better time to be a marketer. We spread ideas and effect change. There are big changes too we are now becoming accountable for the full lifecycle of the customer."
"Marketing is more tech and data driven. There's the rise of the quant marketer on one side and the storyteller on the other, reinforcing the importance of telling stories. These two have to dovetail and work together and effectively. Brands have to be more like media companies. Start to create experiences and stories connect audiences and create communities."
I then went to a seminar on Navigating the New ePrivacy Regulations by Ian Evans from OneTrust. Why do we need another law from the EU? We want our rights to be protected, we've been through GDPR but some instances are not covered by that law. As consumers we want to protect confidentiality and personal data. The problem today is that that is no consistency online. There should be consistency in how to consume data which has an effect on privacy and trust.
All presentations kept coming back to trust. A key takeaway from this year's DMEXCO is that we have to deliver on the brand promise and not jeopardize the trust. We have to live it every day.
Discover how eZ's Digital Experience Platform (DXP) should be central to your digital strategy and help you communicate your brand with trust to your audiences.
Considerations for Creating Rich Customer Experiences
DXP eBook
If you are struggling with your B2B digital transformation efforts, why not reach out to us to discuss your project. Feel free to download and read Ibexa's eBook on Digital Experience Platforms and the four considerations for creating exceptional customer experiences.
Download DXP eBook