Ibexa Announces Ibexa DXP targeting B2B Digital Transformation
27/10/2020, 13:11
| 4 Min read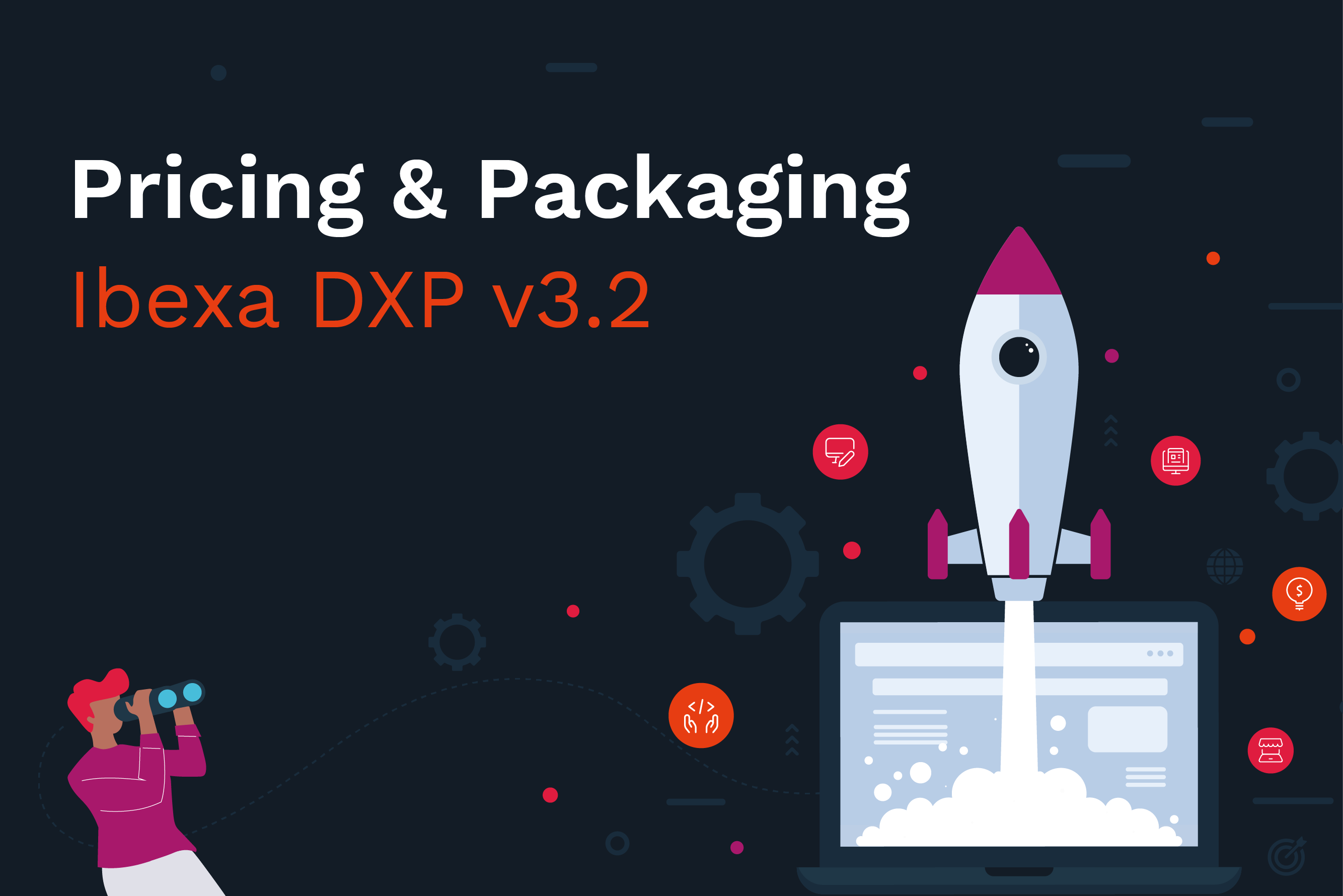 Yesterday our blog post discussed what new in Ibexa DXP v3.2. Today I'll be looking at how we have restructured our offering in order to address all the scenarios related to B2B Digital Transformation.
This week marks a milestone in Ibexa's history. In yesterday's product launch we renamed our software platform to Ibexa DXP marking the culmination of the move to our new brand name. In April, eZ Systems was transformed into Ibexa and now our product too – no longer eZ Platform but Ibexa DXP. Yesterday, in his blog post, Sylvain Guittard, our Product Director outlined the new features and capabilities of the Digital Experience Platform.
Here, I discuss why Ibexa DXP comes with a new offering consisting of a new pricing and packaging; in other words: a new way of buying our DXP. In short we have now three products :
Ibexa Content: For organizations to create content hubs and content services (where content can be editorial product information for e-Commerce, editorial for content marketing, brand content, documents, media assets) to use as a core component of their digital platform and services and deliver content to any channel.
Ibexa Experience: For companies and organizations who want to go beyond Content and want to digitalize the engagement part/ relationships with their customers, members, partners and create frictionless memorable experiences across all digital channels.
Ibexa Commerce: For companies who want to go beyond Content and Engagement and want to conduct business online including the digitalization and automation of the business transactions. It naturally includes the Engagement and Content part.
Over the past two years, we have gained traction in the B2B market and we see a need to better guide these organizations in their digital transformation. Buying expensive and heavy, all-in-one DXP suites from day one or jumping to E-commerce without putting content and customer experience at the heart of their approach are not viable options.
With Ibexa's new packaging, we better address market needs and the way companies now want to put customer experience at the heart of everything they do. And even more importantly, we bring speed and agility so that they can progressively transition their way of doing business. We believe we can help transform the way how businesses do business with each other and truly reduce their time to market and gain competitive advantage.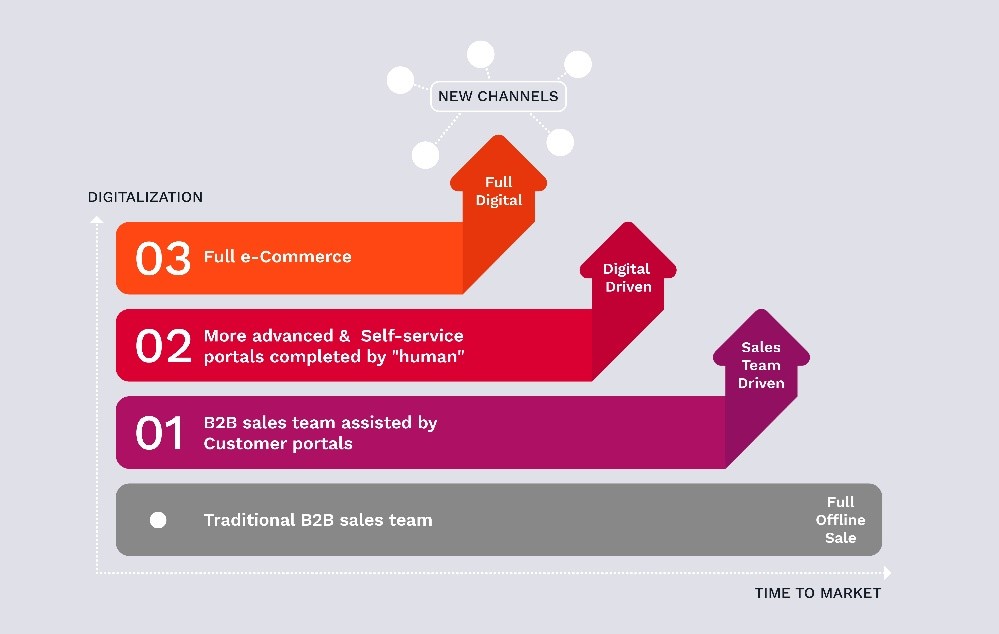 Our new offering reflects the DXP proposition and addresses three main transformation stages which I've talked about before:
Sales-driven with online alignment. This is where you can build your digital brand and experience and create engaging, scalable digital experience for multiple audiences, delivered to any channel. Ibexa Content (particularly well-suited for headless scenarios) and Ibexa Experience products are the most suited to ensure you can enforce brand consistency, go global (with multilingual, multi-country, multi-brands across multiple channels), create content and build websites and apps autonomously (without having to rely on any involvement from the IT Department) as well as integrate your existing businesses systems.

Digitally driven with sales team support: The second strategy to transform traditional selling into digital is to implement more advanced and self-service portals for B2B buyers. Here Ibexa Experience is most appropriate for you to empower customers, partners, resellers, suppliers and distributors with modern portals that digitalize your sales effort and accelerate revenue growth. You can engage, collaborate and share data like never before, integrate your business systems such as PIM, ERP and CRM, personalize user journeys and give smart recommendations and much more, all of which augment the value of your third-party program.

Full e-commerce (B2B and D2C): This third strategy is the complete digitalization of the sales process. Here, human interaction is minimized, and automation maximized. For this you need to deploy Ibexa Commerce to Transform your traditional sales process with frictionless digital commerce covering all complex scenarios. You can explore and use all e-commerce channels – pushing your catalog and inventory directly or indirectly via marketplaces; and streamline customers' journeys by digitalizing the way you work with options to manage multiple roles, provide self-service account management or ensure highly regulated buying processes. Our solution, unlike many others, accommodates complex and dynamic pricing and provides for upsell and cross-sell opportunities all from one platform with speed and agility like no other.
We believe that our new offering and pricing model enable any B2B Enterprise to digitalize their sales strategy in a fast and cost-efficient way. No matter the size of your business, we have created flexible, scalable solutions with pricing matching your business model and the value of delivering frictionless, memorable experience to your audiences.
How managing product information and content combined with commerce is essential for B2B success
Ibexa Methodology: The Five Steps to Digital Maturity
In this e-book we show how B2B businesses can transform realistically, step by step. And, as we take you through these phases we highlight the functionalities of our platform that are instrumental in helping you capture more and more of the granular complexity of how you do business.
Download eBook