Essilor in the Frame for Delivering Rich Digital Experiences
08/07/2020, 09:18
| 4 Min read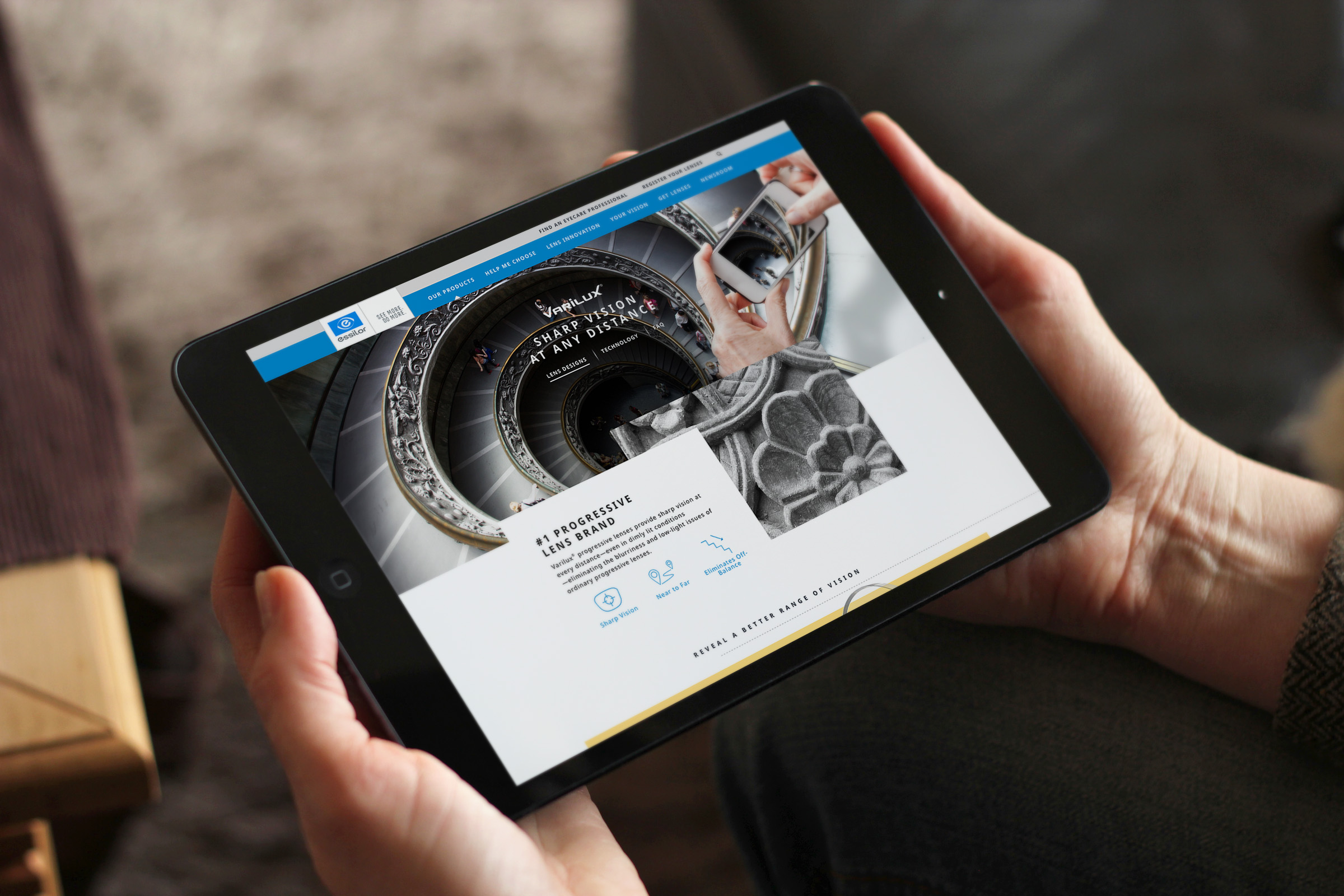 What Does a Good Digital Experience Look Like?
I'm kicking off a series of blog posts about creating memorable, rich experiences online across different sectors focusing on the B2B and B2C2B markets. My colleague, Bertrand Maugain has written a series of posts exploring the way companies sell and what's impacting the effectiveness of transforming digitally, in particular, for B2B Sales.
In this post, I'm going to look at a company that is using Ibexa's DXP, eZ Platform, to reach consumers and then get them to register with a related business that sells its products, in other words a company that communicates B2C2B.
Engaging Consumers and Opticians
Essilor is the number one ophthalmic lens manufacturer in the world. The company wanted to improve people's perception and innovate its brand experience. Typically, consumers don't think much more beyond that lenses are functional when it comes to choosing a pair of glasses – for them, fashion matters more but ultimately, it's the lens that helps them see.
The manufacturer has a long tradition of innovation pushing the frontiers of good vision and leads the market in innovating ophthalmic lenses whether that's a single vision lens, progressive lens or a sun tint. As a global leader, Essilor wanted to reinvent its strategy, not only by supporting its partners – opticians and ophthalmic practices – to bring new footfall to their premises but have a direct dialogue with consumers, educating them more about eye care and lenses and let them know what choices are available to them. Become, as it were, the 'Intel' chip inside a computer in the ophthalmic world…to get consumers understand that they want Essilor lenses in their glasses.
So how did Essilor embark on bringing a brand experience around education? How could it support the recommendation of a particular lens over another? From the outset most consumers don't possess even minimum knowledge about lenses, or even realize that there's a choice they can make over the type of lens in their glasses. Essilor's digital team wanted to provide a personalized and recommended solution to consumers.
Another crucial element in the company's digital strategy was to take into consideration how lenses are bought. Consumers go to opticians and ophthalmic practices to have their eyesight assessed. Essilor wanted to create a store locator of its partnered opticians and enable consumers to find the nearest one to them, and have the ability to request a consultation with one directly on its site.
A Website Factory to Address an International Audience
The challenge was that in Europe (which is the area we'll concentrate on in this post), the company operates in 23 countries which collectively had 75 websites. To bring this strategy alive, it had to consolidate its operation and make a website 'factory', where each time a new part of the website is developed, it can be replicated, localized and made live across all its markets.
Working hand in hand with its development partner Kaliop, Essilor consolidated everything on an AWS infrastructure, used eZ Platform as the parent to build out its country (children) sites, so that every time it wanted to release a new content type or a new feature it could easily be rolled out across all the different language sites. Initially the project started with five countries (the UK site rolled out in January 2019) and is now up to 18 sites with the aim of having all 23 sites live by the end of this year.
Adam Healey, Digital Manager at Essilor says: There was a very strong reason why we deployed Ibexa's DXP. We have leveraged it to build static templates for the core user journeys that we wanted to build, as well as being able to give our markets the freedom to still work on the content that they wanted by utilizing the landing page editor. It gives us a very agile and flexible way in which to work."
"Further we've been able to integrate the DXP with Salesforce our CRM using APIs, which has meant that we could build out our B2B infrastructure and use it for marketing automation."
Removing Friction in the Buying Journey
Consumers come to the site, and lots of them do…with over a quarter of a million unique visitors a month (and growing), to better understand their choices. The store locator means users can not only find local opticians (typically within a 5km radius) – they can refine the search and find which ones, for example, are experts in Essilor or find those promoting a special offer for a second pair of glasses (for daily use and for special occasions for example) for the price of one.
The latest project Essilor has embarked on is to build out a configurator that enables consumers enable to build a lens around their specific eye care needs and even interact with that lens as they will be sent a trial pair of lenses for free which they can take with them to their next appointment.
Consumers are digitally savvy, they know all the possibilities of what they can do online and have come to expect rich experiences whether it's from a retailer or a manufacturer. B2B companies such as Essilor have redefined their businesses through a greater understanding of the customer journey, giving the right information, personalizing the online experience while simultaneously improving the relationship with their partners – a perfect example of B2C2B digital marketing.
I know for one, that I'll be asking my optician more about the lens itself and make it count equally in my purchase as the frame when I come to buy my next pair of glasses, after all knowledge is power – it's Essilor in the frame for me!
If you would like to read more about Essilor and how they went about creating memorable, rich digital experiences please read the success story. If you want to emulate them, why not reach out and discuss your digital challenges and opportunities with us?
Considerations for Creating Rich Customer Experiences
DXP eBook
If you are struggling with your B2B digital transformation efforts, why not reach out to us to discuss your project. Feel free to download and read Ibexa's eBook on Digital Experience Platforms and the four considerations for creating exceptional customer experiences.
Download DXP eBook