Discover the Ibexa Partner of Excellence Award winners 2023
27/01/2023, 10:07
| 5 Min read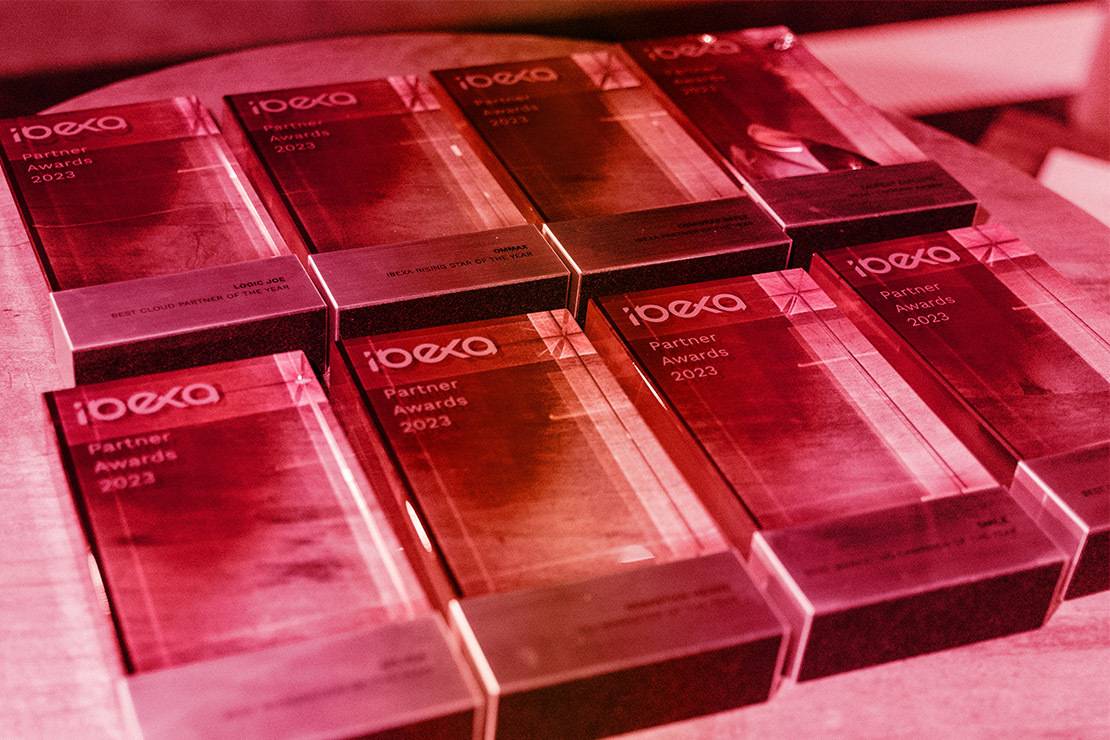 After two years of hosting the Ibexa Partner Conference virtually, we were delighted to welcome almost 200 people from around the world to the fabulous Spanish city of Marbella.
It was during this event that we recognized the outstanding work conducted by our partners in 2022, and there was much to celebrate!
Earlier this month we announced the various accolades up for grabs which included a mix of individual and team awards. So, you may have already seen the shortlist, but for those of you who missed it, in this article we will recap the awards which were up for grabs, the nominees, and with great pleasure we will announce this year's winners.
So, without further delay…
Best Integration of the Year
This award goes to the person or team that has integrated Ibexa DXP with other business systems and has demonstrated exceptional value to the customer. 
Shortlist:
Codéin 
Aplyca  
Logic Joe
And the winner of the Best Integration of the Year award is… Aplyca!
Why Aplyca won:
One of Colombia's largest companies approached Aplyca and tasked them to create complex integrations for a seamless digital experience involving multiple platforms.
The client was looking for a complete redesign of its website to improve the user experience. The portal had to be built in different languages under a single, scalable, and secure system capable of implementing various integrations. 
The Aplyca team did a fantastic job on the project. Congratulations!
Co-Marketer of the Year
This award goes to the person who has set a great example by supporting, championing, and recommending Ibexa through various activities including innovative campaigns, blogging, being an active member of the Ibexa community, through podcasts, webinars and at events. 
Shortlist: 
Sebastian Henne, elbformat  
Angélique Tavaud, codéin  
Felipe Jaramillo, Aplyca  
And the winner of the Co-Marketer of the Year award is… Sebastian Henne, elbformat!
Why Sebastian won:
Sebastian is a real ambassador of the Ibexa brand. He initiated and launched a webinar series to discuss the practical use cases, highlighting the features of Ibexa DXP, and sharing thought-provoking insights. Together with Ibexa, he took part in numerous online and offline events like the Online Marketing Conference in Berlin, Future Congress by iBusiness, amongst others.
Congratulations Sebastian, and thanks for the magnificent work!
Best Marketing Campaign of the Year
This award is given to the joint marketing activity with Ibexa by an individual or team that has resulted in building awareness and has delivered the greatest business outcome. 
Shortlist: 
elbformat 
denkwerk 
Smile 
The winner of the Best Marketing Campaign of the Year award is… Smile!
Why Smile won:
Smile was extremely proactive in organizing co-marketing activities with Ibexa in 2022, resulting in an amazing co-event in the Southwest of France, in the Calanques of Marseille. This one-of-a-kind event was on a boat with insightful presentations, networking, and nautical activities.
A wonderful initiative, and the Smile team fully deserves this award!
Best Customer Project of the Year
This is awarded to an outstanding project that has delivered exceptional customer experience using the Ibexa Platform.
Shortlist: 
Almavia CX
rocket-media
Clever Age
The winner of the Best Customer Project of the Year award is… Clever Age!
Why Clever Age won:
Clever Age implemented a successful project for a holding company in the holiday clubs and tourist accommodation sector, offering holiday stays and rentals in France.
Clever Age benchmarked various solutions and did an amazing job in redesigning the customer's website, improving both the back and front-office experience. On the front-end, they also added the personalization feature which was a great add-on.
Huge congratulations to the Clever Age team!
Best Cloud Partner of the Year
This award is given to the partner who has best leveraged Ibexa Cloud and helped its customer accelerate their development and deployment process. 
Shortlist: 
Logic Joe 
SQLi 
Comwrap Reply
The winner of the Best Cloud Partner of the Year award is… Logic Joe!
Why Logic Joe won:
What makes this partner special is the amount of time and effort invested in delivering an automated set-up, which allows them to begin an executable new project within just 45 minutes. A new productive environment can be booted locally within just two minutes. This enables our partner to develop under the same conditions as a live website. Proof-of-concept ideas can be tested in this way and the time-to-market is shortened to an optimum.  
Wonderful work here from Logic Joe, congratulations to the team!
Ibexa Rising Star of the Year
This honor is awarded to a partner that joined the Ibexa partner ecosystem in the past 12 months and has demonstrated commitment through certification, engaging prospects, and delivering the first project built on Ibexa DXP. 
Shortlist: 
And the winner of the Ibexa Rising Star of the Year award is… OMMAX!
Why OMMAX won:
OMMAX evolved within a brief period to become a trusted ambassador of Ibexa DXP.   
The sympathies of open and transparent cooperation are the core values of this partnership.  Positioning Ibexa, attending the E-Commerce Day event in Regensburg, and delivering great experiences for multiple clients makes this company the Ibexa Rising Star of the Year.  
Congratulations to the team on this well-deserved award. 
Ibexa Partner of the Year
This prestigious award, Ibexa Partner of the Year, is chosen based on its fantastic financial performance and its ability to create outstanding customer-centric digital experiences over the past year. 
Shortlist: 
OMMAX 
Comwrap Reply 
Aplyca
And the winner of the Ibexa Partner of the Year award is… Comwrap Reply!
Why Comwrap Reply won:
Comwrap Reply has been a committed and trusted Ibexa partner for the past five years. Since the first day, they have been focused on cloud, delivering extraordinary efficiency in all their projects. Up to now, they have delivered more than 15 successful projects with Ibexa.
What we really like about this cooperation is that Comwrap Reply never stops implementing innovative ideas, and successfully overcoming challenges as we learn to evolve together. 
Congratulations Comwrap Reply who fully deserve this award!
Ibexa Honorary Award 
This award will be given to the individual or team in recognition of the outstanding achievements they have made, demonstrating innovative implementations and a long-term commitment to using Ibexa technology. 
And the winner of the Ibexa Honorary Award is… Laurent Esposito!
Why Laurent Esposito won:
Laurent Esposito, co-founder of Codéin, has been promoting Ibexa with the Codéin agency since 2014. This is the only Digital Experience Platform that the French digital agency is presenting to their clients. This trust and loyalty towards Ibexa, in addition to on-going co-marketing campaigns and successful projects with multiple clients, is the recipe for a tight partnership which the Ibexa team is incredibly grateful for.  
Magnificent work Laurent Esposito!
A final note...
We would like to thank all our partners for their hard work during 2022 and congratulate those that were shortlisted and won one of our prestigious awards. We are excited to continue building on our existing relationships and working closely together to ensure 2023 is a successful year for us all!