Announcing speaker line up at Ibexa Engage 2021
07/06/2021, 09:01
| 2 Min read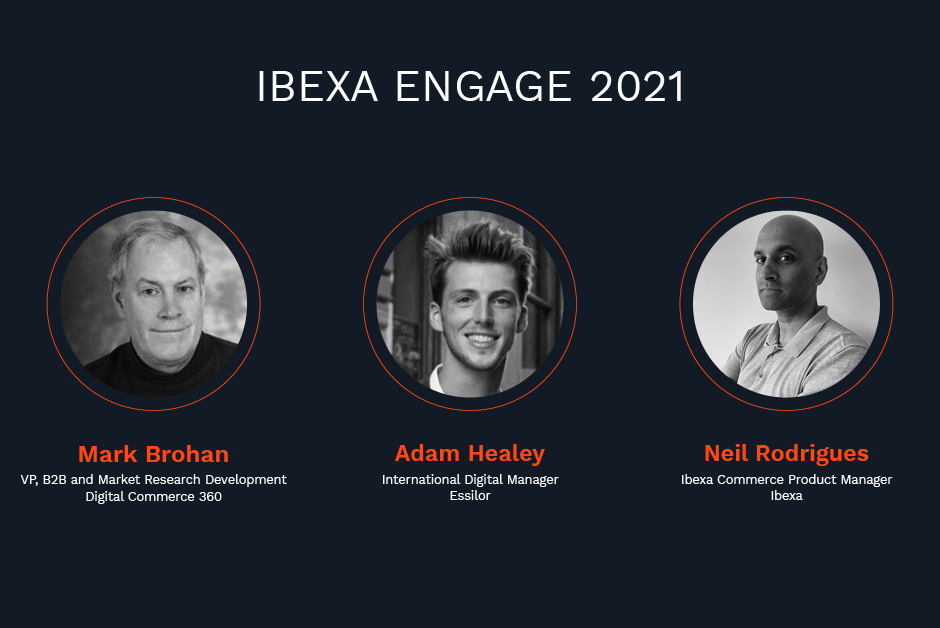 In just a few weeks, we shall be hosting Ibexa Engage 2021 on June 29 with the theme: Future-proof Your B2B Sales Strategies, Mastering New Business Channels, and Driving Growth into the Next Normal.
We are delighted to reveal that our Keynote Speaker is Mark Brohan,VP, B2B and Market Research Development at Digital Commerce 360. Digital Commerce 360 is a leading media and research organization and expert on e-commerce operations and digital strategies for retailers, manufacturers, distributors, and healthcare organizations.
As a seasoned analyst of B2B e-commerce market trends, Mark will present the session: Grow Revenue by Diversifying Your Sales Channels and share his insights from hundreds of B2B companies and highlight examples of good practice from manufacturers that have embarked on digital transformation and diversified their sales channels.
Later, in a second session entitled Accelerate Growth with B2B E-Commerce, Mark will join Ibexa's e-commerce product manager, Neil Rodrigues, in a discussion on how B2B companies with vast product catalogs and complex pricing structures can exploit digital revenue channels and create strategies to convert first-time buyers into long-term customers. They will highlight some best practices and key insights to deliver success when embarking on a B2B e-commerce program.
We shall also have Adam Healey, International Digital Manager at Essilor (the world's largest manufacturer of ophthalmic lenses), joining us . He's to present the ambitious project of bringing the fragmented European market under the umbrella of a cohesive Essilor brand and nurture the marketing and educational touchpoints of a customer journey that is often complex and extended.
Roland Benedetti, Ibexa's SVP of Strategy, will chair the roundtable and be joined by three Ibexa UK partners: Guy Weston (Creode), Ross Britton (Equimedia), Greg Rouchotas (Civic), who will share their insights to help you reimagine your company's approach to digital transformation, see what the future holds for sales teams, and discuss how to evaluate the digital maturity of your clients and prospects – and why it's essential for your business.
Save your seat now for the premier event that addresses post-pandemic strategies for B2B Sales on June 29.
IBEXA ENGAGE 2021
Future-proof Your B2B Sales Strategies
Mastering New Business Channels and Driving Growth into the Next Normal
Join us at Ibexa Engage 2021 on June 29 to see how Ibexa and our local partners can help you evolve your sales channels to serve your buyers' new needs.
Save my Seat