A Sneak Peek into the Upcoming Release of eZ Platform v3.0
17/03/2020, 08:53
| 3 Min read
At the end of the month we are releasing eZ Platform v3.0. This blog post specifically looks at some of the user interface improvements and related capabilities focusing on the Editorial Experience. Our second sneak peek will address what new developer features we are introducing.
New Calendar view of scheduled publications
This dedicated view of scheduled content provides editors a calendar snapshot of all the publishing actions which have been scheduled in the repository, enabling editors to bulk re-schedule or cancel scheduled publications.
Calendar view comes in handy when managing numerous publications and there is a need of having an overview of the scheduled content items that need to be prioritized. Editors can choose from different views and apply existing filters, while developers can extend it and add their custom-project features. We can't help but mention that Calendar view is an idea from one of our engineers, Adam Wójs, so kudos to him and we look forward to seeing more contributions from other developers.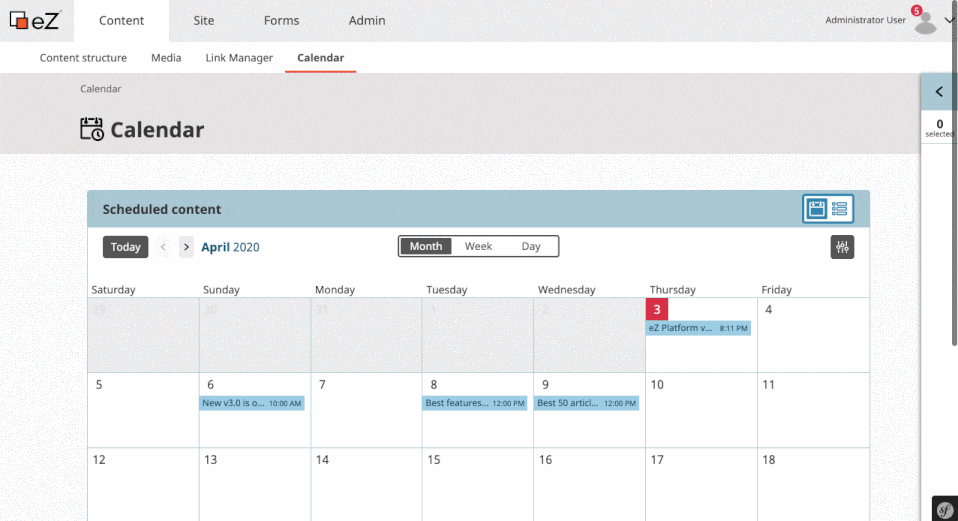 Compare versions of a content item
I'm sure editors will like this feature. With 'Version compare' we are revisiting eZ Publish's Version diff with the goal of covering all Field Types while offering a dedicated new user interface. This is another feature that strengthens core editorial tasks. Find it in Versions tab, select the version you want to compare to, click on the version compare button and start your review process. There are two views available: similar to what you had in eZ Publish, there's the single view that highlights the differences; new in this release, is a side-by-side view for comparing changes for each field. In version 3.0 we support the following fields: Author, Binary File, Checkbox, Country, Date, Date & Time, Email Address, Float, Integer, Map Location, rich Text, Selection (Single selection, Multi selection), Text Block, Text line, Time and URL. We will continue to add more Field types to this list, this will come in version 3.1.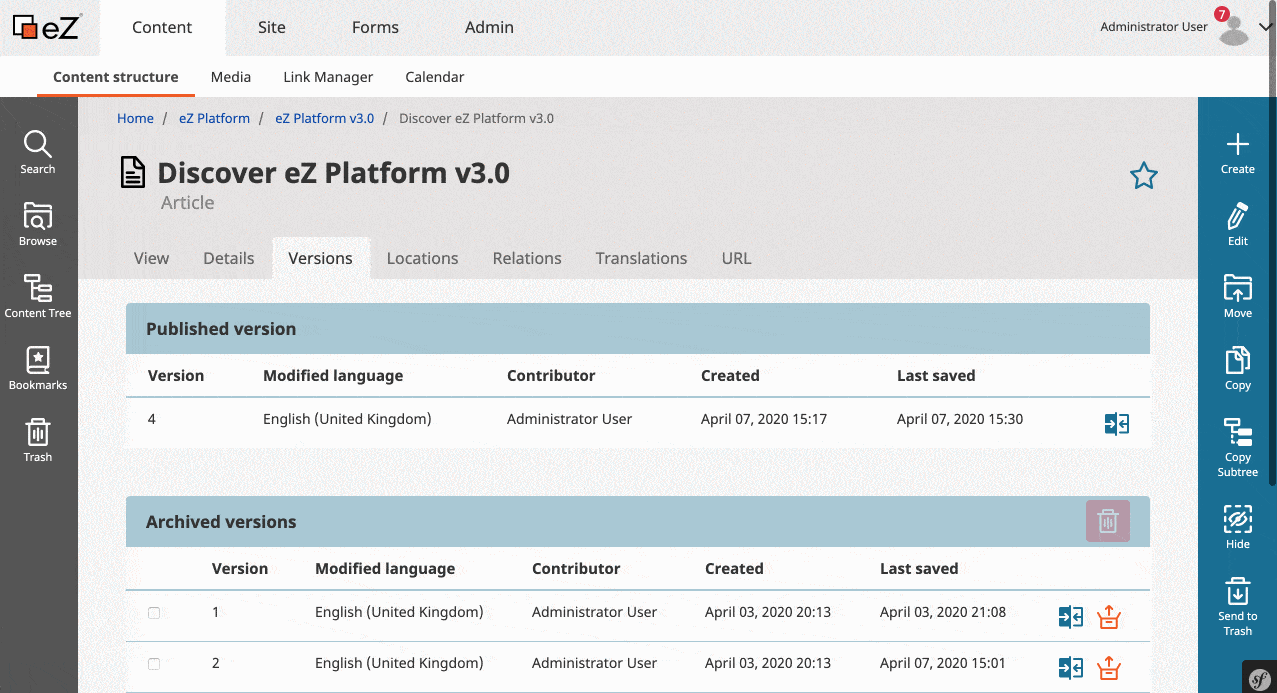 Other UX improvements in this release
We've been listening. Here we have added more feature capabilities to our Rich Text Editor (RTE). Out of the box you can now embed YouTube, Facebook and Twitter feeds into your content.
The sub-items table has also been improved. This is a key component for editors and we have give them more options to find content in the sub-items table. Now all you have to do is select the columns that you want displayed by clicking on the Filters button on the right hand side of sub-items table and you will see more information about each content item. In a case of a multi-language site editors can easily select the language they want to edit. Finally, Sub-Items grid view design has been improved and aligned to Universal Discovery Widget's grid view.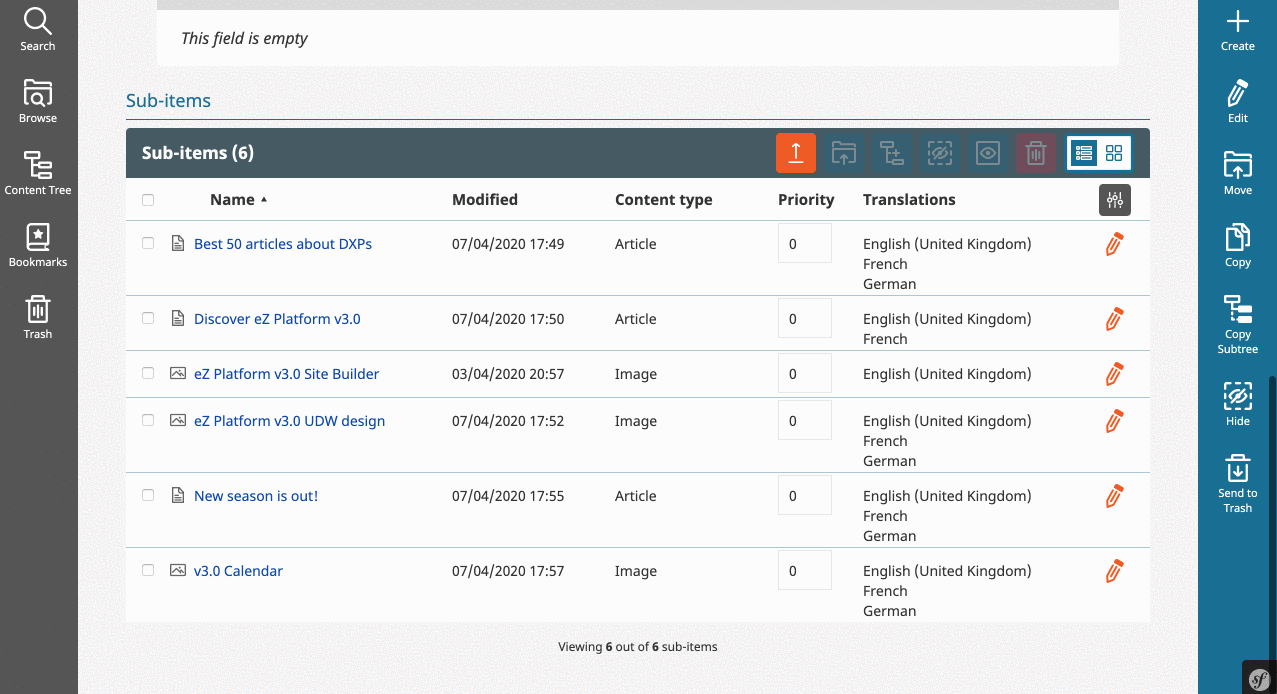 We have also included UX and design improvements throughout the application's UI. Thanks to the progress made in this area, you will be able to find tooltips and a new design for the widgets. Site Builder is also another section that has had specific design updates as well as UX improvements. For example for clickable URL you can now get quick access for previewing content, this is a small but significant enhancement in the editorial experience. Additionally, Site Builder now has a new collapsible action bar on the right-hand side of the Editing view.
Look out for our second blog post with a sneak peek into this release for developers. More news and updates will be shared through our blog and the eZ forum. If you have any questions please feel free to drop us a comment on discuss.ezplatform.com or reach out to us via email at productmanagement@ez.no.