Visit website
Partner level
Gold
Awards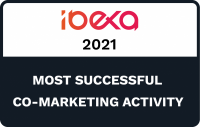 elbformat content solutions GmbH
Winner of the 2023 Ibexa Partner Award for the Best Co-Marketer of the Year
Hello, we are elbformat. We are Binary Engineers.
Elbformat was founded in 2009 with four employees. Fourteen years on, and with a team of 60, the company continues on its path of steady growth. For the company itself as well as for each employee individually, standing still is not an option. As a conjunct to that drive, there is a process of regular reflection, during which we map out and visualize how we can simplify the way we work.
The implementation of Enterprise Content Management solutions is at the root of everything elbformat does. From there, the company creates websites, landing page construction kits, intranets and digital style guides. The company has many years' experience in providing operational support and hosting.
CMS is the starting point
"We implement websites for use in large companies. Factors such as usability of the editorial interface, long-term operation, security, multi-site and multi-project capability as well as stability in operation play a prominent role in the project implementation. Of course, an individual front-end must be supported, and we attach just as much importance to automated deployment workflows. However, because technology without content is meaningless, we also provide support for migrations, for content creation and, together with our partner Hafenkrone, for concept design and online marketing."
Become a Partner
Interested in evaluating the benefits of collaborating with Ibexa? Fill out the form below to schedule a call with one of our local Partner Managers.
Contact Us
In a world all about delivering excellence in digital customer experiences, you can build new revenue opportunities, create memorable experiences and turn your clients into digital champions with Ibexa Digital Experience Platform (DXP).