atlantis dx Named Ibexa Partner of the Month for April
03/04/2023, 08:20
| 6 Min read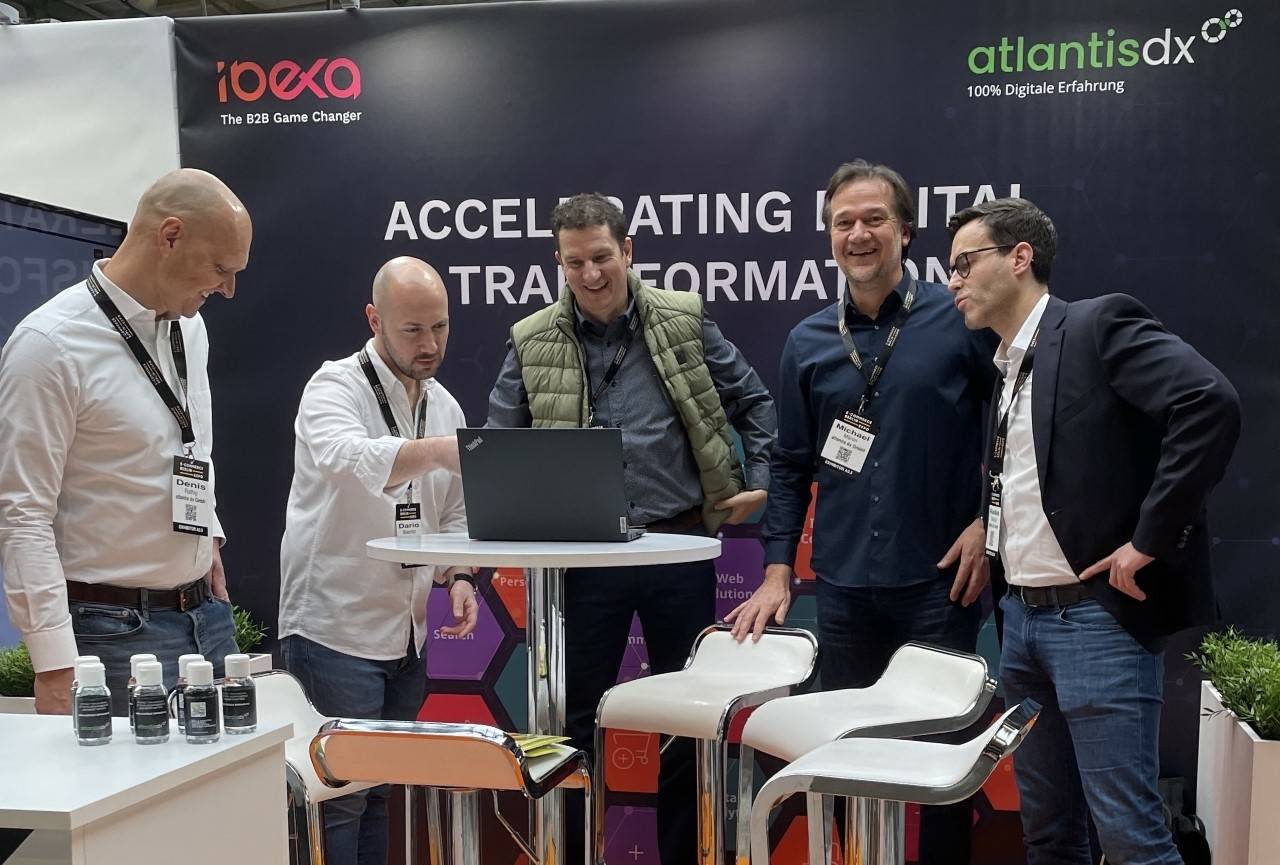 Since it was founded in 1994, the digital agency atlantis dx has been at the forefront of introducing the technological advances of the Digital Revolution to a growing base of B2C and B2B customers in the DACH region. During that time, it was often ahead of the curve.
"We've been doing ecommerce for more than 20 years," says Michael Märtin, founder and managing director of atlantis dx.
The Hamburg-based agency now offers a broad portfolio of services such as digital consulting, data management, content management, CRM, web portals, customer service, workflow automation, marketing automation, and of course ecommerce.
"You could say we we cover almost the entire range of digitalization" says Märtin, "and that in Ibexa DXP we found a digital experience platform that mirrors who we are. That is why we are so committed to our collaboration."
atlantis dx is our partner of the month for April
The agency first encountered Ibexa technology some six or seven years ago when it weighed eZ Publish as an alternative content management solution.
"Much of what we did and do is based around TYPO3 and other Open Source solutions," explains Radek Paluszak, atlantis dx Partner and its head of content management and portals. "Our approach was always best-of-breed. For content, the best fit was often a CMS, and then we integrated an ecommerce solution if that was part of the brief. We'd probably also add a PIM, data analytics, personalization functionality, and so on.
"But it was Open Source and best-of-breed, taking one part of here, one part of there, to create the right solution."
atlantis dx is structured around these different "parts" of expertise that come together for each project to implement a complete solution for its B2C and B2B clients. So Paluszak "does" content management, while his fellow Partner Dario Waechter is responsible for data management and customer experience, with atlantis dx Partner Denis Rathig heading up ecommerce.
"What attracted us to Ibexa DXP is that it spans across everything we do, all the things we know about already," says Rathig. "It has ecommerce, which is my bit if you like; a flexible and powerful CMS, which is Radek's area of expertise; and for Dario's team, a Customer Data Platform (CDP) that takes personalization to the next level.
"In Ibexa DXP all the services that we offer work together synergistically in a single system that is also very lean, fast, and enjoyable to work with."
Märtin highlights the strategic aspect of the partnership with Ibexa DXP. "We've been targeting our efforts towards B2B where there is a massive need for digital innovation because the sector still lags B2C. So that is something we have in common with Ibexa DXP which focuses on B2B completely."
He adds: "What I also want to emphasize is the great support we have had from Ibexa. Proof of concept, support and information, onboarding – this was a dynamic and speedy process which has marked a very positive start to our partnership."
atlantis dx ramps up its abilities to market and execute Ibexa DXP
The collaboration with Ibexa differs from atlantis dx´s Open Source model but the agency is confident that there is a huge target market in Germany for which the benefits of a single, seamless technology platform far outweigh the costs.
"Our relationship with Ibexa DXP grows our potential market," explains Märtin. "It extends our appeal while building on the considerable knowledge and know-how we have already."
The development roadmap of Ibexa DXP is capturing more of this in-house expertise, adds Waechter.
"The recent addition to the system of iPaaS and a customer data platform is very interesting for us," he says. "As head of data management and CX, I am closely involved with the services we offer in this space, such as CRM and customer service systems.
"It's next-level useful to have such products united in a single platform to build workflow automation with Ibexa Connect and bring the data together."
Märtin, Waechter, Rathig, and Paluszak attended the Ibexa Global Partner Conference in Marbella in January, shortly after joining the partner ecosystem, to show their commitment to the partnership, and learn from the experience of other agencies.
Says Märtin: "Perhaps we're a little bit different from partners that have had a couple of years' experience with Ibexa DXP, especially in content management and ecommerce. For them, Ibexa Connect – the iPaaS functionality – and Ibexa CDP are new services.
"But we are starting with everything because we can already see how to map all the native capabilities of Ibexa DXP onto what we do and know already, giving us a single solution and a single interface to deliver value to new and existing B2B customers."
atlantis dx has been ramping up its abilities to market and execute Ibexa DXP implementations. Already, six of its Team members are Ibexa-certified.
"This number is still growing because our developers are keen to get certification," says Paluszak. "I think there are several reasons for this enthusiasm to be trained up in Ibexa DXP. First, it is built on Symfony, a framework we know well and like. Second, Ibexa makes the certification process efficient and transparent.
"The third reason is that we have put together an Ibexa crew that cuts across how we usually structure our development teams which is by specialist knowledge – a Web development group, for example, or a group with developers with deep experience of ecommerce.
"Colleagues in this cross-functional Ibexa team are really helping each other with the certification process, so that's a plus. We also think it's a good initiative for atlantis dx as a whole because often these developers had not worked closely together before."
The Ibexa team is the internal counterpart of what atlantis dx and Ibexa DXP can offer B2B organizations: a coming-together of all the functionalities that are crucial in the development of a B2B customer experience.
"There are other vendors that offer similar solutions with a lot of these functionalities, but these are not so seamlessly integrated as they are in Ibexa DXP," says Rathig. "This is what excites us, and what is exciting the market."
Meet us at the Online Marketing Rockstar (OMR) event in Hamburg
atlantis dx is completely committed to making the partnership a success and is ready to hit the ground running at the upcoming Online Marketing Rockstars (OMR) event in Hamburg where Ibexa DXP has a prominent stand, and which was visited by 70,000 people last year.
Serena Williams will be the star guest speaker.
"Game, set, and match," concludes Märtin, "this is how we see our future with Ibexa DXP. Serena Williams has just retired but we are only just beginning. The potential is enormous so I am confident that together, atlantis dx and Ibexa DXP will smash it out of the park."
Ibexa Global Partner Program
Partner with Ibexa
In a world all about delivering excellence in digital customer experiences, you can build new revenue opportunities, create memorable experiences and turn your clients into digital champions with Ibexa's trusted and open Digital Experience Platform (DXP).
Read more