Unlock the Way to Change B2B buying processes
Digital transformation is not an event but a process, and it looks different for every B2B business. We are in a different world now with a key focus on B2B e-commerce and digital selling. Read this eBook for some insights into the new B2B Buying Behaviors.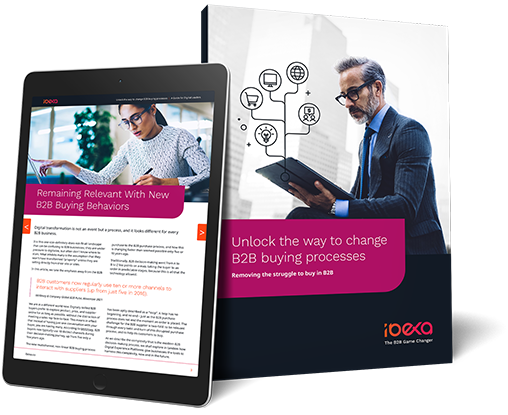 Struggling to Stay Relevant? Here's how to make complex processes digital
Digitally skilled B2B buyers prefer to explore product, price, and supplier online for as long as possible, without the distraction of meeting a sales rep face-to-face. This means in effect that instead of having just one conversation with your buyer, you are having many. According to McKinsey, B2B buyers now typically use 10 distinct channels during their decision-making journey, up from five only a few years ago.
The new multichannel, non-linear B2B buying process has been aptly described as a "loop". A loop has no beginning, and no end – just as the B2B purchase process does not end the moment an order is placed. The challenge for the B2B supplier is two-fold: to be relevant through every twist and turn of this disrupted purchase process, and to help its customers to buy.
In this eBook as we describe the complexity that is the modern B2B decision-making process, we shall explore in tandem how Digital Experience Platforms give businesses the tools to harness this complexity, now and in the future.
Content Hightlights:
Remaining Relevant with new B2B Buying Behaviors
The B2B buying Process and its stakeholders
Identify a need
Research the Market
Select a Supplier
Get Consensus and Approval
Build Relationships
What it Takes to Excel at Customer Experience
How to improve B2B Digital Sales
Get ready to improve your B2B Sales Strategy in 2023 with this complimentary eBook.
Ibexa is trusted by