eBook
5 Main Features of a Modern Digital Experience Platform
There is no well-defined functional scope for a DXP, and there is a mix of approaches on the market.
A good starting point is Gartner's* definition: "A digital experience platform (DXP) is a well integrated and cohesive set of technologies designed to enable the composition, management, delivery and optimization of contextualized digital experiences across multi-experience customer journeys."
We believe that a modern DXP needs to be composable to support your digital transformation with just the relevant modules for your current needs. This composability enables you to upscale and extend your solution at later phases of your transformation and growth.
This eBook describes what we believe is core to a DXP, and covers many of the points above through these features:
Content Management
Web Management
Personalization
Digital Commerce
Development
Download your free eBook today and get agile with your digital transformation.
*Gartner: Magic Quadrant for Digital Experience Platforms. Published 26 January 2021, by Irina Guseva, Mick MacComascaigh, Mike Lowndes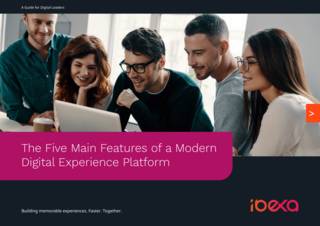 Ibexa is trusted by