Ibexa Partner Program
Accelerate your revenues and growth by becoming an Ibexa Partner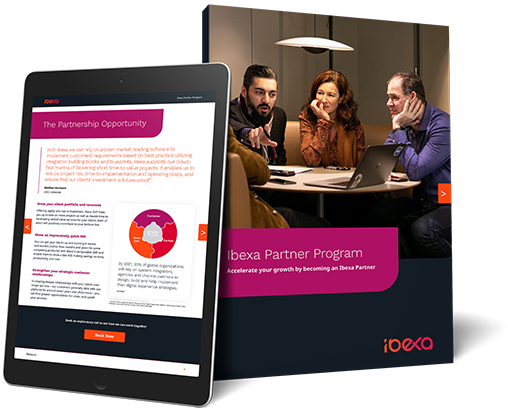 By 2021, 90% of global organizations will rely on system integrators, agencies and channel partners to design, build and help implement their digital experience strategies.
Discover how to win larger projects, increase productivity and profitability by partnering with Ibexa.
The Ibexa Partner Program is designed for all types of digital agencies, systems integrators, and specialist consultancies looking to increase their digital experience revenues, integrate their services and systems, and deliver remarkable, rich, and memorable digital experiences for their customers.
You can develop and grow your offerings with a trusted and proven Digital Experience Platform – Ibexa DXP – backed up with professional training and sales and technology support. We empower you to create and deliver digital experiences at for your clients and transform the way in which they compete and succeed, faster, giving you the competitive advantage to outperform your peers.
Download the brochure and discover for yourself the opportunity in partnering with Ibexa
Ibexa is trusted by