Visita la página web
Nivel de Partner
Gold
Awards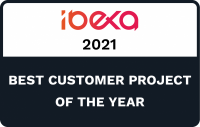 rocket-media
We make complexity simple
As owner-managed agency rocket-media GmbH & Co KG develops software solutions optimally supporting its clients' business processes and online communication – nationally and internationally. The company located in Southern Germany's Dinkelsbühl serves medium-sized enterprises and industries as well as clients in the banking and financial sector since 2000.
rocket-media supports clients strategically in digitization, from conception and technical development to operation of digital products and processes. Along typical use cases, scalable and sustainable applications are conceived, developed, and finally integrated into existing IT environments. For the benefit of good usability and user experience, the design centres on users, their tasks, and goals. So usable technology can be provided in appropriate quality and reasonable extent.
Offering tailor-made online marketing services like consultancy, search engine optimisation and monitoring, projects and applications are continually supported and developed further. Features, sales tools, and processes are gradually optimized due to user feedbacks.
Business activities are primarily:
Consultancy in digitalization
Corporate websites and digital experience solutions (DXP)
Product information management (PIM)
Intranets and web portals
E-commerce platforms (B2B / B2C)
Mobile applications
UX consultancy, usability testing and user interface design
Online marketing / search engine optimisation (SEO / SEA)
COMECO GmbH & Co KG, Sparda-Banken eG, WEINIG Group, Roto Frank DST Vertriebs-GmbH, RIDI Group, LAUDA DR. R. WOBSER GmbH & Co. KG and much more are among the contented and standing customers of rocket-media.
Conviértete en un Partner
¿Interesado en evaluar los beneficios de colaborar con Ibexa? Completa el formulario a continuación para programar una llamada con uno de nuestros administradores de partners locales.
Ibexa cuenta con la confianza de

Ponte en contacto con nosotros
En un mundo que gira en torno a la excelencia en las experiencias digitales de los clientes, puedes generar nuevas oportunidades de ingresos, crear experiencias memorables y convertir a tus clientes en campeones digitales con Ibexa Digital Experience Platform (DXP).