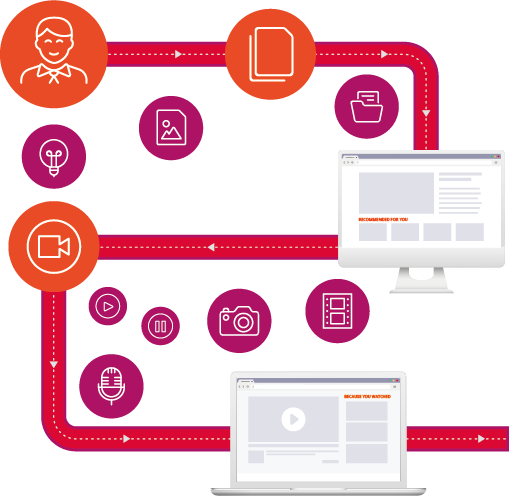 Explicit personalization
Target & personalize with user choices
Capture your users' preferences and deliver highly relevant content and product recommendations, or present specific content or products based on the user's IP address, geographic region, browser or device.
Website personalization
Personalization for different buying roles and permissions
Editors can create the wanted segments and explicitly define which content or products to display to which group of users.
Implicit personalization
Eliminate guesswork with data-driven behavioral targeting
Behavioral tracking (e.g. web pages visited, products purchased, products viewed, links clicked, topics searched) can be used to define granular content-delivery scenarios which can automatically identify which content is most relevant to each user.
Maximize revenue opportunities with product recommendations and boost audience engagement with editorial content recommendations
Achieve great upselling results, for instance by offering highly relevant personalized recommendations to customers in a check-out process.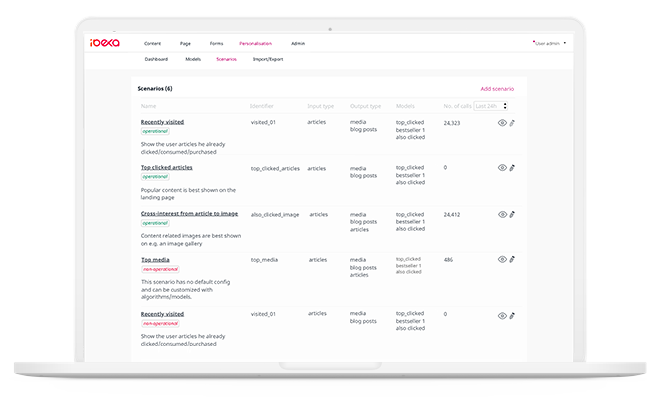 Track & improve
Optimize your personalization strategy at scale
Delivering relevant content optimally during a user journey does not have to be complex. Ibexa Personalization lets you configure sophisticated automated content delivery systems across your digital channels and brands, adapted to each user's journey. Track and analyze your chosen user scenarios to gather insight and develop your targeting strategies to further improve customer engagement.
Utilize the pre-configured out-of-the-box user scenario models
Track additional e-commerce revenue generated by personalization.
Customer data
Leverage personalization data across your business
Unified digital experiences can't be supported by data silos. Enrich your customer data by integrating Ibexa Personalization capabilities with existing business systems to boost the power of your personalized customer experiences.
Integrate with CRMs, ERPs, marketing automation & more
The Personalization dashboard enables you to monitor the performance of your personalization settings, statistics include revenue reports from your personalized commerce solution. All reports can be downloaded
Improve customer retention and reduce churn
Deliver better business outcomes with a complete picture of your delivered customer experience.
Read how Visit Andorra attracts more visitors with new website and personalized experiences >
Related topic: Ibexa DXP v3.3 feature preview: Personalization – Simplified and DXP-integrated! >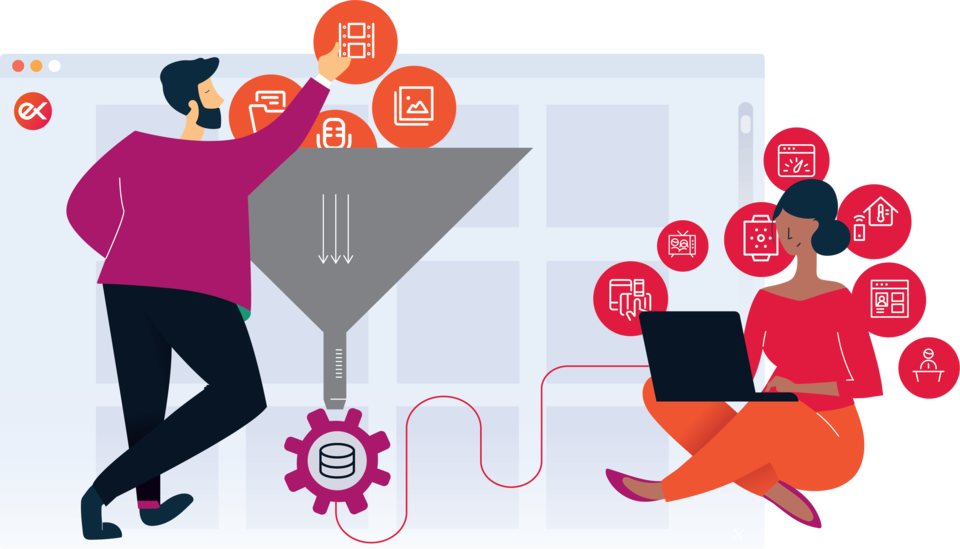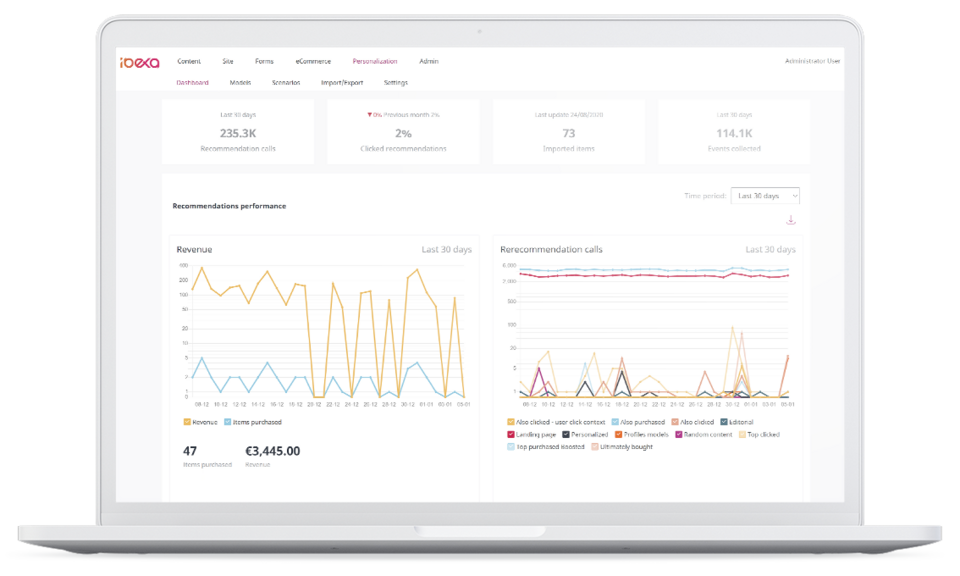 Getting started
Personalization can be used with all Ibexa DXP products
Ibexa Personalization is available for Ibexa Content, Ibexa Experience and Ibexa Commerce, and you can try it out at no cost. To use it in production, you must purchase the service. Pricing is based on number of personalization API events.
Order Ibexa Personalization
Contact us about boosting revenue with personalized customer experiences.
Ibexa is trusted by

Fill in your contact details below.
Fields marked with * are required.