Die dmexco wächst – und eZ mit! Schöpfen auch Sie Ihre Potenziale maximal aus und erhalten Sie Unterstützung bei Ihren Projekten
23/07/2018, 12:43
| 3 Min read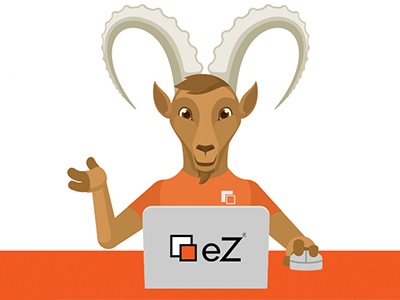 At this central meeting place of the digital economy, visitors can look forward to eZ as an exhibitor at dmexco, digital marketing expo & conference - with several partners on board!

In recent years, dmexco has been growing steadily. Join over 40,000 industry leaders, 1100+ exhibitors and 500+ speakers to discuss marketing trends and ideas that are shaping the future of digital business, marketing and innovation at these two September days this year!

Anyone who knows us or follows our activities knows that we have always been present at this TOP event in the industry in the last years. 2018 is a year of change and growth. We want to use this oppurtunity and friendly invite you to our booth which is more than twice as big as last years!
Come and talk to us and our partners at Europe's leading Digital Marketing Expo and Conference, and let us advise you on the innovations and in CMS, Marketing Segmentation, Personalization, and E-Commerce. Our booth will be located in Hall 7.1 Stand D-060.
Visit Us:
- Hall 7.1 Stand D-060 -
Why you should visit us - your benefit
Together with our partners comwrap, DIA die.interaktiven snd rocket-media, we are not only present as a "CMS provider with implementation partners", but we are more interested in meeting your specific needs and show you which success you can achieve with our CMS marketing solution with segmentation, the personalization solution eZ Personalization and eZ Commerce, so that you can maximize your future business potential.
Goals eZ pursues
If we are new to you, we would like to provide you a short overview about eZ Systems -which is a global content management platform provider founded in 1999 in Norway. With more than 18 years of commercial open source experience, we support more than 500 business clients in over 25 countries. Our ecosystem consists of more than 80 business partners and a community of more than 45,000 members. We also have more than nine offices in North America, Europe and Asia.

Our vision is to help companies maximize the value of their digital content and deliver digital experiences that foster growth.

Our software eZ Platform supports developers, editors and marketers to create content-rich websites and apps - from corporate presences, e-commerce and native apps to intranets, web portals and the Internet of Things (IoT). eZ also offers additional personalization, cloud hosting and e-commerce services through its innovative content management solution to meet the needs of your business. Find out more about our products here.
The expertise and the added value
Every company has its strengths and special focus. As specialists in their field, our partners can respond specifically to your business needs. Therefore you do not only get to know the product, but also the provider and supplier eZ Systems. Also, you can talk to one of our partners about the project implementation - a true support that is also available to you during the project.
Partner Overview
comwrap designs the digitization of B2C, B2B and D2C business models with a determined focus on the needs of users and customers. They focus on companies in Finance and Fintech, Pharma & Healthcare, Industry and Publishing. The company currently employs 65 people and offers holistic strategic consulting, creative conception, design and development, technical implementation as well as the marketing of sophisticated digital projects and the optimization of digital platforms.
Some customers, who put their trust in comwrap:
Today's world is digital. For brands and companies to be successful as well as sustainable, a new kind of management consulting is needed - and a new kind of agency. People at DIA, are extremely motivated and enthusiastic planners, graphic artists, copywriters, web developers and -designers, solution architects, administrators, brand managers, marketing specialists and they accompany their customers along their journey into a successful digital future.
Some customers, who put their trust in DIA:
rocket-media GmbH & Co KG develops future-proof and scalable web and software solutions for its customers in medium-sized businesses and industry. This creates the basis for highly efficient, digital business processes and successful online communication. Their portfolio include the realization of international corporate websites and e-commerce platforms, the integration of Product Information Management systems as well as the conception and implementation of mobile applications and customized individual developments. Targeted online marketing or SEO concepts complete the package.
The success of all projects stands and falls with the acceptance of the users. Therefore, they always pay attention to a consistent user-centered conception and design. Complex IT projects, reliably controlled to the target: that's rocket-media.
Some customers, who put their trust in rocket-media:

Do you need support in your online projects, are you about to relaunch your website or your strategy needs an optimization or even new option?

Then use the meeting point of the global digital economy as your personal meeting point with us and our partners - we will gladly advise and help you with the implementation.