2022 Strategic Roadmap for B2B Digital Selling - A Gartner® report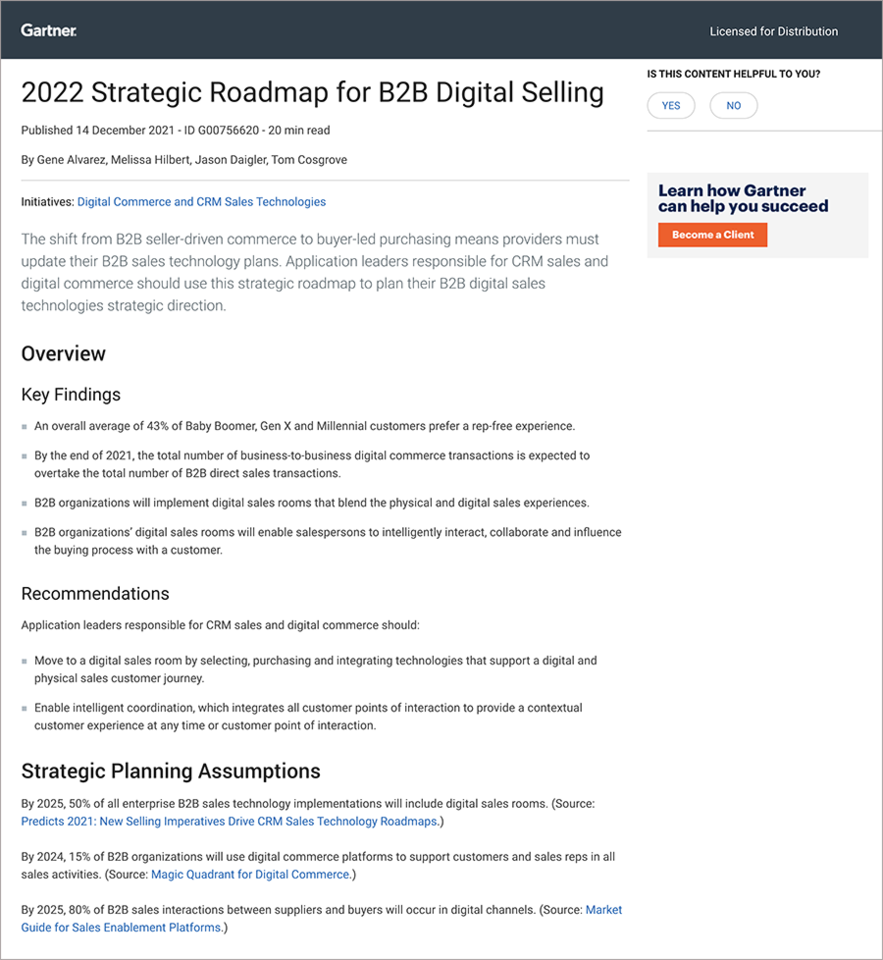 The Shift from B2B seller-driven commerce to buyer-led purchasing means providers must updates their B2B sales technology plans.
Ready to create your Digital Sales Room?
The Covid-19 crisis was a moment of truth for B2B. It has accelerated new buying behaviors which has focused the minds of B2B companies to address challenges with digital solutions. Buyers demand a buying experience that comes up to their expectations (mimicking or preferably surpassing what they see in B2C) and, as a result, B2B sales organizations need to be in a position to enable digital commerce and shift the role of their sales operations to take on a more advisory role
Gartner®1 recommends that application leaders responsible for CRM sales and digital commerce should: "Enable intelligent coordination, which integrates all customer points of interaction to provide a contextual customer experience at any time or customer point of interaction."
Access this complimentary Gartner® report: 2022 Strategic Roadmap for B2B Digital Selling to help you successfully respond to the rise of digital buying and virtual selling. The past two years have inextricably changed the patterns of B2B transactions with the shift to digital channels.
Read this report to:
Understand the future state of B2B digital selling
Compare yourself to the current state of B2B digital selling
Determine the gaps you have in B2B digital selling
Plan your next steps, priorities and create a migration plan.
Gartner is a registered trademark and service mark of Gartner Inc. and/ or its affiliates in the US and internationally, and is used herein with permission. All rights reserved.
[1] 2022 Strategic Roadmap for B2B Digital Selling. Gartner. Published December 14, 2021. By Gene Alvarez, Melissa Hillbert, Jason Daigler and Tom Cosgrove.
[2] Idem
Ibexa is trusted by