In a digital marketplace filled with endless options, the experience of how companies and buyers purchase is just as relevant as what they're purchasing.
E-commerce channels allow businesses to grow their digital transformation strategy, by supporting and optimizing existing B2B sales channels with complex sales procurement and budgeting management and opening up new potential digital revenue models.
Frictionless buying
Content-powered e-commerce
Build a buying experience that sets you apart from your competitors and deliver fantastic content experiences at every stage of your buying cycle. Streamline digital marketing and strategic e-commerce operations with a single system for creating editorial and product marketing content, together with enriched product catalogs.
Unified search experience across content and product catalogs
Enriched product catalogs with editorial content, actionable content marketing, and more.
Easily align content marketing and e-commerce performance in one platform
Track and optimize conversion KPIs with better user engagement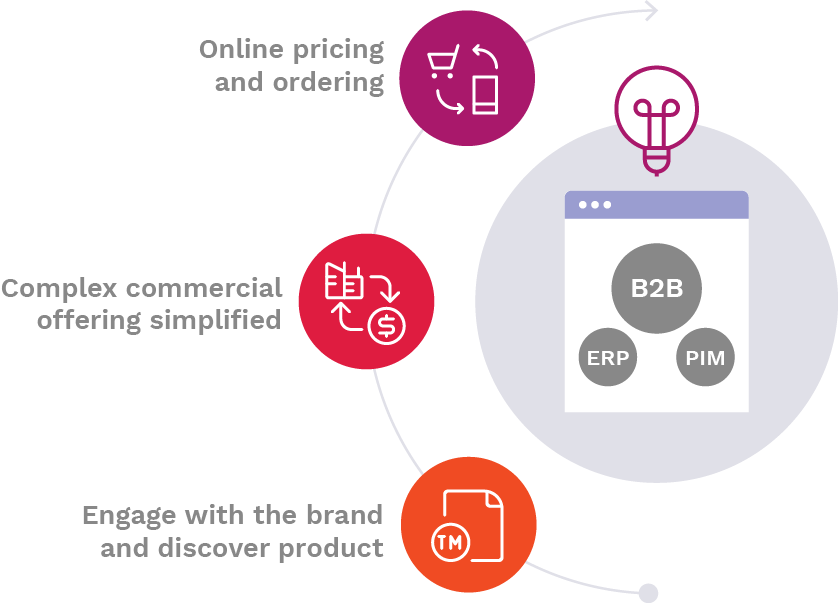 Complex sales models
Meet the needs of business buyers
B2B sales models come with specific requirements that go beyond B2C workflows, with purchasing scenarios also varying between industries or even geography. With eZ Platform, be ready to solve the needs of modern B2B commerce and procurement. Support complex buying and orderability.
Custom order list template support
Multi-brand, multi-channel, and multi-shop e-Commerce
Support user management for different buying roles and permissions within buying organizations
Custom buying journeys for different user permissions within a customer organization
Target & upsell
Personalize your buying experiences
Together with the eZ Platform Personalization Engine, build contextual buying experiences by delivering the right content, at the right time, in the right channel. Support the entire customer lifecycle with better user engagement with relevant content and product recommendations.
Maximize revenue uplift with product or editorial content recommendations
Website personalization and content targeting
Abandoned shopping cart
Real-time dynamic and custom pricing
Checkout experience
Enable smooth customer transactions
Support the critical transaction stage for end users with a smooth buying experience unified by the eZ Platform DXP. Build rich product content and catalogs, with website personalization and targeted content. Support complex sales processes that combine offline and online interactions.
Fast check out process
Shopping list & product comparisons
Orderability and budget management for customers
Integrate with procurement and supply chain systems
Data flow & integrations
Integrate with business systems and break down data silos
Leverage, a fully integrated e-Commerce solution, not separated in data and operations silos. eZ Platform's deep interoperability enables seamless integration with your key business systems. Easily manage your e-commerce operations together with your existing technology to build more complete customer data.
Integrate with marketing automation & CRM systems, ERPs, PIMs, and more
Bespoke integration implementation
Optimize business operations across systems for inventory management, customer information, order management, invoicing, and more
Talk to Sales
Speak to us about super-charging your e-commerce strategy.
Trusted by

Fill in your contact details below.